This Is The Heartbreaking True Story Behind BBC's New Drama About Modern Slavery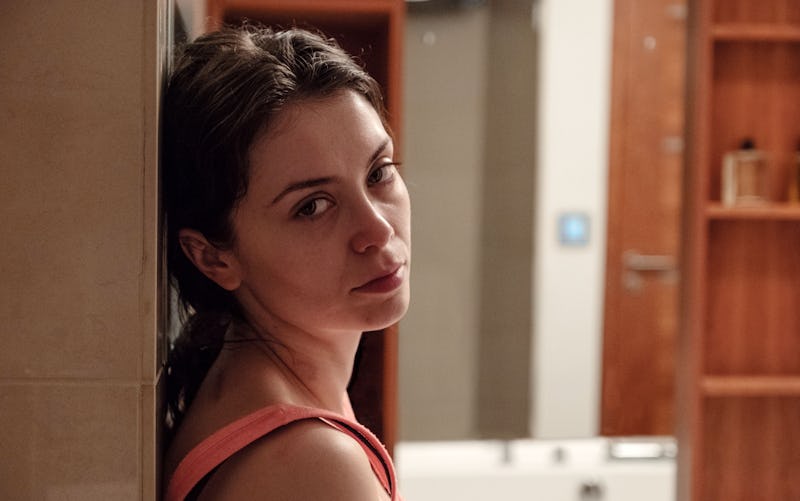 BBC/RENEGADE PICTURES/PETER MARLEY
As part of BBC Two's Why Slavery? season, Doing Money will air at 9 p.m on Nov. 5. The one off film will explore human trafficking and sex slavery within the UK and will tell the heart-breaking story of Ana, who was trafficked from London to Ireland. She was then used as a sex slave in a number of pop-up brothels enduring starvation, bullying, and rape. Like any dramatised thriller it will have you on the edge of your seat until the end, but is Doing Money based on a true story?
This is not going to be an easy watch by any stretch of the imagination but it is so incredibly important. I reached out to a BBC press representative for the show who confirmed it was a fact-based drama based on a true story. It draws on the case of one particular person who was held as a sex slave for ten months and trafficked around both Northern Ireland and the Republic of Ireland.
Doing Money follows Ana from her abduction in London in broad daylight, to her trafficking to Ireland where she is sold as a sex slave. The drama spotlights the reality of human trafficking within the UK, the violence and intimidation women face, and the fact that many of the pop-up brothels they are taken to are in rented properties in the suburbs. It proves it can, and does, happen anywhere.
Gwyneth Hughes, writer of Doing Money, explained in an interview shared by the BBC, that the real life protagonist of the story was "stolen off the streets of London, she was raped by thousands of men, starved, bullied and threatened by pimps who threatened to kill her mother if she resisted. Somehow the young woman we call 'Ana' survived her slavery. Somehow she found the courage first to escape, and then to speak out. I met her and listened to her over many hours of interviews. The international trafficking story that unfolded is complex, astonishing, and heart-breaking."
After her unimaginable torture, the real 'Ana' found the courage and bravery to speak up for other people who have suffered at the hands of human traffickers. She went to Stormont to tell her story to Northern Irish politicians. Her testimony contributed to the first new law against slavery in the UK for almost 200 years, the Human Trafficking and Exploitation (Criminal Justice and Support for Victims) Act (Northern Ireland) 2015.
In the BBC Two film adaptation, Ana will be played by Anca Dumitra. "Working on this has really stayed with me, it has changed and shaped me in a way," Dumitra explained in an interview released by the BBC. "Ana is a hero, I think she is one of the most powerful people that I have come across. And for me personally, because Ana is a Romanian girl, she's from my country, she was studying abroad, she had dreams, she was at the beginning of her life at only 21 years old. I feel like it could have been me."
One of the main aims of the film and BBC Two's Why Slavery? season more broadly has been to raise awareness for human trafficking and modern slavery that continues in the UK and around the world. According to the charity Unseen, in 2016, at any given time, there was an estimated 40.3 million people worldwide in modern slavery. Women and girls made up 99 percent of the victims in the commercial sex industry, and 58 percent in other sectors of forced labour.
Dumitra said, "hopefully people will use their eyes to look outside more, not only at your own job or daily life, but also at others. I hope that the show will reach people's emotions and their humanity." Stories like that of Doing Money need to be told and it is amazing that this may start a broader conversation about the issues of modern slavery. Doing Money is definitely not something you'll want to miss and it airs on Nov. 5 at 9 p.m. on BBC Two.