The Reason You Recognise 'The Little Drummer Girl's Marty Is Actually Pretty Cool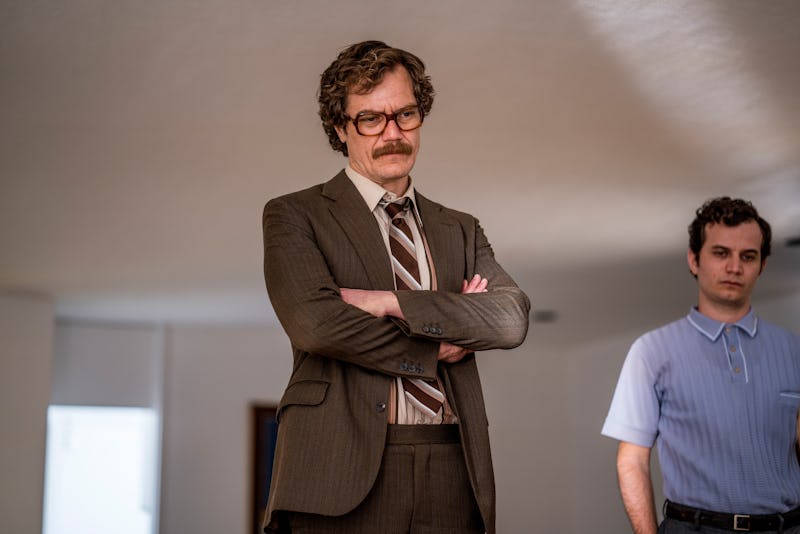 The Little Drummer Girl/BBC
How was your Sunday night? Well, if it was anything like mine, it was spent being completely thrilled by the BBC's new John Le Carré adaptation, Little Drummer Girl. The cast is made up of familiar faces like hunky Alexander Skarsgard, newer faces like Florence Pugh, and some that you might recognise but can't quite put your finger on. Like Little Drummer Girl actor Michael Shannon, who has totally been in some of your favourite movies.
Yes, Shannon has been around for quite some time and is very able to play some seriously shady characters as has been evident in his roles in films like in 8 Mile where he played an abusive partner and as the cruel and villainous Col. Richard Strickland in Guillermo Del Toro's The Shape Of Water.
So playing the secretive and suspicious spy recruiter Martin Kurtz in The Little Drummer Girl is absolutely up his alley. However, he has also starred in comedy hits like in Groundhog Day, albeit a minor role as a groom, and as Mr Green in Christmas comedy caper, The Night Before alongside Seth Rogan.
Now that is a pretty wide spread in terms of genres, making it clear that nobody puts baby, I mean, Shannon in the corner.
But seriously, he is currently starring in Le Carré hit and wowee, does British spy-genre legend know how to write a thriller and my giddy aunt, do the BBC ever know how to bring them to glory on screen.
The spy thriller is set in the 1970s and Shannon plays Kurtz who is involved in Israeli espionage. It sees struggling actor Charlie, played by Pugh, get accidentally recruited to be a spy while minding her own business on her holidays in Greece. Jeez Louise the girl just wanted a break and a tan and now she's an effing spy? I mean, yes that does mean getting lots of dough and pretty close to the very mysterious and hunky Gadi Becker played by Alexander Skarsgard, but I would rather a week in Mykonos, thanks.
The show is stylishly shot, and according to the Express, has filming locations in multiple European cities, including Athens. Executive producer Simon Cornwell told the publication how the crew filmed the Acropolis at night time which is an actual first for BBC drama, and in fact a first for anyone. They have done it with a seriously beautiful way, and respect for the 2500-year-old Greek monument. He explained, "We were very lucky. The Greek Government was incredibly supportive. Shooting on the Acropolis was a very big deal, shooting at night on the Acropolis, flying a drone over the Acropolis was a first in the 2,500 years since it was built."
And what else would you expect from the same team that created the screen adaptation of The Night Manager, another of Le Carré's wonderful works. They must have felt some serious pressure to repeat the success of that particular piece of absolute joy, especially as they are bound to be compared a lot. However, the two adaptations are very different in that Little Drummer Girl is set in the '70s, like the novel, whereas The Night Manager was adapted to be in contemporary times, making it a little bit less true to the original book.
The show is currently being aired Sunday nights at 9pm on BBC1, and check out BBC iPlayer to catch up on anything you've missed.