This New 'Supergirl' Hero Marks A *Huge* First For Television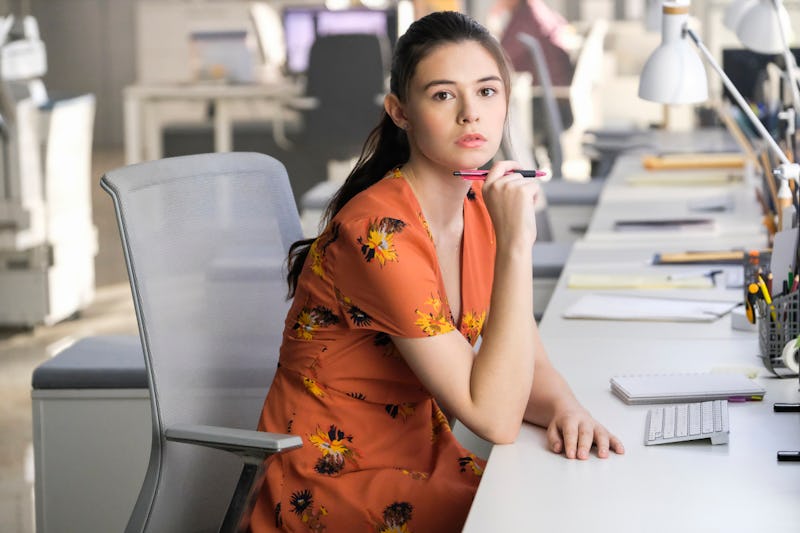 Bettina Strauss/The CW
New seasons mean new heroes on Supergirl, and with Cadmus still out there, Kara is going to need all the help she can get on her team. Luckily, Nia Nal is clocking in at Kara's day job in Season 4, and if she's anything like Dreamer in the Supergirl comics, she'll make a perfect addition to Kara's team. Even more impressive? She'll be TV's first transgender superhero.
According to the official press release for the Season 4 premiere, Nia, played by Nicole Maines, is a "new cub reporter" at CatCo. The Wrap also reported that when the character was announced at San Diego Comic-Con, she was described as, "a soulful young transgender woman with a fierce drive to protect others" whose "journey this season means fulfilling her destiny as the superhero Dreamer — much like Kara came into her own as Supergirl."
As for who Dreamer is in the larger DC universe, she's most likely the CW's take on Nura Nal, a.k.a. Dream Girl. In the comics, Nura is a clairvoyant alien from a planet called Naltor who ultimately joins the Legion of Superheroes. She's even friends with Querl Dox, also known as Brainiac 5, who appeared in Supergirl Season 3. Because her visions of the future arrive in her dreams, she occasionally suffers from narcolepsy. She also has a few evil family members — something that should help her fit right in with the other heroes on Supergirl. And, in one comics reboot, Nura's character does actually use the codename Dreamer. She's the first precog born on her planet in seven generations, which makes her a bit of a chosen one, too.
Like with many classic DC characters on the CW series, Nia's backstory may be a little different from that of her comic counterpart's. In the trailer for Season 4, it looks like Kara will take her under her wing, as she's seen giving Nia some advice about conquering her fears. Perhaps she'll become a mentor for Nia much like Cat Grant was for her — just without Grant's added snark.
In an interview with USA Today, Supergirl producer Jessica Queller explained that Nia's identity as a trans woman will be related to why and how Dreamer has her powers. The producers also promised that Nia will suit up during the season, so we won't have to wait too long to see her in action.
"I think Supergirl is the perfect show to do this," Maines said about introducing a character like Nia in an interview with The Mary Sue. "I think that having a female-driven show that has so much diversity and representation in it is the perfect show to handle the first trans superhero, and it makes sense for the first trans superhero to be in such a diverse and welcoming environment."
After Season 3 unfolded the tragic origin of the evil Reign, this time we get to see a new hero rise. Hopefully this means more of the Legion in Season 4 — but for now, just get ready to meet Dreamer!