This Viral Drew Barrymore Interview Sparked The Most Confusing Story You'll Read All Day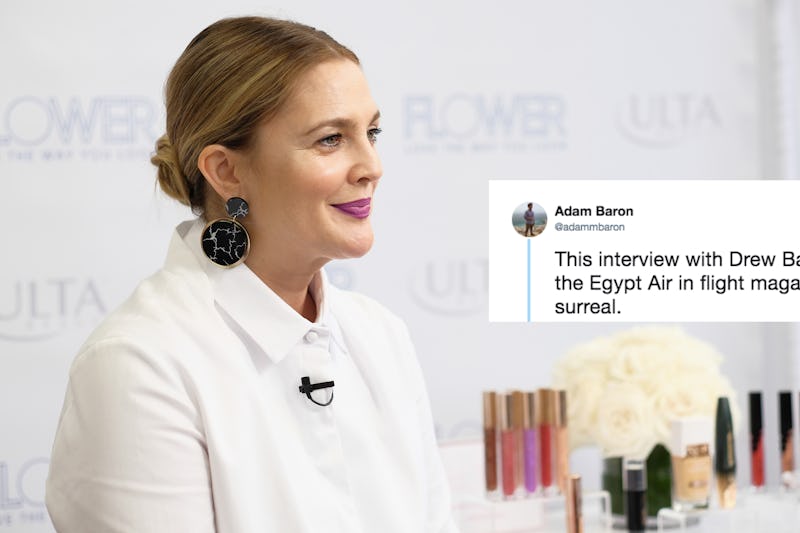 Dimitrios Kambouris/Getty Images Entertainment/Getty Images; Adam Baron/Twitter
It's one thing for a publication to make implications or accidentally misquote their subject, but to completely fabricate an entire interview ... like, how does that even happen? Has that actually ever happened? Well, a viral tweet about a supposed Drew Barrymore interview, discovered by an EgyptAir passenger, has sparked that very question. If you've been on Twitter in the past 24 hours, you may be wondering, is the viral airline interview with Barrymore real? While HuffPost deemed the interview "Very Fake," the airline appears to be standing by the story. There's so much to sort out here, so let's dive in.
The whole situation is truly bizarre. It's one of those "I'll believe it when I see it" kind of things, you know? You're about to have no choice but to believe it, thanks to the photos that writer and political analyst Adam Baron took of Horus magazine's Barrymore spread. Baron posted a series of shots from the magazine on Twitter, captioning one of the photos, "This interview with Drew Barrymore in the Egypt Air in flight magazine is, umm, surreal." Yes, yes it is.
Baron's tweets went viral pretty quickly on Tuesday, and prompted Barrymore's rep to make a statement. When asked about the interview by HuffPost, a spokesperson for the actor said she "did not participate" in the Horus piece, and that her team was actively "working with the airline PR team" on the matter. (Bustle reached out to Barrymore's agent for comment, but did not receive an immediate response.)
First of all, it's hard to imagine that a celebrity — no matter how brash or outspoken they may be — would say half the things in this interview. It's hard to imagine that Barrymore especially — who, quite frankly, comes off as a pretty zen human — would say any of it, though.
When asked about the "status of women today," for example, the magazine claims Barrymore responded, "I cannot deny that women made a great achievement over [the] past century; there is significant progress recorded by people who study women status throughout history." Wait, what?
Fake Barrymore then explained, "This is naturally reflected on women in the west who will not be satisfied unless they gain the rights they deserve to the society. This is especially true since women exert tremendous efforts that men are incapable of exerting due to their numerous commitments and obligations." That makes ... zero sense.
As if that weren't bad enough, the rest of the background and filler copy seems straight-up insulting. Take, for example, this paragraph from the intro: "It is known that Barrymore has had almost 17 relationships, engagements and marriages; psychologists believe that her behavior is only natural since she lacked the male role model in her life after her parents' divorce when she was only 9 years."
On Wednesday afternoon, EgyptAir did end up responding to the fake interview claims, but their statement didn't exactly clear anything up. After aviation analyst Alex Macheras tagged the airline in a tweet about the piece, @EGYPTAIR wrote,
"Dear sir, this a professional magazine interview conducted by Dr. Aida Tekla Former president of the HFPA (Hollywood Foreign Press Association) and one of the voting members of the Golden Globes."
Hang on, though, because the plot continues to thicken. No one seems to know who the publisher of Horus magazine is, by the way, but both BuzzFeed and HuffPost have been trying to figure it out. Theoretically, the publisher would be the most official word on this whole, confusing debacle, but the next best thing would be to hear from the writer herself.
A Twitter account appearing to belong to the author who conducted the interview in question — Dr. Aida Takla (@Aidatakla1) — ended up chiming in on the controversy as well. In a series of three consecutive tweets on Wednesday, Takla wrote that she's "been a correspondent for many publications for decades," and that the publications she writes for are allowed "to edit the final version of the interviews."
Then Takla wrote, "This doesn't negate the fact that the interview with Drew Barrimoor which took place in New York is genuine &far from fake. As far as Drew we interviewed her several times I saw her grow up before my eyes she is charming and talented." (In a follow-up tweet, Takla explained the actor's name misspelling was apparently the result of dictating the tweet.)
While Takla's account isn't verified (and the byline in the Horus article is spelled "Tekla"), that didn't stop @EGYPTAIR from retweeting her comments and adding, "Thanks @Aidatakla1 for the clarification." Although, that doesn't fully clarify the situation at hand.
Eventually, Chris Miller, the president of Flower Films and Barrymore Brands, untangled some of this messy situation in an email to BuzzFeed:
"The writer did write the Q&A portion of the interview based on what she says she heard Drew say at one of these [HFPA] press conferences but she says she did not write the intro. The writer is saying someone at the magazine write that intro which comes after the journalists name so it obviously seems it was written by her but in fact wasn't. So technically Drew did not sit down with EgyptAir for an interview but a journalist who is a member of the HPFA sometimes supplies articles to EgyptAir and that's what happened."
While it seems as if that may be the final word from Team Barrymore, it still doesn't really feel like everything's been resolved. So much confusion, so many questions. Anyone else need a nap?