Drug Lord El Chapo Escaped Prison Twice, Can He Do It Again?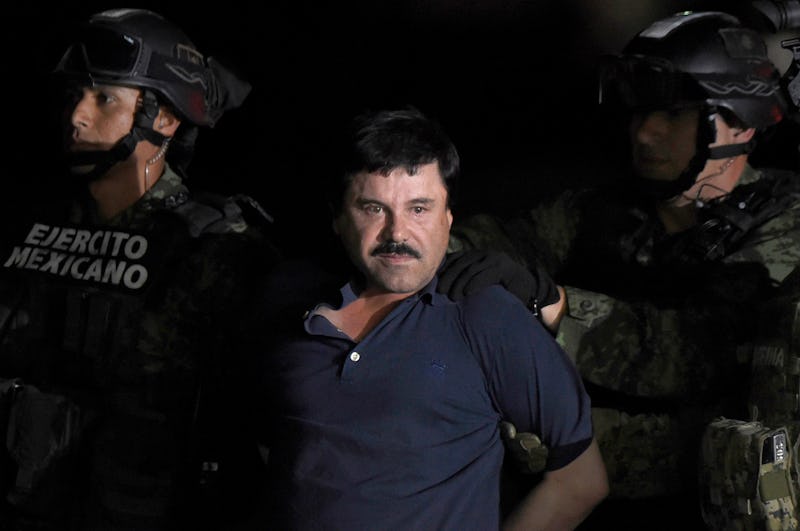 ALFREDO ESTRELLA/AFP/Getty Images
On Friday, Netflix debuted a gripping three-part documentary about Latina actor Kate del Castillo's brush with notorious Mexican drug lord, Joaquín Guzmán. Better known as El Chapo, he became known to the world in the early 2000s and acted as the head of the Sinaloa Cartel, according to Rolling Stone. Described by authorities in the trailer for The Day I Met El Chapo as "mythical," he somehow lived above the law while also gracing Forbes Most Powerful People lists and evading authorities. He's been in the public eye for years, but will be even more so this week upon the release of the docuseries, which premiered Oct. 20. Before you watch, you may need a little background refresher — is El Chapo still in jail?
Short answer — yes. El Chapo was extradited from Mexico in January 2017 and is currently being held in a high security Manhattan prison, according to the Associated Press. His trial is set for April 2018, and he faces the possibility of life in prison, Reuters reports. The 60-year-old is charged with running an international cocaine, heroin and methamphetamine smuggling operation, which Reuters reported played a major role in Mexico's drug war that has taken the lives of more than 100,000 people.
While he awaits his trial, El Chapo is being held under incredible scrutiny — he isn't even allowed in the same cubicle as his lawyers, the New York Daily News reports, and is forced to use a paper slot and a computer monitor to communicate with them. The precautions are for good reason — as many can recall, this isn't El Chapo's first stint behind bars, and he isn't usually keen on waiting out his sentence.
In 2001, the kingpin escaped from Mexico's Puente Grande prison after serving just 7 years of a 20-year sentence. Business Insider reports that authorities believe he allegedly may have bribed prison workers to destroy the prison's security cameras and covertly load him onto a truck. Not only did the crafty escape work — he wasn't recaptured until 13 years later. After he was apprehended in 2014 after a decade-plus manhunt, authorities still couldn't rest. In less than 17 months, Business Insider reports, he escaped through a tunnel underneath his cell. Not only did he create his own escape route in a high-security prison — the whole thing also cost an estimated $50 million which allegedly included bribes to guards. The guy isn't playing around.
During his most recent stint on the run is when The Day I Met El Chapo takes place. The documentary includes the fact that actor Sean Penn had a meeting with the fugitive and produced an article about him from Rolling Stone — for which names were changed, locations left unmentioned and El Chapo was able to screen for approval before its publication. del Castillo, whom the Netflix documentary focuses on, helped Penn arrange this meeting.
Strangely, it was the meeting with Sean Penn that might've lead to El Chapo's most recent capture. A Mexican federal law enforcement official, who would only speak anonymously, claimed to the Associated Press that Penn's interview led authorities to El Chapo. According to Fox News, Penn claimed to have nothing to do with El Chapo's recapture by Mexican authorities in January 2016. Per Fox News:
Last year, Penn told Charlie Rose that he met the drug lord in a "place nowhere near where he was captured." He also told Rose the accusations that he helped in Guzman's capture were "incorrect and could put him in danger."
So far, El Chapo has not been able to pull off any more crazy escapes. He currently sits in the Metropolitan Correctional Center jail in New York City, which the New York Times reports is known by some as "less hospitable than Guantanamo Bay." The most dangerous inmates are housed in solitary confinement and have lights on nearly all hours of the day and night, and inmates are unable to see the outside world through frosted glass windows, the Times reports.
Until his trial, it's unlikely that El Chapo will see the outside world, even if he attempts to bribe officials. Now that everyone knows full well what he's capable of, it doesn't seem as though authorities are taking any chances.