Kirsten Dunst's New Series Is A Super Dark Comedy About The American Dream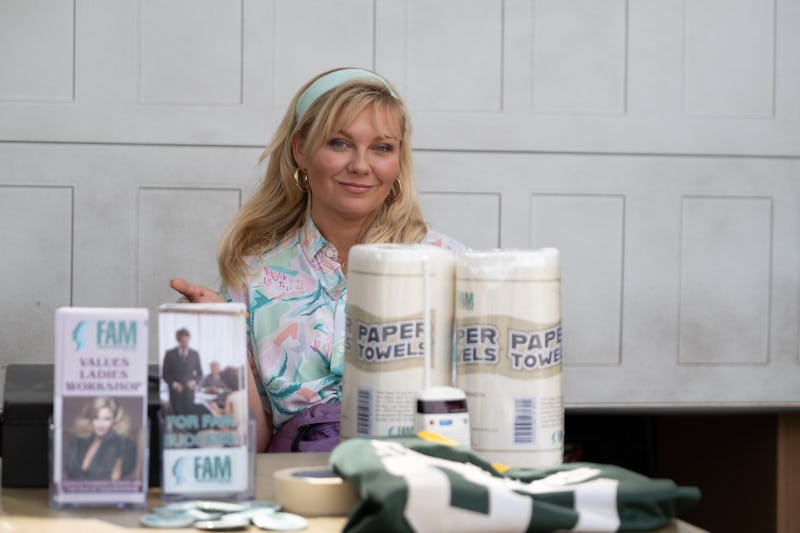 Patti Perret/Sony/SHOWTIME
While 2018 may have been the year of the scam, 2019 is the year of the skeezy company — from the Hierbalite multi-level marketing scheme (MLM) in Los Espookys to Theranos in The Founder and Fyre Media in the two dueling Fyre Festival documentaries. Enter On Becoming a God in Central Florida, premiering Sunday, Aug. 25 on Showtime, which centers around an MLM called Founders American Merchandise (FAM). A single, Floridian mom named Krystal Stubbs (Kirsten Dunst) begins working for this company after her husband dies, which promises her the lifestyle of the rich and famous. So is Founders American Merchandise based on a real company?
While it doesn't seem like FAM itself is real, Slate compared it to MLMs like United Sciences of America back in 2017, and the New York Post likened FAM to Amway. While this series takes place in the early '90s and MLMs may seem like a thing of the past (think the woman selling Avon door-to-door in Edward Scissorhands), they're very much still around today.
According to MLM News Report, the top 50 companies include essential oils brands like Young Living and doTerra, Mary Kay, skincare brand Rodan + Fields, and leggings company LuLaRoe, among others.
As for the one depicted in On Becoming a God in Central Florida, Krystal's husband Travis (Alexander Skarsgård) is a low-level distributor at FAM. In the opening minutes of the premiere, audiences see both toiletries and food with the brand's logo on it, revealing that it sells home goods of all kinds.
"Everyone on the show wants something more for their life and there's no way they can get that working for minimum wage in 1992," showrunner Esta Spaulding told the New York Post in the same article. "That's when … the working class couldn't earn a living [to] sustain and feed their families."
Hence, Founders American Merchandise, which Krystal reluctantly joins out of necessity, although Dunst told the NYP that her character had "always known that there's something fishy with FAM."
So what companies does FAM emulate? While there doesn't seem to be any one perfect example, a similar corporation is Amway, which was founded in 1959 and is still around today. The MLM sells a wide range of products, touting everything from nutritional supplements (called Nutrilite) and air purifiers to makeup, among others.
A similar MLM is the aforementioned United Sciences of America (which stands for — what else? — USA). According to a 1987 article from Money magazine, USA was a nutritional-supplement enterprise out of Carrollton, Texas. It rose to prominence in January 1986, per the article, and was endorsed by Star Trek actor William Shatner, who did the voiceover for the below promotional video.
Executives included chairman Robert Adler and president Jerris Leonard (who had served under President Richard Nixon as assistant attorney general), per Money. USA had four products, per their brochure — the Master Formula, Calorie Control Formula, Fiber Energy Bar, and Formula Plus. According to a year-long report by Stephen Barrett, M.D. on the site MLM Watch, one month's supply of all four products cost USA distributors $100 and sold for $135.
Then, in October 1986, NBC released a negative news package on USA, per Money, which started toppling the pyramid. In November, commission checks weren't mailed, and in December, distributor checks began bouncing. In December 1986, the FDA sent USA a letter, stating that USA's products were misleading — one such example being the Fiber Energy Bar, which the FDA stated had less protein than the company claimed. In January 1987, USA filed for Chapter 11 Bankruptcy, filing for Chapter 7 bankruptcy liquidation a month later, per Money.
But while USA may not be around today, it's a cautionary tale on convincing sales pitches that really prey on the financially unstable. But what the United Sciences of America didn't have was Krystal Stubbs, and she seems determined to make her American Dream of becoming a god in central Florida come true.