This Lifetime Movie May Give You Relationship Nightmares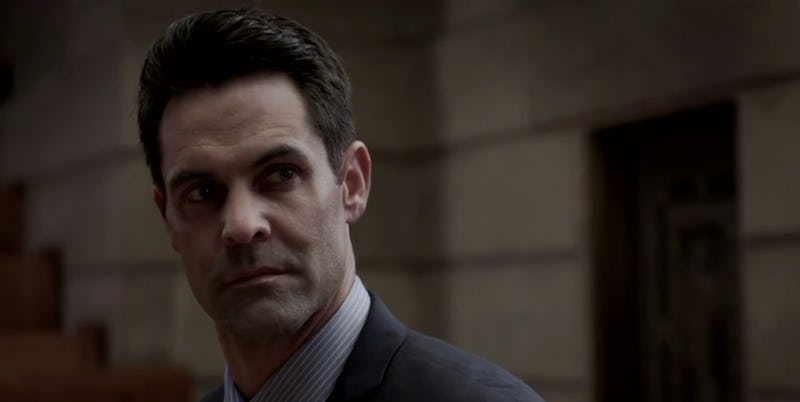 Lifetime
Lifetime's Framed By My Fiancé premieres on Nov. 24 on Lifetime and follows the story of Daniel and Jenny, a young, newly engaged couple who seem to have it all, until a tragic car accident brings forth a whole new, dangerous side of Daniel, causing Jenny to fight for her life. Is Framed By My Fiancé based on a true story? Since Lifetime movies tend towards being "ripped from the headlines," it's always worth asking.
Well, it definitely doesn't seem like Framed By My Fiancé is based on any true events. Whenever a Lifetime movie, or any movie for that matter, is based on any true events, they tend to advertise that fact pretty heavily. True stories can be a draw for viewers, because the idea that the events really transpired somehow makes the viewing experience more intimate and relatable. (And sometimes, even scarier or more disturbing.) Of course, some truly awesome flicks, both TV and otherwise, have drawn inspiration from real things that have happened. But Framed By My Fiancé is not being advertised as being based on true story. So you can watch with the confidence that you're probably not peeking into someone's life.
And that's good news for everyone, because Daniel (played by Jason-Shane Scott) and Jenny (played by Katrina Bowden) don't exactly have a healthy relationship. Daniel is some hotshot lawyer and Jenny is a successful nurse. Daniel eventually finds out that he is set to be appointed as the youngest judge in the state. At the height of their career success, he proposes to Jenny and she accepts because it certainly seems as though they're the perfect couple. The night of the proposal turns extremely sour though, because Daniel and Jenny end up getting into a car accident that kills the driver of the other vehicle. Daniel was driving, but he fears that the death will ruin his career, so he switches seats with an unconscious Jenny, making it look like she was driving. Basically, he puts his own career completely in front of his fiancé. Jenny is forced to try to clear her name, with the angry widowed wife of the other driver breathing down her neck, demanding justice.
Fans may recognize Bowden, who plays Jenny, from her recurring role on 30 Rock. Bowden played Liz Lemon's young, spacey assistant, Cerie on the series and became kind of a fan favorite for the role. Scott seems to have appeared in every show imaginable including playing roles on Charmed, Scrubs, Grey's Anatomy and Desperate Housewives. He has also played recurring characters on long-running soap operas like One Life To Live and The Young And The Restless.
In an interview with Starry Mag, Scott said he wanted to play the character of Daniel as, at the very least, slightly sympathetic. His goal was not to make the character seem like an unfeeling monster but instead, to make him believable. In the actor's mind, Daniel was misguidedly attempting to turn the situation in a way that would eventually benefit them both himself and his significant other in the end. "I think in all these movies in general, the good ones, the bad guy is actually trying to do it for what they feel is right and it's not just to go around framing these people and killing," Scott said. Of course, with this kind of nightmarish story line, that seems like it will be a tall order for any actor. But Scott's intentions for the character may have viewers reacting to him differently.
Still, it's a solid bet that audiences will be rooting for Jenny to escape this situation when the very fictional Framed By My Fiancé comes to Lifetime.