Bill Paxton's 'Training Day' Role Is Intriguing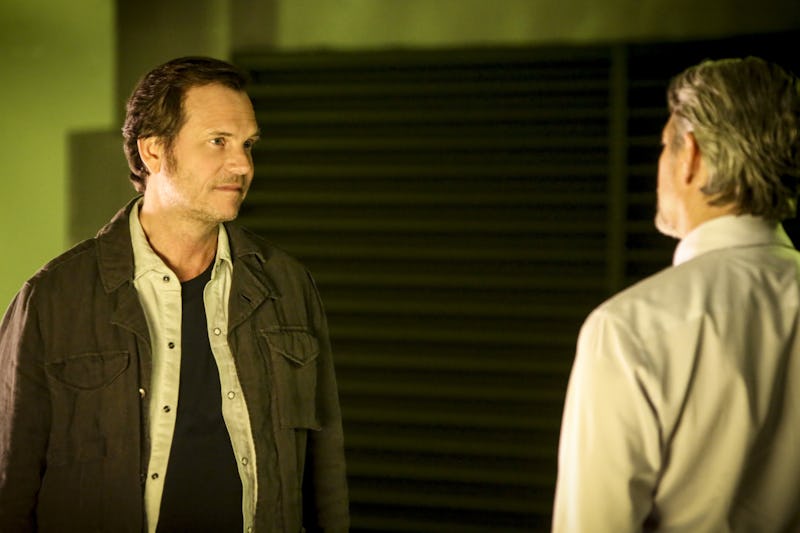 If you've missed seeing Bill Paxton on the small screen every week (looking at you, fellow Big Love fans), you'll definitely want to tune in for the Jan. 2 premiere of the new CBS series Training Day. Of course, his role will be quite a departure from the mainstream polygamist he played on Big Love, but Training Day is an exciting crime thriller. Paxton plays Frank Rourke, a long-time L.AP.D detective whose superiors suspect he's bending the rules as he fights the war on crime. It's an intriguing new role and crime dramas are often inspired by real life cases, so I have to wonder if Bill Paxton's Training Day character is a real person?
Although the show is fictional, it's a sequel to the 2001 movie Training Day, which was inspired by real life people and events. However, the realistic aspects of the TV series start and end there, and Paxton's Detective Rourke isn't based on a specific person. Rather, he (and the other characters) appear to represent a persistent unease within the L.A.P.D. which has struggled with its public perception over the years. Still, Paxton's character sounds intriguing and viewers can count on the Emmy- and Golden Globe-nominated actor to bring him to life in the best way possible — so let's get to know Frank Rourke before we tune in for Thursday's premiere.
A younger officer with an impeccable record, Kyle Craig (Justin Cornwell), is assigned to work with Detective Rourke to spy on him and report back to the higher-ups about any suspicious activity. In an interview with The New York Post, Paxton said the unlikely camaraderie that's formed between the two characters is something he hopes will resonate:
"A lot of things in the last couple of years have really underlined the divides that still exist in this country, but I think shows like ours that show people working together trying to make something of something; that's where it's at."
The TV series Training Day is softer around the edges than the the film that inspired it — TV Guide describes Rourke as "a grizzled veteran who plays by his own rules." But, as Paxton humorously points out (spoiler alert!), his character "doesn't set his partner up to die" like the film's veteran detective.
And, because there are always game-changing coincidences on crime thrillers, the dynamic between Rourke and Craig shifts when Craig realizes that Rourke is his father's former partner. "The police chief and everybody else comes into question, like 'Why am I really here? What's really the point of putting me next to this guy?'" Cornwell said in an interview with Inside Brockville.
Paxton's character — and his dynamic with the officer assigned to spy on him — sound seriously intriguing and I can't wait to watch the season's drama unfold.