Netflix's 'Frontier' Has Historical Inspiration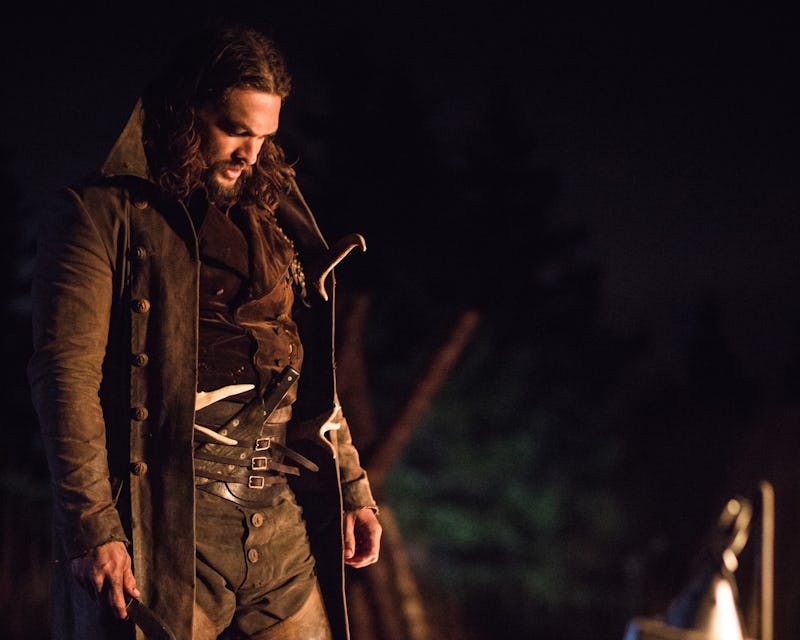 Duncan de Young/Netflix
Following his rugged turn in SundanceTV drama The Red Road, Jason Momoa will light up the small screen once again when Frontier premieres on Netflix Jan. 20. The Game of Thrones vet stars as Declan Harp, an 18th century outlaw navigating Canada's cutthroat, power-driven fur trade. He campaigns to topple the monopolistic Hudson's Bay Company, forcing the industry to veer toward chaotic, blood-soaked combat. Given that the series is an action-packed period drama, viewers may be wondering if Frontier is based on a real story, and while it doesn't have any direct ties to reality, it's certainly rooted in history.
According to Huffington Post Canada, executive producer and star Alan Hawco said the show is a historical fiction drama, but it does explore aspects of a very real history. The North American fur trade was a very real business, tracing back as early as the 1600s. According to the University of California, Santa Cruz, France and England set up holdings around Canada's Hudson Bay when beaver populations began to run low abroad. Beaver in the northern parts of the continent contained fuller coats and were more desirable to clients, making that area a market hotspot. As the industry grew, it helped bridge culture between European settlers and local Native Americans, tying them economically, politically, and symbolically. However, it also embroiled them in international conflicts such as the Seven Years War and American Revolution.
Hudson's Bay Company, too, is a legitimate franchise. According to its website, it was founded in 1670 and ran many trading posts across Canada. As noted by the Natural History Museum in London, it was at one point the the largest landowner in the world, holding 15 percent of North American acreage. In the decades since, it's blossomed into a thriving department store and currently operates across 90 full-line locations. (Bustle reached out to a rep for Hudson's Bay Company for comment on its portrayal in Frontier, but has not yet heard back.)
But, while Frontier does have many historical touchstones, its narrative is staunchly fictional. Momoa said in an interview with USA Today that while the series' authentic backbone drew him in, he was most struck by the character himself: A rogue and ferocious former Hudson's Bay employee. "I did a lot of research, but the thing that was most useful for me is just relating it to my life. Just being a father, if anyone were to do the same to my family, what would I do?" he told the outlet. "There's a lot of stuff I can read and look up, but there wasn't one fact that set me off. It was actually me wanting to play in that time period."
For Netflix, it's a formula that works. Last year, the streaming hub found fast acclaim with The Crown, a series that similarly weaves an imaginative tale grounded in history. In that case, the story hinged around Queen Elizabeth II's early reign, but here's to hoping Frontier's more gruesome, high-thrill approach will follow a similarly successful route. Find out when it hits Netflix on Friday, Jan. 20.