Everything We Know About Garrett's Relationship Status After 'The Bachelorette'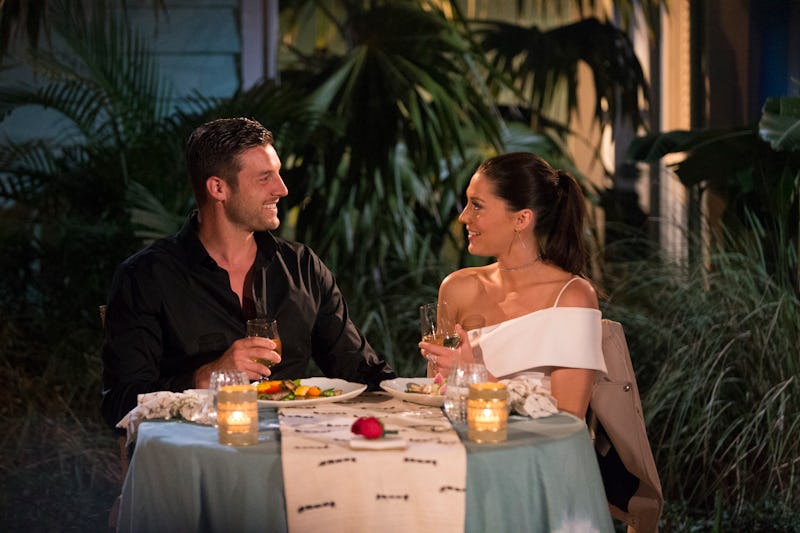 ABC/Paul Hebert
Becca's season has been fairly tame, especially after the drama of Arie's season and her subsequent heartbreak. However, the competition is finally heating up on The Bachelorette, with just three contestants left, and things are likely going to get intense. One of these young bachelors is Garrett Yrigoyen, who received Becca's first impression rose at the beginning of the season. But what fans really want to know is if he stayed in Becca's good graces when all was said in done. In other words, is Garrett single after The Bachelorette, or is there any evidence that he and Becca are still an item?
Unfortunately for #BachNation, it's simply too soon to tell. Contestants are likely told to keep anything spoiler-y off of social media while they remain on the show, which is why Garrett hasn't posted anything girlfriend-related on Instagram. Which means that it's anyone's guess as to what his relationship status is now. However, even if Becca didn't choose him, he seems to be doing well. The salt-of-the-Earth contestant has been posting videos of himself fishing with friends and even feeding some llamas, proving that he's doing just fine.
The California farm boy was the subject of some controversy before this season of The Bachelorette aired, when some of his unsavory Instagram likes resurfaced. He garnered some deserved criticism for liking posts that mocked, among other things, trans people, feminists, and Parkland survivor David Hogg, according to the Huffington Post. Garrett released an apology on his new Instagram account on May 31, stating that he had deleted his old handle, garrett_yrigs12. "I am not the negative labels people are associating me with," he wrote, in part, with a Notes app screenshot. "For those who don't know me, I am a sincere, genuine, loving, light-hearted, open-minded and non-judgmental individual."
Despite this misstep, Garrett has done remarkably well this season, as is evidenced by the fact that he's still in the competition. Not to mention that last week Becca met his family, helped him plant tomatoes, and rode a tractor. Of course, his previous marriage naturally came up, and Garrett admitted that the last woman he brought home was his ex-wife. Since his divorce was, understandably, so difficult for him, his family was very protective of Garrett during the home visit. "[H]is mother is like a mother bear," the contestant's dad told Becca in Episode 8. "She protects her cubs."
And Mama Bear took her role very seriously. "He came out of a dark hole," she told Becca. "And he's become very happy again, and he's starting to enjoy life. But I don't know where your heart is." Nevertheless, things seemed to go well with the Yrigoyens. Garrett's mother told the bachelorette that her son had deep values, saying it seemed as though Becca shared them. She was presumably talking about Becca's faith, which the contestant had said at the start of the season was very important to her. "Unless I read something wrong tonight, I think that Becca could make Garrett happy," Mrs. Yrigoyen said tentatively after the couple's home visit.
So did Becca make Garrett happy? As of Episode 8, Colton has been eliminated from the competition, but the three remaining men: Garrett, Jason, and Blake, have all been vocal about their love for her. Not only that, but it seems as though Becca feels torn equally between all of them. So whatever happens in the coming episodes of The Bachelorette, Becca has a difficult decision before her.
"Sitting down with Garrett tonight, my biggest question to him is, 'Are you gonna be fine if this bounces back the other way?'" his mother said during their home visit. So either the contestant has bounced back hard after being eliminated or he and Becca are happily engaged. Either way, audiences can't wait to watch the bachelorette do the damn thing.