Here's What Happened Between Becca & Colton On 'The Bachelorette'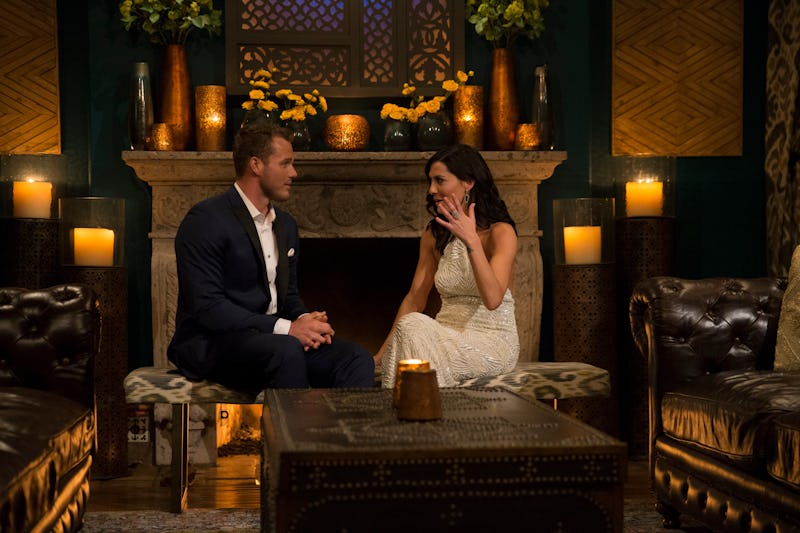 Paul Hebert/ABC
The adage that nothing gold can stay is a tough lesson, but it's especially true on a show like The Bachelorette. Sure, Becca is dating 30 guys at once, but she also has to break up with 29 guys before she can get engaged. The latest man to get his heart smashed into itty bitty pieces? Former NFL tight end Colton Underwood. Why did Becca send Colton home on The Bachelorette? He may have brought it all on himself.
Not to burst your bubble, Colton lovers, but he was already on the way out the door when he got in. Sure, he's super cute and Becca obviously loved to make out with him, but Colton admitted pretty early into the season that he had gone out with Becca's friend, Tia, also from Arie's season of The Bachelor, before The Bachelorette started. "I wanted to make sure to explain, sort of, that [Tia and I] had a weekend together, and we had a good time, but for me, the timing wasn't right to grow what was a spark into a flame," Colton told Becca. "If my feelings were strong enough, I wouldn't have came on this. And I think that, what I know of you, we could have a ton, whereas it wasn't there with her." Very interesting.
Tia told her side of the story soon after, telling Becca, "And we never really had like, an established conversation about what we were, he just… told me early, like within a few days of talking to him, he told me about applying for the show." You read that correctly — Colton told Tia that he auditioned for The Bachelorette while they were seeing each other. Yes, that's weird, and yes, that makes it seem like he auditioned for the show to be with Tia, because Tia was the frontrunner to be the next Bachelorette (this was never recorded anywhere, but, come on) before Arie dumped Becca. Tia continued, "I was like, 'What are the odds of actually making it?' So say that I know you apply for the show, and we stop talking. What does that accomplish?" Again, this is all very strange.
And it's still strange, because Tia came back to The Bachelorette to talk about Colton again after hometown dates. Again! And she admitted that she still had feelings for him, backtracking on her initial statement. Tia told Becca:
"Obviously, this is hard for me, and I'm nervous to even have to talk to you about this right now, but I just have to be fully honest and put it out there because it's been weighing on me. I just feel like I am so excited to hear you talk about Blake and Garrett and Jason. When I think about Colton… if I'm being completely honest with myself, I do still think I have feelings for Colton.
She added, "And when I think about Colton being at this point, right now, it makes me sick in my stomach. Knowing that you got to meet his family and knowing that he's still here in this, it makes me sick."
Becca was simultaneously sad, mad, and understanding of her friend's predicament, and she had a lot to think about. How much does she need to take her friend's feelings into account, especially when she and Colton have real feelings for each other?
In the end, it didn't seem like Tia's feelings totally came into play. Even though Becca "could potentially see a future" with Colton, she ultimately knew he wasn't the one. Even during her visit with his family, she expressed a lot of concerns that Colton might not be ready for what she's ultimately looking for.
Colton didn't take it well, telling her that he thought she was special. "I just wanted an opportunity to fall in love and be happy. I finally got to the point where I could not feel broken again," he said. It's understandable — his heart is broken, and he had no idea he was going to be dumped. For now, Becca and the men are headed to Thailand, and Colton is headed home. Let's hope everyone — and I mean everyone — finds love after this tough week.