George Clooney Was Reportedly Taken To The Hospital Following A Motorcycle Crash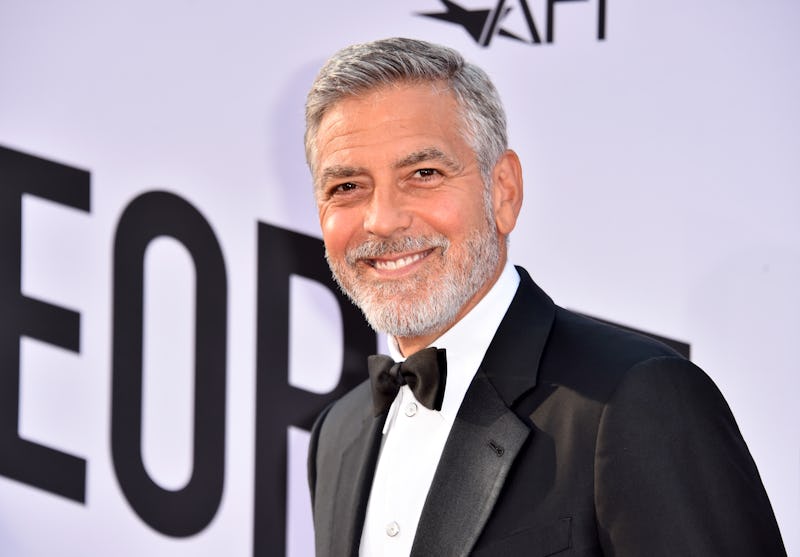 Alberto E. Rodriguez/Getty Images Entertainment/Getty Images
A local news outlet in Italy reported that George Clooney was in a motorcycle accident on his way to the set of his new Hulu series Catch-22. Fans can rest assured though that Clooney appears to be doing OK after the collision. According to The Hollywood Reporter, Clooney has been released from the hospital following the accident. (Bustle has reached out to Clooney's publicist for comment.)
UPDATE: A rep for George Clooney released the following statement to Bustle: "George Clooney was treated and released from an Olbia hospital. He is recovering at his home and will be fine."
EARLIER: On Tuesday morning, Clooney was rushed to the hospital in Sardinia, Italy after a collision with a car and released the same day, according to THR. The local media that had gathered at the John Paul II hospital in the city of Olbia reported that Clooney left through a side exit a few hours later, leaving them unable to catch a glimpse of the actor leaving the hospital.
According to the Italian daily paper La Nuova, Clooney's bike was struck head-on by a car that allegedly did not "respect the right of way" at 8:15 a.m. local time. Clooney was reportedly thrown from his bike, hitting the windshield of the car when it failed to stop at a turn. In a photo from the paper, there is a crack in the driver's side of the car's windshield. The driver of the car called an ambulance. The Italian paper reported that Clooney was taken to the hospital complaining of "a slight trauma to the pelvis and bruises to one leg and an arm." La Nuova also reported that Clooney underwent an MRI and that his wife, Amal Clooney, was by his side while he was in the hospital.
CNN reported that an officer of the Carabinieri, one of Italy's police forces, said that the actor was doing "fine" after the accident, while an Italian police commander said that Clooney didn't suffer any serious injuries. Rai News reported that Clooney only suffered a bruised knee in the accident. After being released, Clooney will reportedly continue to be monitored on an outpatient basis for the next 20 days by his private doctor. Italian authorities also said they will also look into the cause of the accident.
While Clooney has a home in Lake Como, Italy, he is in Sardinia filming the six-episode Hulu limited series Catch-22, which is based on Joseph Heller's 1961 satirical novel of the same name. The actor was reportedly heading to the set of the series when he was hit by the car, according to CNN. He will reportedly return to the set in a couple of days.
The series looks at Yossarian (Girls' Christopher Abbott), a U.S. Air Force bombardier in World War II who is trying to keep his sanity as he continues to fight in hopes he will fulfill his service duties and finally get to go home. According to THR, back in April, Clooney reduced his role in the series so that he could focus on his producing and directing duties. He will co-direct the series with his partner Grant Heslov and Ellen Kuras.
Kyle Chandler reportedly took on Clooney's former role of Col. Cathcart, Yossarian's commanding officer. Clooney will now play the supporting role of Scheisskopf, a training commander who makes Yossarian's life a living hell. So, yes, Clooney gets to play a bad guy in this series, which will reportedly only air for one season. It's Clooney's first TV role in nearly 20 years since leaving ER in 1999.
The series, written by Luke Davies and David Michôd, will also star House's Hugh Laurie and Preacher's Julie Ann Emery, who will play Marion Scheisskopf, who's married to Clooney's character, but having an affair with Yossarian (Abbott).
While fans will have to wait to see this take on Catch-22, they don't have to worry about Clooney. He's on the mend and expected to be just fine.