How To Make Gravy Vegan This Thanksgiving So No One Misses Out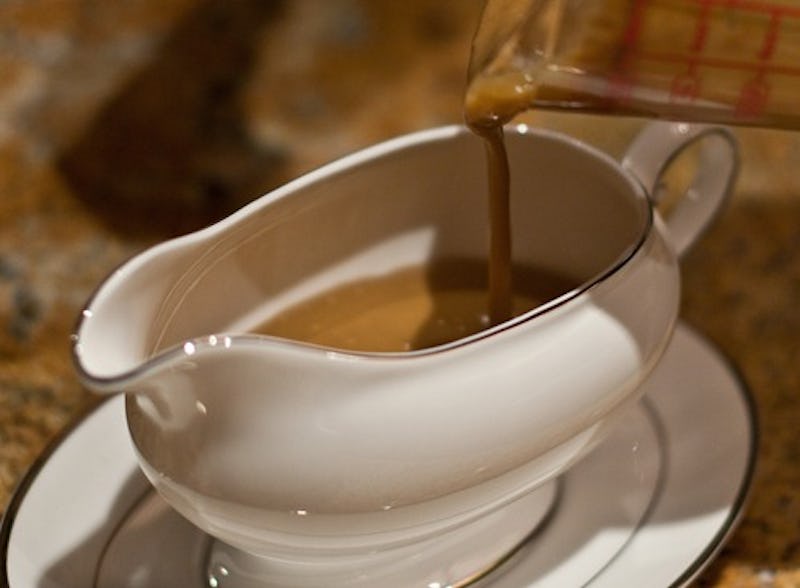 Oh She Glows
Whether you're hosting a Thanksgiving dinner with a vegan guest or just trying to get your facts straight, you'll probably want to know if gravy is actually vegan. The answer isn't clear probably because it's not abundantly clear what gravy even is, in my opinion. The brown, rich, savory sauce is vastly flavorful, and while it goes on the turkey, most people aren't exactly sure if it has any meat it in, independently. But the sweet sauce didn't come here on an asteroid — someone created it, so it's pretty easy to figure out how it's made.
A little perusing on the internet and I've found that it's unfortunately 100 percent non-vegan. Traditional gravy is made by collecting fat and juice drippings from roasting meats, thickening them up with flour, and adding other spices and ingredients to fine tune it into the ultimate meat-moistening sauce.
If you have to prepare for a vegan guest, or want to achieve a vegan gravy for yourself, you'll be glad to know that there are many animal-product free recipes that get the same job done. And honestly, if you didn't know you were eating vegan gravy, you probably wouldn't know you were. A good mix of spices, herbs and seasoning and you've got yourself a tasty sauce that you can use to liven up your mashed potatoes, vegetables, stuffing, what have you. Here are a few super easy to make vegan gravy recipes:
Porcini Mushroom Gravy
This recipe starts with dried porcini mushrooms and then brings in portobello mushrooms and other delicious, earthy seasonings. Check it out on Veganosity.
Soaked Bean Gravy
This recipe requires an overnight bean soak and mixes together a few different varieties of beans and lentils to create a thick, dynamic gravy that's got some serious zest. Check out the recipe on Vegan Richa.
Portobello Onion Gravy
This super simple recipe by My Darling Vegan is quick, straightforward, and super packed with flavor. It's perfect for Thanksgiving, but also a great vegan hack to have up your sleeve to dress up any meal.
Sweet Onion Gravy
If you're pressed for time in the kitchen and just need a quick sauce, this is going to be your go-to recipe by Wallflower Kitchen. It's basically just caramelized onions and vegetable stock.
All-Purpose Gravy
This no-frills, straight to the point all-purpose vegan gravy is not only easy to make, but super customizable. Add as much nutritional yeast as you want to increase the "cheesy" flavor. Make it in bulk and store it in the freezer, too. Check out the recipe on Oh She Glows.
Peppered Country Gravy
When you want a hearty, creamy gravy that's got a southern touch, this recipe is going to hit the spot. Check out the heat-packed recipe on Fo Reals Life.
Miso Garlic Gravy
Yes, this is really a thing, and yes, it's as delicious and complex as it sounds. It's a perfect mix of comfort food and Asian delicacy. I don't know how it works, but it does. Check out the unique recipe on Fo Reals Life.
Tomato Curry Gravy
Not all gravy has to make perfect sense on the Thanksgiving day table. This gravy will certainly change up the traditions you're used to. It's spicy, it's acidic and it's totally rad. Check out the creative recipe on Fo Reals Life.
Avocado Curry Gravy
Not all gravy has to be brown and heavy! When you're modifying non-vegan recipes to be vegan, you can be as creative as you want. This green take on the traditional gravy is super creamy and totally unlike what you're used to. Check out the recipe on Fo Reals Life.