'Riverdale' & 'Chilling Adventures Of Sabrina' Are Already Connected In This Huge Way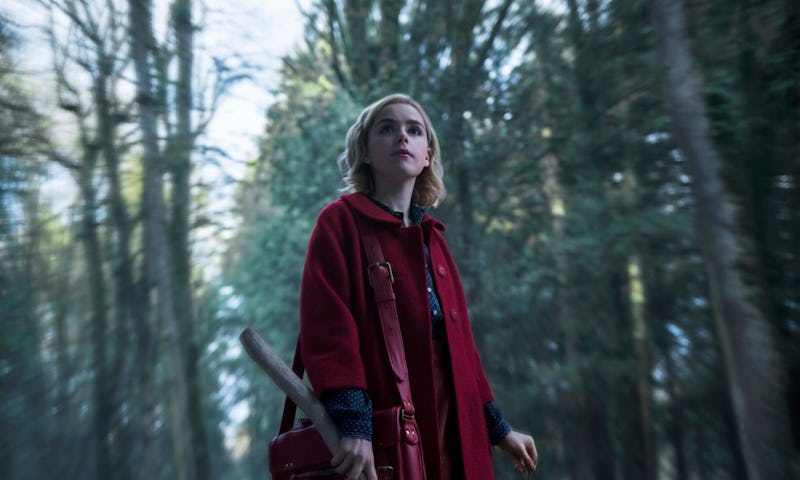 Diyah Pera/Netflix
Netflix is conjuring up the perfect series to watch this Halloween with the first season of Chilling Adventures of Sabrina — a dark coming-of-age story about everyone's favorite teen witch. But while we know that a majority of the story will be a work of pure fiction (you know, given all the magic and witchcraft involved), some fans may find themselves wondering about the location itself. Is Greendale from Chilling Adventures of Sabrina a real town, or simply another creative liberty being taken by the writers?
Unfortunately, if you were hoping to plan a field trip with your friends to check out all the local hot spots, you'll be out of luck because Greendale is an entirely fictional place, much like Riverdale. Both towns are part of the Archie comics and already share some notable ties on-screen. While no crossover between Riverdale and Sabrina is in the works just yet, Greendale has been mentioned on Riverdale before. In fact, it played an important part in Season 1.
Greendale is supposedly located on the other side of Sweetwater River and was where Jason Blossom was heading before his untimely death. Little else is known about Greendale itself — Riverdale tends to focus mainly on Riverdale-centric problems — but given the close proximity of both towns, it seems safe to say that they're pretty similar. Upon first inspection they may seem like quaint, safe places to live, but underneath the surface lies a dark history and even darker secrets.
Because the two towns are right next to each other, the atmosphere of Riverdale is assumedly quite similar to Greendale, which means we can glean a little insight about the type of environment Sabrina Spellman grew up in — even before the series hits Netflix. According to The New York Times, cartoonist Bob Montana created Riverdale as "an idyllic Midwestern community" because publisher John Goldwater had such fond memories of his time in Hiawatha, Kansas, which exuded a similar sense of tranquility. And given that Riverdale has also experienced warm and cold weather (like snow), logically that means Greendale will share the same type of climate as well.
According to the show's IMDb page, filming for Chilling Adventures of Sabrina took place in Vancouver, Canada just like Riverdale, so expect Greendale to deliver a cozy hometown feel that'll be sure to even give other fictional towns like Stars Hollow a run for their money. (You know, if it wasn't for the creepy seances and mysterious Dark Lord lurking around.)
Bottom line: no, Greendale isn't a real town that you can go and visit, but honestly, that only helps to add another magical element to the series. It makes the show, and the characters within in, unattainable and therefore more desirable. So while it's kind of a bummer that there's no actual Greendale in real life, it'll make diving into this world all the more enjoyable — and better yet, unpredictable.
Chilling Adventures of Sabrina Season 1 is set for release Oct. 26.