This 'Chilling Adventures Of Sabrina' Trailer Teases The Dark Lord's Obsession With The Witch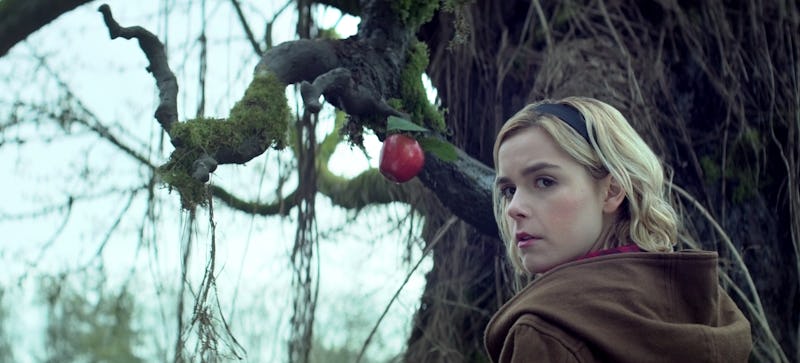 Netflix
Forget everything you thought you knew about Sabrina Spellman, because while the '90s sitcom version may fill your heart with nostalgia, Netflix's adaptation, titled Chilling Adventures of Sabrina, leans more into the darker sides of witchcraft. In fact, a new behind-the-scenes featurette released by the streaming service shows our beloved teenage witch preparing to do battle with a mysterious foe they call the Dark Lord, who wants to sway her to the side of evil. But why is the Dark Lord after Sabrina in particular? That question could prove to have a very interesting answer.
First and foremost, though, the featurette proves what the cast quickly backs up: that this series will be downright chilling. "Everything about the show is so massive but grounded and real," Kiernan Shipka, who plays the titular 16-year-old witch explains in an interview. "There's something next-level dark about it." That is certainly no understatement, given the darkness that is edging on Sabrina's horizon. Up until she turned 16, Sabrina was able to live a relatively normal life. However, now she must choose between living in the light as a human or living in the dark as a witch. But like most teens, Sabrina wants it all and who could blame her? Why shouldn't be allowed to explore both sides of who she is.
Unfortunately for her, the Dark Lord has taken a pretty big interest in her and seems hellbent (pun very much intended) on swaying her to the dark side, but why?
Everyone has both light and dark inside of them, and it'll be up to Sabrina to discover which part of herself she wants to listen to. So far, though, it looks like light is winning out as this new clip shows her formulating plans to face off against the Dark Lord. But will taking him down force her down the same dark path she's trying to avoid? She may not want to sign the Book of the Beast right now, but who's to say it won't happen eventually? Perhaps battling the Dark Lord is exactly the way he plans to lure her to the side of evil. But that still begs the question of why. Why her when there seem to be many other young witches around?
As of now, very little is known about the villain Sabrina will be going up against, though that shouldn't stop you from theorizing about how it could all play out. For example, it would be extremely interesting if Sabrina shares a strong connection to the Dark Lord in a way she has yet to realize. Could they be related in some way? Did her family betray him and now he's taking his revenge out on her? There has to be a deeper explanation as to why he's chosen Sabrina as his target. The Spellman family probably has more than a few skeletons in their closet, so it wouldn't be all the surprising if their past is coming back to haunt them.
Fans will just have to watch and see when all of Season 1 gets released on Netflix on Friday, Oct. 26.