You May Not Recognize Halle Berry With These Hair Extensions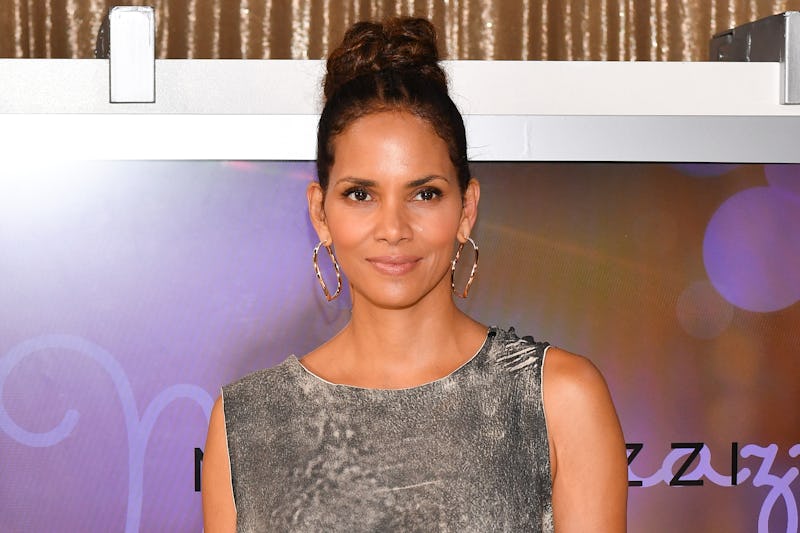 Dia Dipasupil/Getty Images Entertainment/Getty Images
Halle Berry is never afraid to go trendy with her hair. She returns to her signature pixie often since the close-cropped coif shows off her features, namely her eyes and those cheekbones. However, Halle Berry was rocking super long, dark extensions, mixed with purple and blonde strands in a picture on her personal Instagram. While the Oscar-winner has worn long curls and bang-driven styles in the past, this is look is a bit rock 'n' roll and a tad unusual for her, thanks to the multi-colored strands.
The style looks totally like her and nothing like her at once. Leave it to the always breathtaking Berry to trick your eyes like that.
The mega long and straight extensions fall all the way down her back and practically hit her waist. The purple and pink pieces frame her face, with the rest of the lighter strands placed strategically around her eyes and lips. It's predictably edgy, but surprisingly different.
Have a look at Berry. She reminds me a bit of Zoe Kravitz in this image, thanks to her funky, multi-colored outfit.
Oh yeah, she is totally working it.
Berry showed off long, caramel-highlighted and adorned locks recently.
The actor has been wearing her hair longer while on the promo tour for her latest film Kidnap.
This braid was er'thing. Clearly, Berry is having fun with her follicles this summer.
Berry's iconic pixie is always one of her best looks. But the actor can totally crush any length and style.