Heather Dubrow Is Expanding Her Mini-Media Empire, Post-'RHOC'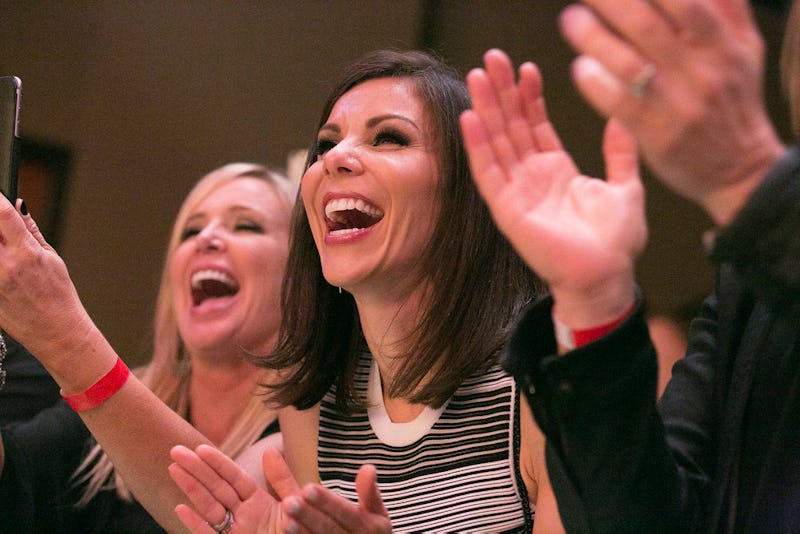 Isabella Vosmikova/Bravo
So far, the twelfth and newly Heather Dubrow-free season of The Real Housewives Of Orange County is missing something. It's probably the show's most level-headed cast member. Back in 2016, Heather claimed on Amy Phillips' podcast that RHOC was preventing her from getting more acting work. "I think because I'm now so well-known for being 'me' that it's just an odd thing, and the kinds of things they call me about are to either be myself [...] or kind of stereotypical of my character as it's perceived on the show role," she said. So, now that she's left Bravo's franchise, is Heather from RHOC on any other shows?
When Heather first announced that she was leaving RHOC, she was working on a cameo for Young & Hungry, a Freeform comedy, which aired in late March of 2017. But since that single-episode guest spot, she's yet to announce or start filming any other roles.
Fans could see Heather make another appearance on Botched, the reality series starring her husband, Dr. Terry Dubrow. She's appeared on the show before, and given that Terry told Bravo's The Daily Dish that he loves their new house so much that he hardly ever leaves, the chance of a Heather guest spot in the next season seems high. Terry also told The Daily Dish, "She's got two new projects that are going to come out soon," which means Heather might have some still-gestating TV roles coming up.
Other TV appearances aside, Heather is still producing quite a bit of new content on her own. She has her own web series, Heather's Closet, where she conducts celebrity interviews and doles out fashion and style tips the same place she keeps her clothes — which is roughly the size of a studio apartment.
Heather also has a popular podcast, Heather Dubrow's World, which is now "the #1 female podcast on the #1 podcast network in the world," Terry told The Daily Dish. Additionally, Heather and Terry just started a new podcast, Dr. & Mrs. Guinea Pig, about health and wellness — they're willing to be "guinea pigs" for any new trend out there, hence the title.
With all of this hosting and interviewing practice, perhaps Heather is angling for a spot on a daytime panel show like The View or The Talk or even a talk show of her own as her next big TV role. When it comes to acting, Heather might be taking some time off, or waiting until she's farther along on some new projects to announce future roles. But in the meantime, the former housewife is staying busy by creating her own mini media empire.