How To Follow Heather Post-'RHOC'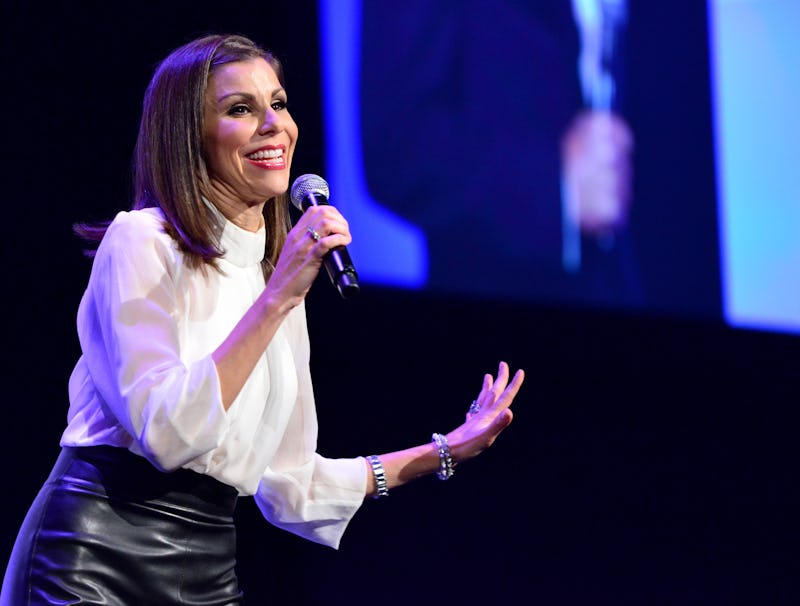 Joshua Blanchard/Getty Images Entertainment/Getty Images
You know what they say: Nothing good lasts forever. And for Heather Dubrow this sentiment is very much applicable to her status as a Real Housewife. If you haven't heard the news yet, I'm sorry to break it to you, but Fancy Pants will not be returning to Bravo next season. If she's your favorite lady or if you just feel like you'll miss watching her every week, don't fret. There are actually plenty of ways to follow Heather Dubrow post-Real Housewives of Orange County.
Yeah, I know it's not the same thing as seeing her interact with the other Housewives, but if you really do love Heather, you probably feel at least a little relieved that she won't be subjected to arguments with the cast anymore. Unlike some Housewives, the bickering never really seemed appealing to her.
If Heather is your girl then you'll probably enjoy seeing her thrive in her own element instead of getting bogged down by the Real Housewives drama. Thankfully, Heather's departure from the show is by no means her way of becoming reclusive. She is still putting herself out there with plenty of content for her fans to consume on a regular basis.
1. Heather Dubrow's World Podcast
You can enjoy Heather Dubrow's World on iTunes or PodcastOne once a week. On the show, she interviews celebrities, answers fan questions in her "Dear Heather" segment, and talks all things entertainment, fashion, and beauty.
2. Instagram
If you love her, you're probably already following Heather on Instagram. She is super active on social media and is always sharing her latest projects and family updates.
3. The Dr. & Mrs. Guinea Pig Podcast
I will never get over Heather and her husband, Terry Dubro, trying out leech therapy during that RHOC episode where Tamra Judge had the sex-themed party. If you loved that episode and the the dynamic between Heather and Terry, you'll love their joint podcast called Dr. & Mrs. Guinea Pig where they test out different cosmetic treatments and procedures, give their honest feedback, and explain the latest celebrity beauty fads. You can listen to their podcast once a week on PodcastOne and iTunes.
4. Twitter
If you want to know what's on Heather's mind or even ask her a question that's on yours, hit her up on Twitter. She's a very active tweeter and she loves answering her fans.
5. Heather's Closet On YouTube
I cannot be the only one who's bummed that Heather left the show before we got to get a grand tour of Château Dubrow. But you can get a peak at her closet in her aptly titled YouTube series called Heather's Closet that takes place in her closet, as the name suggests. As she describes the show in an intro video, "Join me and discover all the secrets of my closet. The hidden doors, hidden drawers ... We're gonna talk fashion, we're gonna talk life!" Not only that, but you can also enter to win pieces from her closet, which is pretty cool.
6. Botched: Post-Op
Heather joins her husband Terry and former Real Housewives of Beverly Hills husband Dr. Paul Nassif for a spinoff of the doctors' show Botched called Botched: Post-Op that includes follow-ups to the episodes and scenes that couldn't be squeezed into the original show.
7. Snapchat
If you want to see a sillier side of Heather, be sure to follow her on Snapchat. Her username is the very easy to remember @HeatherDubrow and if you follow you can (probably) see what she looks like with the dog filter and a cartoon flower crown.
8. Evine Live
To see what Heather's skincare line, Consult Beaute, is all about or if you miss seeing Heather on television, you can see her sales pitch the products by watching her on the Evine Live channel.
9. Pretty Much Every Entertainment News Series/Talk Show
I can't tell you which shows to tune into and when, but if you are anything like me and are the kind of person who makes it a point to keep up with entertainment news and talk shows, then you have probably noticed that Heather and/or her husband appear on just about every one of these shows. And I feel like it's at least once a week. Whether she is discussing beauty treatments with her husband, sharing her fashion opinions, or discussing the latest celebrity news, she is pretty much always appearing with segments on shows like E! News, Access Hollywood, Watch What Happens Live, and The Doctors.
Heather may not be on Real Housewives of Orange County next season, but that doesn't mean that you can't keep up with her life. You can definitely still get your dose of Fancy Pants.