This 'Frontier' Company Is Still Around Today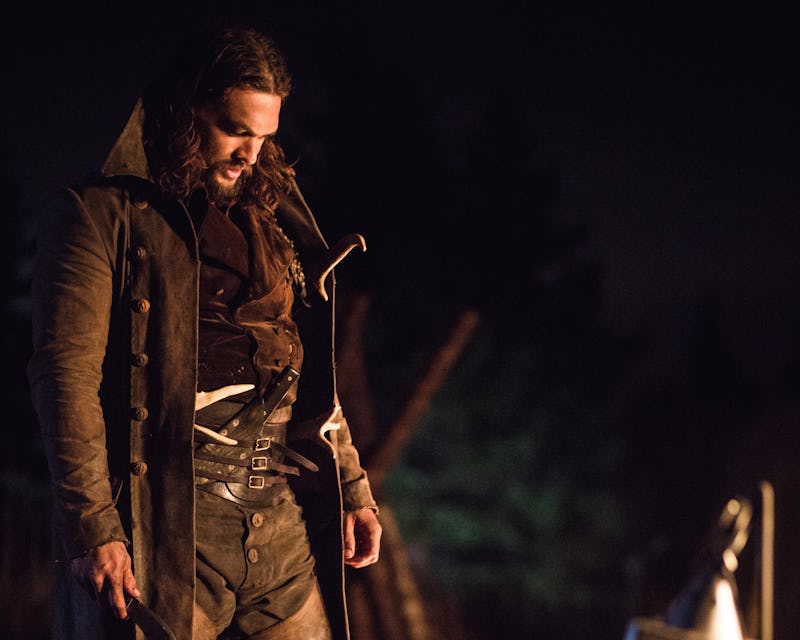 Duncan de Young/Netflix
Netflix has gotten to the point where it has the ability to make a show about basically anything if it so chooses. Women's prison? Done. 80's throwback with a weird monster and a psychic girl? Absolutely. The power struggles of the North American fur trade through the Hudson's Bay Company in the late 18th century? Yes! Netflix's latest program, Frontier, takes a brutal look at Canada in the late 1700s when they seemed to be much less polite than they are today. Much of the action revolves around Hudson's Bay Company, which may cause some viewers to wonder if the company ever really existed, even though the show is billed as historical fiction. Viewers versed in fashion will likely recognize that not only is the Hudson's Bay Company real, but it's still around today. (Bustle reached out to a rep for Hudson's Bay Company for comment on its portrayal in Frontier, but has not yet heard back.)
Hudson's Bay Company is one of Canada's biggest companies, having been around since the late 1600s. Hudson's Bay Company as it's portrayed in Frontier holds a monopoly on the fur trade in Canada, which is accurate to how powerful the company truly was in those times. However, at some point HBC went from being at the top of the fur game to being a major player in the world of department stores.
Frontier follows the fictional Declan Harp, a man who once worked with Hudson's Bay Company but has turned against them and is intent on bringing them down. As proven by the fact that it's still around today, it's clear that Declan Harp's plan doesn't end up working very well. But, perhaps if he had seen how much an early investment in the company would be worth today, perhaps Declan would have been a bit more understanding of his former workplace.
As if the fact that it's been around for nearly 350 years isn't impressive enough, Hudson's Bay Company total assets currently equal $12.65 billion according to MarketWatch. Its big turning point as a company came in the late 19th century after the Gold Rush, when it became clear that trading fur was no longer a viable business, for now customers "shopped with cash and not with skins," according to the HBC website. Once the fur trade became a dying business, Hudson's Bay started focusing on selling other wares and expanding the kind of outerwear it would sell to include products that weren't exclusively fur. Hudson's Bay presence in the world of clothing continued on to the point where it owns some of the biggest clothing retailers in North America.
Hudson's Bay Company is not only the oldest North American company still in existence, but has ownership of one of America's most prolific luxury department chains, Lord & Taylor, as well as Saks 5th Avenue and Gilt. No company can exist for as long as Hudson's Bay Company has without some great business decisions and a lot of luck — which makes the struggle of Declan Harp all the more interesting. What happens when a man tries to take down a corporation that we know already wins? Those answers might just be revealed when Frontier first season premieres on Netflix on Friday, Jan. 20.