If You've Been Told You Say "Sorry" Too Much, You'll Love This New Amy Poehler Produced Sitcom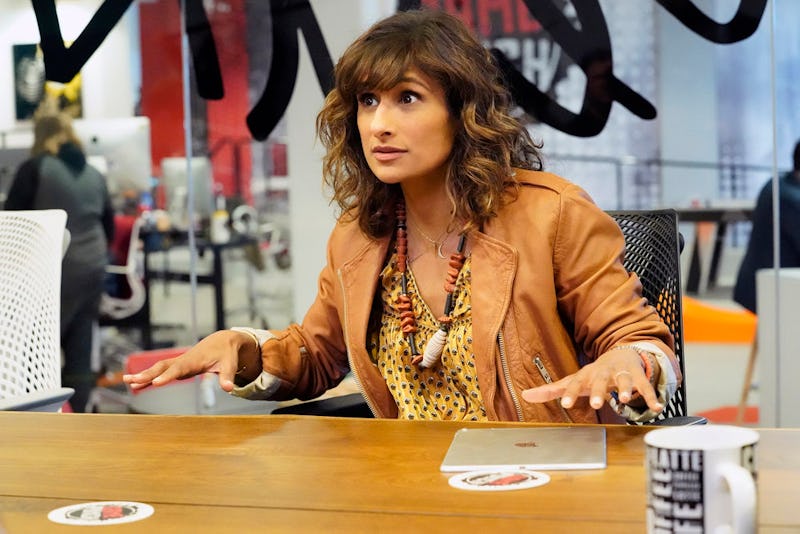 Evans Vestal Ward/NBC
NBC's new comedy I Feel Bad knows that, for women, expressing a negative feeling can often feel like a rebellious act. Who dares admit that they feel lowkey bad about every choice they are (and aren't) making like all the time? Which makes it feel like I Feel Bad is based on a true story — surely it could be any working mother's memoir, right?
Here's the official synopsis of the series from NBC:
"Emet is the perfect mom, boss, wife, friend and daughter. OK, she's not perfect. In fact, she's just figuring it out like the rest of us. Sure, she feels bad when she has a sexy dream about someone other than her husband, or when she pretends not to know her kids when they misbehave in public, or when she uses her staff to help solve personal problems. But that's OK, right? Nobody can have it all and do it perfectly."
According to the Los Angeles Times, creator Aseem Batra based the series on an illustrated book titled I Feel Bad: All Day. Every Day. About Everything written by Orli Auslander. The humorous and nonfiction book explores the pressure that women put on themselves (with a few giant patriarchal pushes from society) to live their best lives and how easy it is to find themselves feeling bad about something no matter how much they accomplished. This probably plays out in your life, too. You feel bad when you say yes to things. You feel bad when you say no to things. The list goes on and on.
However, the inspiration doesn't end there. "My dad started calling me by my mom's name," Batra said at a Paley Fall TV Preview event, according to Variety, "and I just remember being like, 'What is happening right now? I guess I've turned that corner.' There's something like that in each episode, where it may have happened to me in a similar way that I draw from because it's just so fun when you can connect with it and make it personal."
That very scenario, your dad confusing you with your mom and confirming your worst (and bad-feeling) fear, is featured in the trailer for the NBC sitcom. All of the women in the writer's room are drawing from their own lives and experiences as well.
"We're expected to be there," Batra said at the Paley event. "We're expected to have a certain role in our child's lives that many dads are forgiven if they miss. "Having it all seems to be a pressure that women put on themselves but also the world puts on us a little bit. That somehow nothing's going to give. I know guys that are juggling drug addictions and doing jobs, and no one ever goes 'Well, how do you do it all?'"
The show is additionally produced by Amy Poehler, whose organization Smart Girls aims to support and cultivate women who "change the world by being themselves." Confronting the things that make us feel bad, and allowing those feelings to exist is a huge part of being yourself, so it's no surprise that Poehler is on board. "Any time people admit that they're not doing everything perfectly," Poehler said in the same LA Times piece, "they're actually not only doing a service to everybody else but they're also becoming more powerful."
So no, I Feel Bad is not based on one true story. It's based on several true stories, and guilty thoughts that probably shouldn't make women feel all that guilty in the first place.