This Lifetime Movie About A Real Friendship That Turns Deadly Isn't Entirely Fictional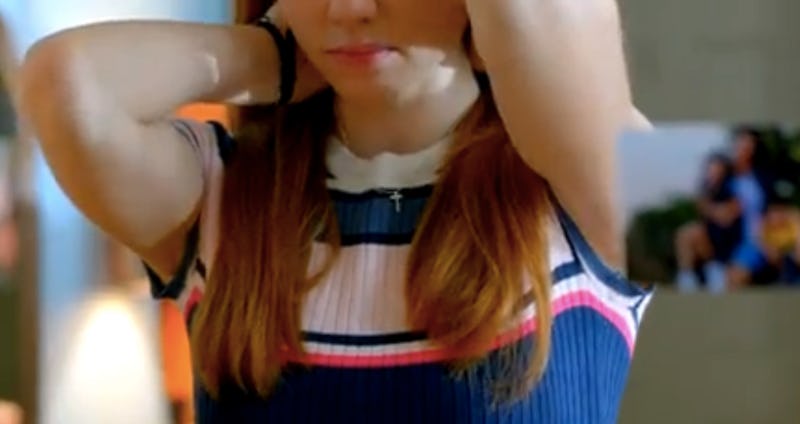 Lifetime
Nothing lasts forever, including many friendships. Sometimes, besties break up because of lies, distance, or simply because they have changed over the years. But on Lifetime, a broken friendship can take a fatal turn if jealousy and rage are at play. I Killed My BFF: The Preacher's Daughter is the latest in a movie series featuring horrifying stories about deadly friendships. According to the official Lifetime site for the April 22 installment, I Killed My BFF: The Preacher's Daughter is "inspired by true events," but it is not clear which real-life case the movie is based on.
Per the official synopsis, Lily and Jason Adler are twin siblings who were raised by a preacher. She's pious and straight-laced until she meets her brother's new girlfriend Rae Chastain. The blond beauty is the antithesis of Lily — wild, carefree, and seductive. Of course, opposites attract and Lily starts to tap into her wilder side with her new BFF.
Jason is also enthralled with Rae, but their love affair is cut short when Jason dies mysteriously. Lily is devastated and blames Rae for his death. Her frustration leads her toward vengeance as Rae's daughter Scarlett reappears in her life. Lily draws Scarlett away from Rae and toward the church, causing a rift in the fragile mother-daughter relationship. Rae has to save her daughter and, in classic Lifetime fashion, the only way to do it is a fight to the death.
In the I Killed My BFF: The Preacher's Daughter trailer, Lily vents her frustration over her brother's death and her words not being heard by God. The clip also features a voiceover of Lily talking about God's unconditional love and his reckoning if followers stray from their righteous ways. She says:
"God doesn't love us because of who we are…God loves us despite of who we are. Those that live in God's light are righteous, but he hath vengeance on those who oppose him."
Carly Pope expressed her excitement about portraying Rae in the movie on Twitter. (Prior to this role, she was a recurring guest character on USA's Suits and Arrow, and starred in Ryan Murphy's Popular.) Her Tweet reveals the movie was titled Do Unto Others at one point — the IMDB listing still has that title — and features a few photos from the film. The previous title references the Golden Rule of reciprocity, which is one of the major ethical concepts in Christianity. She also admits to Rae's failures in the mom and adult-ing departments.
Writer Blake Berris encouraged fans on Twitter to set their DVRs and enjoy a "masterpiece." Berris, whom you may recognize as Pretty Little Liar's Damien Hayes, wrote the original 2015 I Killed My BFF movie. According to The Grand Forks Herald, that movie was based on the real-life saga of AnneMarie Camp. Per the same article, Camp was found murdered in 1997. Jamie Dennis-Gianakos pleaded guilty in 2000 and claimed in court that she and her husband Michael Gianakos drugged Dennis Gianakos' friend Camp with the intent to scare her into silence regarding a robbery the couple had committed, but that her husband killed Camp instead. Gianakos has maintained his innocence, but was convicted of murder and sentenced to life in prison, per The Bismarck Tribune. However, the Minnesota Supreme Court vacated the verdict because his wife was permitted to testify against him. He was found guilty again in 2003 after a new trial, and is currently serving a life sentence. According to The Grand Forks Herald piece, Dennis-Gianakos was released in 2016 after serving 16 years of a 25-year sentence.
In an interview with Daytime Confidential, Berris talked about working with his writing partner Danny Abel on adapting a true story with the first film. While he hasn't revealed which case inspired this movie, viewers can assume they did the same extensive amount of research. He said:
"We changed names and places in order to protect the families, but the real story is every bit as gruesome. Danny and I dug into all of the back stories: newspaper articles, footage, trial transcripts, all of it."
I Killed My BFF: The Preacher's Daughter will surely have all the tenets of a classic Lifetime film: murder, anger, betrayal, and plot twists leading all the way up until the shocking final moments. Will the Lily get revenge on Rae by killing Scarlett? Can Rae save her daughter from a woman obsessed with payback? Tune into the latest episode in this bloody anthology to find out.
This post was originally published on April 22, 2018. It was updated on Aug. 9, 2019.