'In Contempt' Tackles Courtroom Drama In A Whole New Way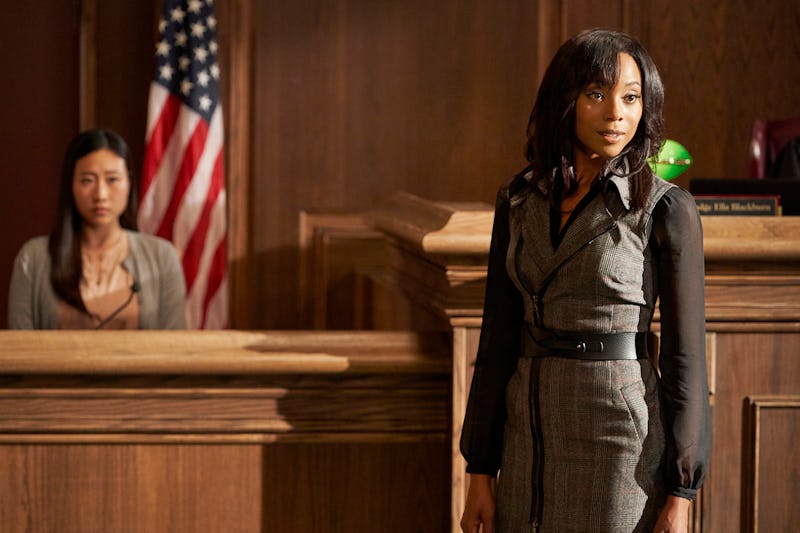 BET
In Contempt, BET's latest legal drama premiering on April 10, follows public defender Gwen Sullivan and her team as they fight to ensure that those who cannot afford representation still have a shot at getting a fair case. While In Contempt is not a true story and may not perfectly reflect the lives of real public defenders, the series pulls from one woman's experience in particular — that of show creator and showrunner Terri Kopp.
Eurweb reported that while speaking at a Television Critics Association panel, Kopp revealed that she had been a public defender for 3.5 years prior to her career in television. Kopp's description of her time as a Manhattan public defender at the Legal Aid Society reveals that being a public defender can often be an uphill battle. She said, "The judges are usually ruling against you. The prosecutors have more time, more money. Public defenders have huge caseloads. You have 125 misdemeanors and 20 indicted felonies."
The role of a public defender is a difficult one, but a necessary one, and In Contempt will surely test its characters to question whether or not facing all the difficulties of being a public defender is worth helping people who would be otherwise helpless — some of whom the defenders may not even agree with, but have to help anyway.
While some television lawyers are able to make a comfortable living serving the rich and powerful, being a public defender does not allow much room for relaxation. According to the Houston Chronicle, the average salary for a public defender, as of 2010, ranged from $47,500 to $76,160 depending on experience. These numbers suggest a livable salary, but pales in comparison to the New York Times' report that the average starting salary at a law firm is $160,000. Public defenders are making less than the average first-year lawyer at a firm, but this jump in pay is likely not reflective of public defenders doing any less work than other lawyers.
In fact, public defenders often find themselves overwhelmed. In an opinion piece for The Washington Post, New Orleans public defender Tina Peng, explained, "The American Bar Association recommends that public defenders not work on more than 150 felony cases a year," but due to budget cuts and deficits, Peng claimed, "In 2014, I handled double that." Weng claims that due to working conditions and a lack of resources, "It's impossible for me to do a good job representing my clients."
Kopp argues that despite the lower pay and longer hours, that a lot of public defenders do enjoy the work. Kopp told the TCA crowd, "My experience was that we were really overworked, but also really dedicated, really committed to the work. It's also a pretty competitive job. It's a hard job to get."
In portraying the world of public defenders, Kopp focuses on the positives as much as the negatives and even admits that In Contempt is "a little heightened reality," compared to the day-to-day life of actual public defenders (as is par for the course for many TV dramas). "[Gwen Sullivan] says the things I wish I could have said, you know? She reaches into her back pocket and pulls out that technique or that move that she's going to do that makes the point that she's trying to make, but it's definitely what I wish I could have said."
While Kopp, by her own admission, may not have had the right words when she was a public defender, that experience has allowed her to craft an image of public defenders that will serve them well — while also adding a little dramatic flair for TV.