Hulu's Latest Horror Anthology Will Make You Sleep With All The Lights On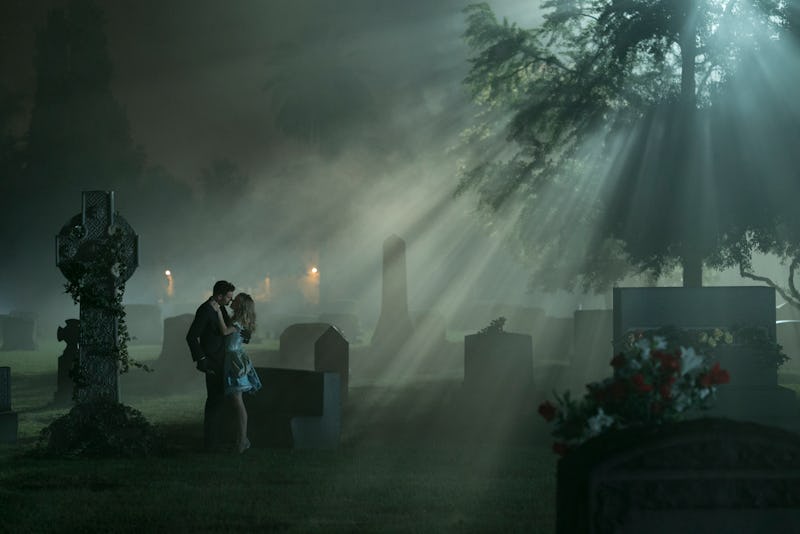 Richard Foreman/Hulu
It's October, which means it's basically Halloween like, every day. And though American Horror Story is back and a host of new horror movies are set to hit theaters, that's still not nearly enough scary to get through the whole month. So grab your Pumpkin Spice Lattes and settle in for Hulu's new horror series, Into the Dark. The show will tackle a new set of frightening circumstances each episode, and is filled with jump scares, creepy Easter Bunnies, and lots and lots of dead bodies. But is there a real-life inspiration behind all the creepiness? Is Into the Dark based on a book or inspired by some other work?
Luckily for all of those attending a Halloween party this year, it seems that the first installment of Into the Dark, called 'The Body', isn't actually based on any true events. But it is based on a previous film. Hulu's "The Body" is a feature-film length, 80-minute version of a short film directed by Paul Davis and starring Alfie Allen (otherwise known as Theon from Game of Thrones), also titled The Body. Both the original short film and the Hulu adaptation (directed again by Paul Davis) tell the story of a professional hit-man who finds himself earning the praise of the attendees at a Halloween party for his awesome bloody costume and plastic-wrapped body... which really aren't part of a costume at all.
Into the Dark: The Body is the latest creation of producer Jason Blum, who is known for his work on the terrifying creations Paranormal Activity, The Purge, and Happy Death Day. And with Into the Dark: The Body, Blum brings a campy, cynical, B-movie feel to the streaming service, pairing comedy and absurdity with blood and gore. It's a unique tone, and as Daniel D'Addario writes for Variety, "you'll know within minutes" if Into the Dark is your thing, and it will "take only one to know if it's not." Hulu's newest horror show might not be for everyone, but like Blum's other work, it's sure to gain a cult following.
Into the Dark is an anthology series, which is becoming increasingly common for both networks and streaming services. But something unique about the new Hulu series is that instead of coming out once a week, or all at once for maximum marathoning potential, Into the Dark will release a new episode once a month. Each episode will be its own standalone story, and will correspond to a holiday from each month. So get ready for a Thanksgiving horror story, and a Christmas one, and a New Years one, and a Valentine's Day one, and a...well, you get the idea.
It's an interesting new format, but it remains to be seen whether the month-long gap between the new installments will create more buzz for Into the Dark, or cause it to fade from memory for most Hulu users. Shows like Black Mirror have found success with feature-length, standalone episodes. Maybe Into the Dark will be the spooky addition to the successful anthology format. Because you know you're dying to watch a horror movie about Mother's Day.