'Insecure' May Be Autobiographical, But Issa Rae Keeps Her Love Life Private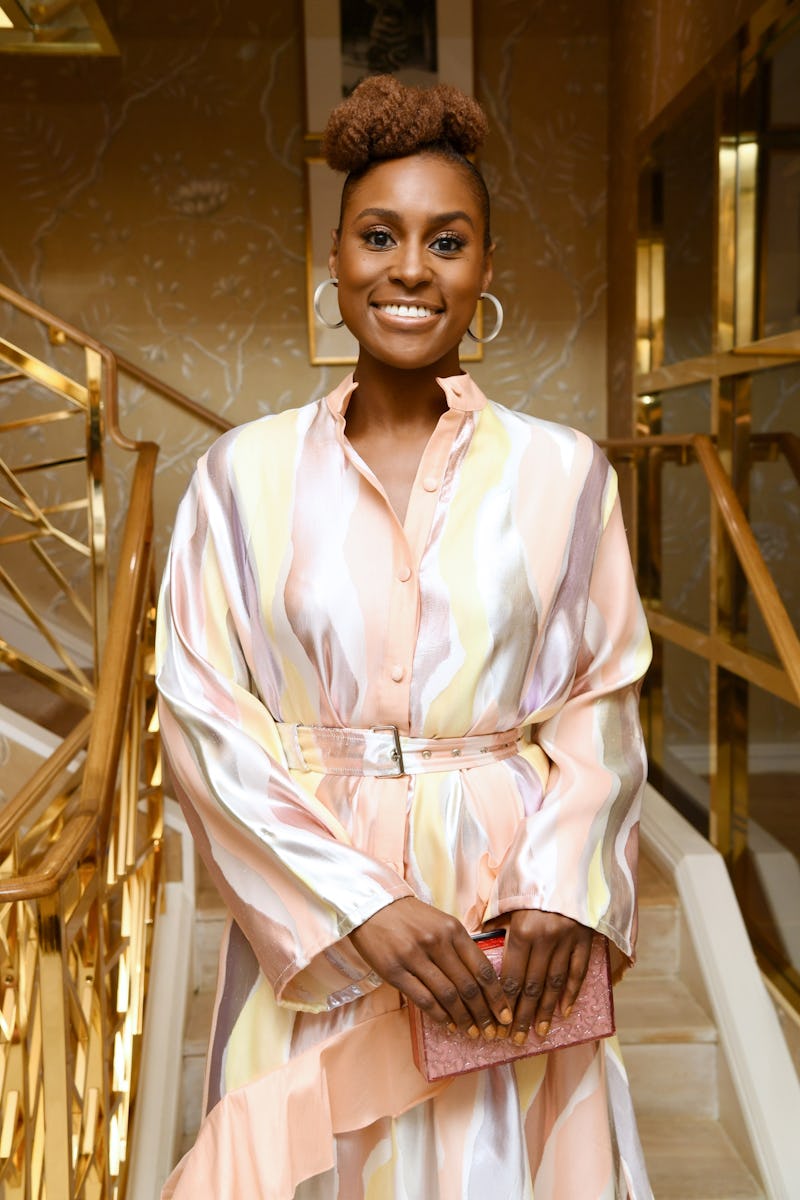 Emma McIntyre/Getty Images Entertainment/Getty Images
After three seasons of HBO's hit series Insecure, creator, writer, and star of the show, Issa Rae has been nominated for an Emmy for her performance. As if her success and undeniable genius as a producer, business person, and creative don't make her crush-worthy enough, she is now nominated for Best Actress in a Comedy Series at the 2018 Emmys. So, is Issa Rae dating anyone she may be bringing to the big show? There's no doubt that the hustle is keeping her busy, which could make it difficult to find time for dating. Plus, she's been known to keep her personal life under wraps. But who knows, there's a chance she could show up at the awards ceremony arm-in-arm with someone new.
Last year, there were rumors of a romance between Rae and Kofi Siriboe, the Queen Sugar star. The two were flirtatious on social media, per Ebony, but it appears that Siriboe has since removed all activity from his accounts. In March, he went public about his relationship with Australian supermodel Duckie Thot. He last appeared on Thot's Instagram in March, so whether or not they're still together isn't totally clear. Regardless, Rae and Siriboe are at least still friends. In June, she posted a pic of the two of them participating in a fireside chat she created called "A Sip" in Miami.
It doesn't appear that there's anyone else on Rae's romantic radar at the moment. On Aug. 23, she took to Twitter to express the need for a fresh start. "I need a new crush," she wrote.
Let's just say, the replies to the tweet revealed very many willing volunteers.
If Rae has developed a new crush within the last month, there's little chance many would actually know about it, though. She's made it clear in the past that she's not too keen on opening up about her love life, and of course, she doesn't owe that explanation to anyone. "I get so much feedback about everything," she told Marie Claire in April. "The one thing I don't need feedback on is who I'm sleeping with."
Because Rae's Insecure and the lead role she portrays, Issa Dee, are both very much inspired by her own life, people often wonder if there are parallels between the show's ongoing romance and her own love life. When Vogue approached her with that very question, she reportedly waved it away. "I don't want any input," she said. "As a writer, you put everything on the table. I'll take input on kids if I'm going to have kids. How do I not kill the kids? Work? Give me the input. Any other aspect of my life? Give me the input. But who I'm f*cking? No, I don't need input. I'm good."
But that's the unapologetic candidness Rae is known for, and she's not ashamed of it. And as she's gained more and more celebrity with the success of her show, she continues to make that known. So if the public were to incorrectly assume something about her love life, there's a good chance she would clear things up.
"At the end of the day, all I know is my intentions," she said in an interview with Glamour. "And no matter what you take out of context, no matter what pictures you post, I know what I am aligned with. I know what my truth is." And as long as Rae knows her truth, single or not, that's all that matters.