Issa Rae Opens Up About Turning Awkward Moments Into A Hit Show In This Exclusive Clip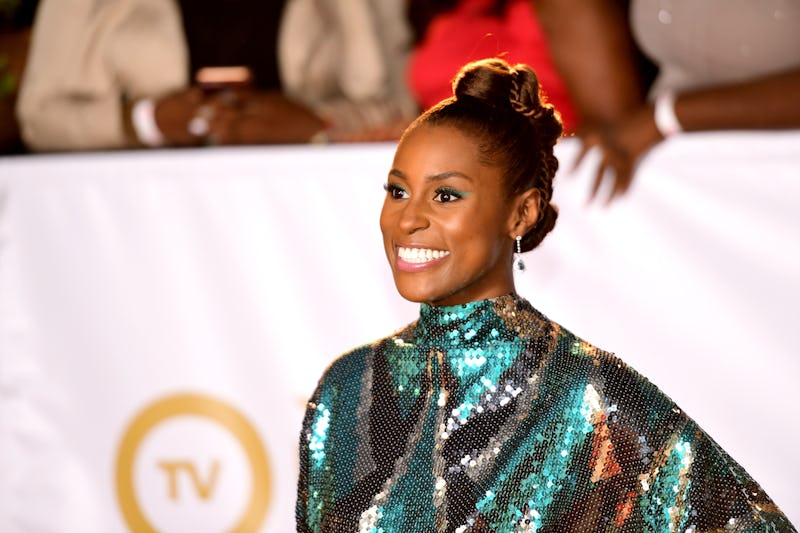 Matt Winkelmeyer/Getty Images Entertainment/Getty Images
On the surface, HBO's Insecure is about black women's journeys of struggling — and sometimes succeeding — with life and love in Los Angeles. It's loosely based on the experiences of the show's creator and star, Issa Rae, but it's a literal mirror in some ways, too. As it turns out, Issa Rae's inspiration for Insecure stemmed from her actual insecurities growing up, the star told Katie Couric on the new Getting There digital series, recently launched by Katie Couric Media and theSkimm.
As seen in the exclusive clip below, Rae recently sat down with Couric to discuss how her hit HBO show — which is currently in the middle of its third season —  came to be. Couric started by diving into Rae's childhood, and asked how her transient, ever-moving family life affected or shaped her identity.
"You're always re-inventing [your identity]," Rae told Couric. "You're always trying to accommodate your surroundings, you're just trying to fit in. Like, for me, I hated to be the stand-out person."
Couric then made a bit of a revelation about the star and her series. "You were able to take these moments of feeling awkward or ... insecure," the host laughed, "and channel them into what you do for a living." Rae nodded in response to Couric's statement, adding:
"Which is incredible. You feel alone, you feel like, 'Am I the only one that goes through this?' And then, you realize you're not. And I think what I love about those moments is that they unite us all."
Rae produced her first web series, Dorm Diaries, while studying at Stanford University. Creating a show on the internet allowed her to connect with an audience that had previously been relatively out of reach, she told Couric. It also led to the development of The Mis-Adventures of Awkward Black Girl, which Rae confirmed stemmed from her own life experiences.
"I was writing in my journal, and was thinking, 'Why am I so anti-social, why do I get easily embarrassed?'" she told Couric. "I came up with two incomplete sentences — I'm awkward, period, and I'm black — and, that was like, the genesis of Awkward Black Girl."
As for Insecure, Rae said her goal with the show was to create "a new archetype, one that I identified with," she revealed. "Because there were a bunch of stereotypes. For me, it was just about putting something into the world that I could relate to."
As evidenced in the behind-the-scenes photo above, the host is clearly a fan of the 33-year-old star and how she's revolutionizing modern entertainment.
"I love Issa," Couric said in a statement to Bustle. "I interviewed her when she was first on the scene and I think she is incredibly intelligent, thoughtful and hilarious ... And I think her show is making a major contribution to the culture."
Getting There — which is sponsored by P&G brands Olay, Pantene, and Secret — aims "to show you the routines and stories of seriously amazing women," according to the show's Facebook page. You can head over there to see more of Couric's candid conversations with some inspiring women.