7 Times Your Attraction To Someone Other Than Your Partner Could Cross The Line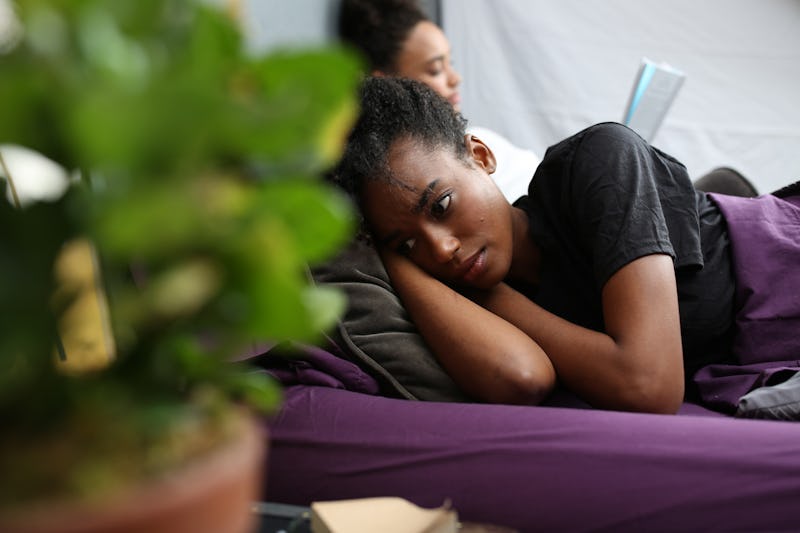 Ashley Batz for Bustle
You often hear couples express their commitment with expressions like "I only have eyes for you." But realistically, you're going to be attracted to other people even when you're in a monogamous relationship. Is that ever a problem, and if so, when does it become one?
Being attracted to someone else in of itself isn't a problem — there are no thought police. But it could potentially lead to problems if you're acting on it inappropriately, using it as a substitute for working on your relationship, or letting it consume you. "We are all human beings and being monogamous is hard for the most of us," NYC-based intimacy expert and relationship coach Lia Holmgren tells Bustle. "It's natural. There are not many species that are monogamous in nature. It's totally normal to be attracted to someone else. It can be a model, porn star, movie star, or someone you interact with daily, but the question is what you do with that attraction."
The line between innocent attraction and cheating varies from relationship to relationship and depends on what relationship model you follow. "It's important to negotiate boundaries of a relationship, such as open relationship, monogamous relationship, and polyamorous relationship," marriage and family therapist Katie Ziskind tells Bustle. "These boundaries need to be negotiated before you make any decisions on your own."
Here are some questions to ask yourself to figure out if your attraction to other people crosses the line.