A Breakdown Of The Rules About Meeting Friends & Family Amid Coronavirus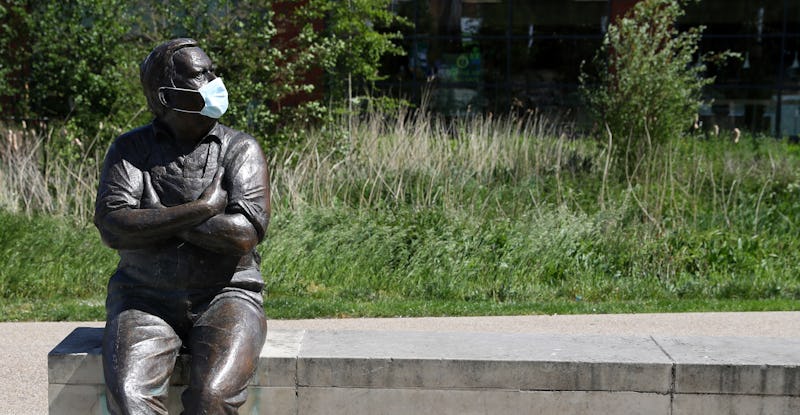 Catherine Ivill/Getty Images News/Getty Images
With lockdown measures undergoing some of the most significant reductions and changes since they were introduced, you may be finding it a little tricky to work out what you can and can't do in the coming weeks. With a series of heatwaves hitting the UK, and many dangerously flocking to popular outdoor locations to see other households, many have been left wondering if it's safe to see family and friends under the new lockdown rules. Here's what you need to know.
What Are The Current Rules For Meeting Friends & Family?
Since May 10, people in England have been permitted to meet one person from outside their household in a public outdoor space. Individuals are still required to practice physical distancing (remaining two metres apart) from those outside their household, and good hygiene practices "particularly with respect to shared surfaces".
These rules were further eased in a briefing on May 28, when Prime Minister Boris Johnson announced that groups of up to six people, from different households, could meet outdoors in England from Monday June 1 – as long as they "observe social distancing rules". Although he emphasised at the end of May that he "cannot and will not" throw away the gains made so far, warning that further "local outbreaks" could see lockdown measures reimposed "where necessary".
On June 10, Johnson announced that support/social bubbles, would be introduced in England. From Saturday, June 13, the government allowed one-person households to 'merge' with another household, and even stay overnight for the first time since the start of lockdown. Under the current guidelines, a single-person household can join together with one, multi-person household. The idea was to help support single parents and those living alone during the pandemic, while still keeping the number of households that can mix at a low level.
"All those in a support bubble will be able to act as if they live in the same household, meaning they can spend time together inside each others' homes and do not need to stay two metres apart," Johnson said. However, people's support bubbles cannot mix. The prime minister added: "I want to stress that support bubbles must be exclusive, meaning you can't switch the household you are in a bubble with or connect with multiple households".
On June 23, Johnson revealed he would be relaxing of some of even the most stringent measures from July 4. The 2m social distancing rule has been changed to a one metre plus rule, and businesses such as restaurants, pubs, and hairdressers will be able to open with safety measures in place, while nightclubs and casinos remain closed, along with bowling alleys, spas, swimming pools, indoor gyms and soft play centres. But what does it mean for seeing your friends and family?
The main change coming into play is that groups of two households are no longer limited to six people, or outdoors space. In England from July 4, two households of any size will be able to meet indoors or outside, and it will even be possible to stay overnight. While the prime minister explained it doesn't have to be the same set of households, allowing families "to meet one set of grandparents one weekend, and the others the following weekend," for example, the government has warned against meetings of multiple households indoors at one time due to the increased risk of infection. The two households will also have to maintain social distancing at all times, unless they were previously part of the same support bubble, and multiple households will be allowed to meet outdoors in groups of up to six people.
Are The Rules Different For Those In Scotland, Wales, & Northern Ireland?
As of May 29, those in Scotland who are fit, healthy and under 70 have been able "to meet up with another household outdoors, in small numbers, including in gardens" as long as physical distancing rules are followed. Those north of the border are currently able to meet in groups of up to eight people, and limited to two households at a time outdoors. From July 10 however, First Minister Nicola Sturgeon announced that in Scotland people will be able to meet up to eight people indoors from three households, according to the BBC. The current limit of visiting friends and family within a five-mile radius will also be relaxed from July 10 in Scotland, but the 2m social distancing measure remains in place.
In Wales, where the government's message is now "stay local," meetings with other households indoors are still not allowed. However, First Minister Mark Drakeford has said that any number of people from two different households can now meet outdoors, but they should preferably live within a five-mile radius of you. Drakeford is expected to make a decision about whether to introduce social bubbles in the coming weeks.
In Northern Ireland, where relaxing lockdown measures has largely been inline with the Republic of Ireland, as many as nine people from different households have been able to meet for some time, provided they do so outdoors and maintain a distance of at least two metres while doing so. Groups of up to six people not in the same household can now meet indoors, as long as social distancing measures are still observed.
What Are The Rules For Those Who Are Clinically Extremely Vulnerable?
Those who are clinically extremely vulnerable are subject to different lockdown rules than the rest of the public. Most of those who fall into this category in the UK should have received a letter from the government at the start of lockdown advising them to shield. If you suspect you may be in this group, but haven't received a letter you can check here. Currently the guidance in England on meeting friends and family for those who are extremely vulnerable is to only meet one other person (and preferably the same person each time) outdoors. Those in this group are advised against forming social bubbles at this time. Those in Northern Ireland who have been shielding can only meet up with someone from another household if they live alone, and do so outdoors while social distancing. Those in Scotland who are shielding can meet up with members of one other household outdoors in groups of up to eight people. Those in Wales can exercise and meet outside with those from another household but only while socially distancing and within five miles of their home.
This article was originally published on May 11, 2020
This article was originally published on