What The UK's Coronavirus Lockdown Exit Strategy Might Look Like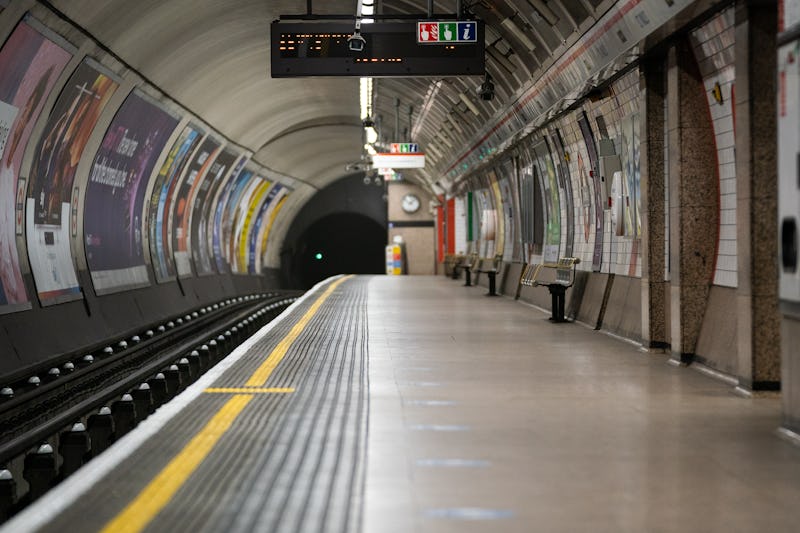 Aaron Chown - PA Images/PA Images/Getty Images
Ever since lockdown in the UK began we've all been desperate to know one thing: when will it end? Day-to-day life has changed beyond recognition, and the nation is itching to get back to business as usual. Sadly, though, the return to normal life won't happen overnight, as the threat from COVID-19 will remain until a vaccine is found. On May 10, Prime Minister Boris Johnson outlined the start of the UK's exit strategy from coronavirus lockdown, which will see the easing of some measures such as spending time outdoors and meeting with others. So what exactly does the government's "conditional plan" entail?
When Will UK Lockdown End?
While there's no specific date as to when the UK's lockdown will end, by introducing a Covid Alert System and a three-step plan to gradually exit the lockdown, Johnson's "conditional plan" at least gives a sense of where the country is headed.
In a pre-recorded message broadcast on May 10, the Prime Minister told the UK that some restrictions will begin to be eased on May 13, "such as people being permitted to take part in unlimited outdoor exercise and restart open-air sporting activities," as the Independent reports. This also includes travelling to other destinations like parks and beaches "as long as they observe social distancing while there," a government official told BBC News, as well as meeting "one person from outside your household in a park, if you stay two metres apart." Those who cannot work at home are also being encouraged to return to their jobs. "We now need to stress that anyone who can't work from home, for instance those in construction or manufacturing, should be actively encouraged to go work," Johnson said during his address.
These easing of measures will be the first step in coming out of the lockdown, with the second being children potentially going back to school at the beginning of June, as the government believes they "may be in the position" for primary students to return to classrooms "in stages, beginning with reception, Year 1 and Year 6," Johnson said. June will also see anyone arriving in the UK by air going into a mandatory two-week quarantine, iNews reports, "in an effort to avoid a second spike in coronavirus cases."
These measures may sound promising, but Chief Medical Officer Chris Whitty announced on April 22 that until a vaccine or a "highly effective drug" is found, some sort of social distancing measures will need to stay in place for at least the rest of the calendar year. He explained that the chance of having a vaccine ready in 2020 is "incredibly small." Michael Gove offered similar sentiments on May 4, but reassured the country that "the Government would seek to restore people's lives to 'as close to normal as possible,'" ITV News reports.
Gove also explained that the government is planning on easing lockdown measures slowly, rather than "a sudden return to 'the old normal'," which was confirmed by Johnson in his national address on May 10.
What Plans Are In Place For The End Of UK Lockdown?
Though the UK is beginning to see its death rates fall, the government has listed five essential factors that need to be in place before any restrictions could be lifted. They are:
Assurance that the NHS can continue to provide sufficient critical care and specialist treatment across the UK.
Evidence of a sustained and consistent fall in the daily death rate.
Reliable data that the infection rate has decreased to manageable levels.
Confidence that there is enough testing capacity and PPE on hand to meet supply.
Confidence that there is no risk of a second peak of infection that will overwhelm the NHS.
A number of different methods are being trialled in an effort to compile reliable data on infection rates. A long with manual contact tracing – which is being carried out by a team of 18,000 "tracers" conducting interviews with potential COVID-19 carriers – a study is underway that aims to track infection and immunity levels. Twenty thousand households across the UK are being asked to provide regular nose and throat swabs to track things like the extent of transmission, the level of people who have the virus but show no symptoms, and whether those who have had the virus form some kind of immunity afterwards.
As well as that, the NHS's digital research division, NHSX, has developed a smartphone app which uses Bluetooth to inform people about when they may have come into contact with someone who has COVID-19, similar to apps that have been used in South Korea and China. It is currently being tested on the Isle of Wight.
On May 10, Boris Johnson introduced the Covid Alert System which will affect the continuation of the UK's exit strategy. This system works with a five-tier model to measure severity, which the Guardian reports looks something like this:
Level one: Low. The disease is no longer present in the UK
Level two: Moderate. The transmission level is low.
Level three: Substantial. The disease is in general circulation.
Level four: Severe. Partial lockdown needs to be in place.
Level five: Critical. Tight lockdown needs to be in place.
"Over the period of the lockdown, we have been in level four, and thanks to your sacrifice we are now in a position to begin to move in steps to level three," the Prime Minister explained.
As the Guardian writes, it's expected that this new system will be detailed further in parliament on May 11, as "no detailed information has yet been released on the specific criteria for setting a level of alert."
Scotland, Wales, and Northern Ireland have yet to adapt to this system, but No. 10 has said "it would seek to work with" the three countries "to create an integrated approach across the UK," per the Guardian. The three countries are also sticking to the "stay at home, save the NHS and save lives" message, which has since been replaced in England by "stay alert, control the virus and save lives."
What Do Other Countries' Exit Strategies Look Like?
The coronavirus first emerged in Wuhan China at the beginning of the year and the country has observed extreme social-distancing measures for more than two months. As of May 7, as infection levels began to decrease, Chinese officials started easing lockdown measures. Most recently, over 50,000 senior students have returned to school in preparation for their national college entrance exam. As Forbes notes, there are still precautions in place such as staggered start times and smaller class sizes.
People are allowed to leave Wuhan "as long as they are in possession of a 'green code' on an official smartphone app," reports the Telegraph. This digital health service allocates users with a colour status depending on travel history and health — green means you can travel, yellow means you must remain isolated, and red means you're positive for COVID-19. With the app, some restaurants, bars, and other public spaces are open to those with a green code status. According to The Guardian ", the apps have become an integral part of Chinese authorities' management of people and their movements in and out of affected areas." However, there are concerns about the app from a human rights perspective, as ABC News reports.
There's also now the additional concern of lockdown measures being put back in place, as a cluster of new infections of the virus has been detected in Wuhan, Reuters reports. Five new cases have been reported, "all of whom live in the same residential compound" and were asymptomatic. "At present, the task of epidemic prevention and control in the city is still very heavy," the Wuhan health authority said in a statement. "We must resolutely contain the risk of a rebound."
Italy is one of the most affected countries in Europe, seeing more than 29,000 30,000 coronavirus related deaths. While worst-hit areas such as Lombardy and Piedmont remain on full lockdown, the country has tentatively lifted restrictions on bookshops, stationery outlets, and clothing stores in some regions, per the Telegraph. On May 4, the Italian government began to ease lockdown restrictions, with "an estimated 4 million people" returning to work, the Guardian writes. The next phase will be for retailers, museums and libraries which will open on May 18, followed by bars and restaurants fully reopening on June 1. However, Italians are still being discouraged from using public transport and the wearing of masks is compulsory in indoor public spaces. And while funeral gatherings are now permitted, schools "will not reopen until September," per BBC News. Germany tentatively began to ease lockdown measures on April 20, and have now reopened all shops "with extra hygiene and social distancing measures" in place. Schools have also partially reopened, and "two different households are now allowed to meet up with each other"."
On May 6, Chancellor Angela Merkel announced the end of the "first phase of the pandemic", and while schools "will gradually start reintroducing all pupils" alongside the opening of more businesses, Germany's exit plan also includes an "emergency brake", which will allow restrictions to "be reintroduced if an area registers more than 50 new infections per 100,000 inhabitants," as Reuters reports.
If you or someone you've been in close contact with appears to have shown or be showing symptoms of coronavirus, which include fever, shortness of breath, and coughing, visit the NHS website in the UK to find out the next steps you should take or visit the CDC website in the U.S. for up-to-date information and resources. You can find all Bustle's coverage of coronavirus here, and UK-specific updates on coronavirus here.
Contributions from L'Oréal Blackett, Rowena Henley, and Sophie McEvoy.
This article was originally published on