Is ITV's 'Butterfly' Based On A True Story? The Drama Centres Around A Young Transgender Girl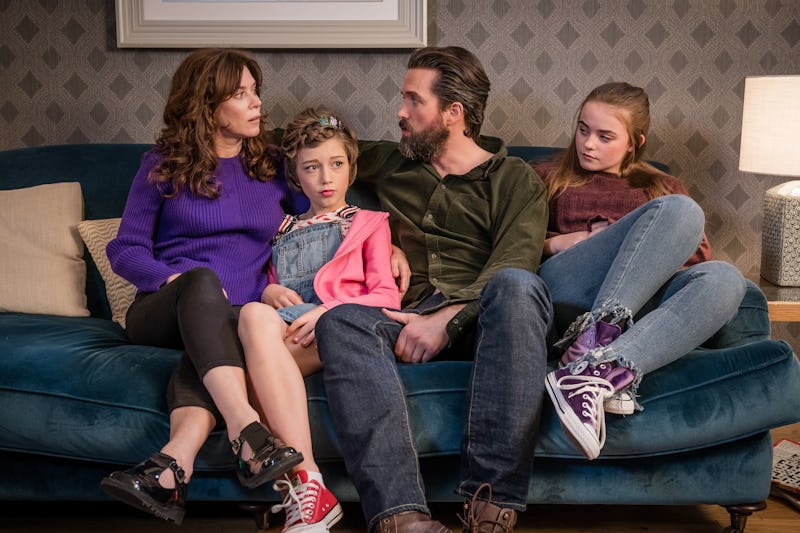 ITV
This Sunday will see the premiere of Butterfly, a new ITV drama starring Anna Friel. The show centres around Maxine, an 11-year-old transgender girl (played by Callum Booth-Ford; more on the casting later). Friel plays her mother, Vicky, as the Radio Times reports, while Emmett J. Scanlan plays Maxine's father, Stephen, who refuses to support his daughter. Millie Gibson plays her sister, Lily. But is ITV's Butterfly based on a true story, or is the family entirely fictionalised?
According to Pink News, the characters and story of Butterfly are fictional, but the story was inspired by a real family. The charity Mermaids, which supports transgender children and their families, were consultants on the show. Jackie Green, the daughter of Mermaids CEO Susie Green, came out as trans at a young age.
In 2012, Jackie made history as the first trans woman to enter Miss England. "I hope to be a role model for kids struggling with gender issues," she told Pink News. "There are not many people for them to look up to and thus they fear for what might happen to them. I want to show people that trans people are very normal and that there is hope."
Susie told the Guardian that Butterfly aims to correct fear-mongering about trans children perpetuated by the media. "Unfortunately the press gives this impression of children being fast-tracked down a medical route, which isn't the case," she said. "That's why Butterfly is so important — it demonstrates that that doesn't happen."
Pop culture has long demonised, stereotyped and stigmatised trans people. Owl Fisher, a writer, film-maker, and non-binary trans campaigner, told the Guardian, "Popular media has often portrayed trans people as objects of horror, disgust or as victims." They continued, "Trans youth are such a vulnerable group and there are many misconceptions around them," adding, "That's why Butterfly is massively important: it is authentic representation that humanises us as opposed to demonising us."
Speaking about the show on BBC Radio 4, author Juno Dawson noted, "The voice that we never really hear from in these stories is the children themselves." She continued, "What Butterfly does really poignantly is put Maxine at the very heart of the story."
It's important to address that Maxine is played by a cis boy, Callum Booth-Ford. There's a long and troubling history of cisgender actors playing transgender characters — like Eddie Redmayne playing Lili Elbe in The Danish Girl, for instance, or Scarlett Johansson accepting the role of Dante "Tex" Gill, a trans man, in Rub & Tug (after public outcry, Johansson eventually backed out of the part).
In a Variety roundtable earlier this year, Laverne Cox noted that trans actors have far fewer opportunities in film and television, saying, "The suggestion that 'acting is acting' and 'we're on a level playing field' is ahistorical, apolitical." She also discussed the transphobia reinforced by casting cis actors in trans roles: "This idea that 'trans women are not really women' and 'trans men are not really men.' And 'non-binary people don't exist.'" She added, "It's crucial that the representations that exist in the media at least at this historical moment reflect the realities and the humanity and the complexities of our real, lived experience."
Writing for them, Meredith Talusan details the harm caused by giving trans roles to cis actors. "If trans people are not even deemed 'qualified' or 'talented' enough to portray their own experiences," she writes, "it becomes impossible to envision a world where trans actors can be on equal footing with cis actors." The trans actors who have achieved success, they say, citing Cox, Jamie Clayton, and Elliot Fletcher, are only considered for trans roles — of which there are vanishingly few. "To cast a cisgender actor in a trans part thus amounts to closing off the industry even further to a set of people who already have multiple and systemic disadvantages when it comes to achieving success in the film industry," Talusan explains.
Susie Green of Mermaids told the Guardian that the producers decided to cast a cisgender actor in Butterfly because the role could have been traumatising for a young trans actor. "It would have forced them to go back to the person they were living as prior to transition," she said.
Speaking to GQ after the show's debut, Susie said trans girls auditioned for the role of Maxine, but the producers ultimately chose to cast a cis actor as a matter of "safeguarding." "Even if you got someone who had fully socially transitioned to play Maxine, they'd have to go back and live as a boy because that's how the series begins," Susie said. "We had long conversations about it, and what we wouldn't want to do is put a trans girl through living through all those bits."
Juno Dawson, meanwhile, said she gave the show a "pass" because of Maxine's age, adding, "If it was an adult role I would always rather they cast a trans actor, because there are some wonderful trans actors out there — from Rebecca Root, to Jake Graf, to Nicole Gibson. So there's no need to cast a cisgender actor."
Butterfly airs on ITV on Sunday, October 14 at 9 p.m.