Scarlett Johansson's Response To Her New Movie's Backlash Just Reiterates The Root Of The Issue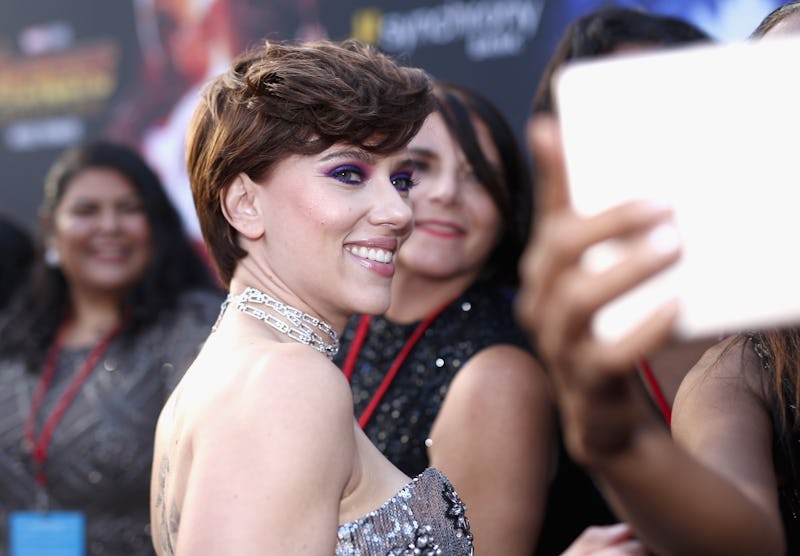 Rich Polk/Getty Images Entertainment/Getty Images
Scarlett Johansson has issued a statement after receiving backlash regarding her new role. It was recently announced that Johansson would be playing the role of Dante "Tex" Gill in Rub & Tug, and fans were quick to point out that Gill seems to have lived as a transgender man, not a cisgender woman like Johansson. When asked for comment on the reaction to her new film, Johansson's rep provided this comment on Rub & Tug to Bustle from the actor herself: "Tell them that they can be directed to Jeffrey Tambor, Jared Leto, and Felicity Huffman's reps for comment." (Bustle reached out to New Regency and 20th Century Fox for comment on Johansson's statement, but did not receive an immediate response.)
Johansson's response to her new movie's backlash calls out other cisgender actors who have played transgender roles to great acclaim — Huffman and Leto were both nominated for Oscars for their roles in Transamerica (2005) and Dallas Buyers Club (2013), respectively.
Rub & Tug, which will be directed by Rupert Sanders, who previously worked with Johansson on 2017's Ghost in the Shell, will center on the owner of a massage parlor in 1970s Pittsburgh named Dante "Tex" Gill, which served as a front for prostitution, and based on published descriptions, it appears that Gill did not identify as a cis woman. According to The Hollywood Reporter, Gill "succeeded in Pittsburgh's 1970s and 1980s massage parlor and prostitution business by assuming the identity of a man, Dante 'Tex' Gill."
Gill has been described by Vulture as a "transmasculine crime boss." The Pittsburg Post-Gazette reports in Gill's obituary that "she may even have undergone the initial states of a sex change that made her appear masculine." The newspaper also states that the subject of the upcoming film "wanted to be known as 'Mr. Gill,'" which could mean that Gill might have preferred non-female pronouns. As Johansson's response points out, she is not the first cis actor to have played a trans character, some of whom have faced similar backlash, with many people noting that with so many cis actors playing trans roles, there is not only less on-screen representation, but fewer opportunities for trans actors in the first place.
Tambor – who was fired from Transparent after facing allegations of sexual harassment, which he denied in a May interview with THR – previously advocated on behalf of trans actors during his acceptance speech after winning an Emmy for best lead actor in a comedy in 2016. "To you people out there, you producers and you network owners and you agents and you creative sparks: please give transgender talent a chance," Tambor, who played a trans woman named Maura on the show, said according to TIME. "Give them auditions. Give them their stories. Do that. And also one more thing: I would not be unhappy were I the last cisgender male to play a female transgender on television."
The show's creator, Jill Soloway, also told TV Insider, that despite having said Tambor was the right choice for the role in the past, the showrunner's thinking had changed. Soloway said, "I would unequivocally say it is absolutely unacceptable to cast a cis man in the role of a trans woman. Ever. I know that sounds ironic coming out of my mouth, but at this point I would throw that down as absolute."
Huffman, who played trans woman Bree Osbourne in the 2005 comedy-drama Transamerica, responded similarly in an interview with HuffPost in 2014. "I certainly understand the sentiment that a trans actor should play a trans role," Huffman told the publication. "And I support it. What can I say - I think transgendered [sic] people have been marginalized for a long time and I think you see that in people who are not trans playing them."
While Johansson is certainly not the first cis actor to face pushback of this kind, her casting is surprising given the response to her casting in the Ghost in the Shell, which many fans perceived as whitewashing. And while it's exciting to think that more trans peoples' stories are being told in mainstream mediums, this news only underscores the fact that, by and large, trans actors are still not playing those parts.
Editor's Note: A previous version of this article misidentified Dante "Tex" Gill. It has been updated.