Jack Stone Spoiled His 'Bachelor In Paradise' Ending, Because Nothing Is Sacred Anymore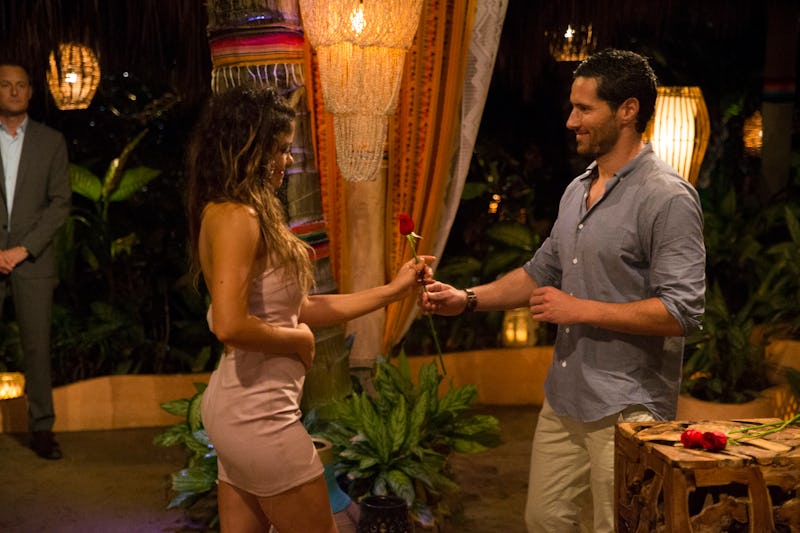 ABC/Paul Hebert
Thus far, Jack Stone has seemed very genuine in his quest for love on the beaches of Bachelor In Paradise. Clearly well liked by the cast, Jack has stayed in Mexico throughout the season, doing his best to find his one true summer love. Jack seems to have something good going with Christen Whitney, but with the finale arriving quickly, I'm not sure they'll have enough established to make it to the finish line. With his relationship status still very much up in the air, is Jack Stone dating anyone after Bachelor in Paradise?
While his time on Rachel's season of The Bachelorette didn't go great, he's had a pretty good time in Paradise. In addition to spending time with Christen, many of the ladies have locked lips with Jack throughout the season, but most seem to be doing so in a friendly, but not romantic fashion. His social media outside Paradise mirrors this: He seemingly made a handful of new lifelong friends, but probably hasn't found "the one." Many of his posts show his gaggle of Bachelor buddies, but very few hints at one special someone. Of course, we won't know for sure until the finale, but social media can certainly provide hints.
Jack remains close with many of the friends he made in Mexico. He posted the above Instagram with Bachelor In Paradise castmates Adam Gottschalk, Danielle Lombard, Raven Gates, and Jasmine Goode and captioned it "gang." This is far from the first Instagram he's posted with his Paradise friends, many of whom he still spends time with. Nobody in the cast appears to have bad blood with him, but none are seemingly linked romantically with him.
Still, Jack seems to be happy with his new friends and he also has an adorable goldendoodle dog to keep him company.
The finale preview shows an open-to-love Jack, describing his relationship with Christen saying:
"I came to Paradise to find love. I one hundred percent could see myself falling in love with Christen and marrying her one day. There's nothing I want more than to have a bunch of kids and a wife and I think Christen could be the one. Absolutely."
The problem is, despite these grand statements, something feels a bit off between these two. Christen spent most of Paradise going on different dates and the two don't really have a strong base established.
In fact, Jack may have spoiled the outcome of the season when responding to a fan tweet. Jack flat out stated he got experience in Paradise, but not love — a fairly big social media clue about his post Paradise relationship status.
All this said, Jack was popular on the show, so he should be able to find someone in real life. Maybe Paradise just wasn't the right spot for him.