Someone In The Inner Circle Has Enemy Ties On 'HOC'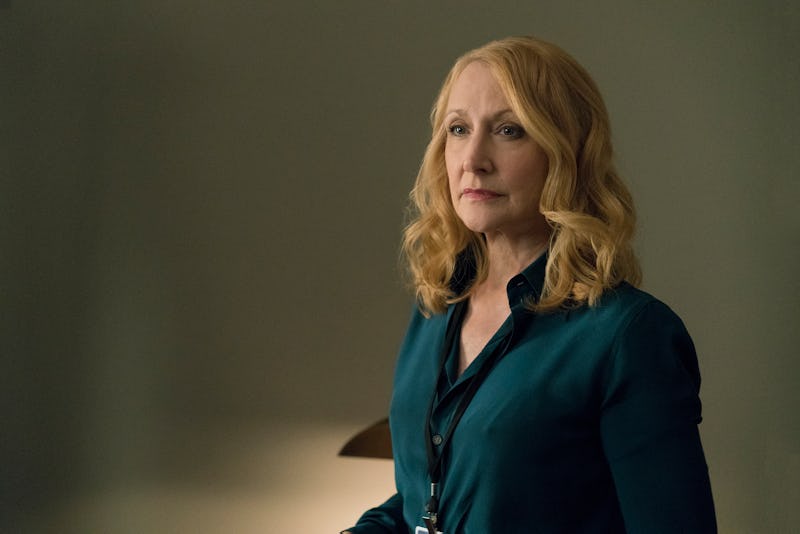 David Giesbrecht/Netflix
There are SPOILERS ahead for House Of Cards Season 5! In the sixth episode of the season, acting President Claire Underwood is put on lockdown in a bunker during a dangerous nuclear scare. But Claire's inner circle is puzzled about the presence of a new character played by Patricia Clarkson in the bunker. So is Jane Davis based on a real person? In the show, Jane is the Deputy Under Secretary Of Commerce For International Trade, a position in the United States Department Of Commerce that is currently really held by Kenneth E. Hyatt.
It's not likely that Jane is inspired by either Hyatt or Stefan M. Selig, who held the position during the President Barack Obama's administration, in any way beyond a shared job title. Netflix released very little information about this new arrival before the season began, which fits the mystery of Clarkson's character.
During the bunker episode, Claire is set to meet with Jane and Secretary of State Catherine Durant, but then an emergency interrupts: a truck of radioactive material goes missing, and all three women are sent to the bunker. But Claire and her top associates (including Frank) are confused as to how and why Jane has the security clearance to be there with them during the crisis. Even Doug Stamper can't figure her out. Later, Claire catches Jane speaking Arabic on the phone in a room away from everyone else, and Jane admits that she has some ICO connections. Whoa.
Jane becomes an integral part of the second half of the fifth season. Frank calls her "attractive and terrifying." Jane inserts herself into meetings between Claire and the Chinese government regarding a Russian boat with an American on it, and Jane implies there was some mysterious technology on the vessel.
"With Jane Davis, there's a real fluidity to her portfolio," House Of Cards co-showrunner Melissa James Gibson told The Fuss. "It's hard to nail down exactly what it is she does. She has her fingers in a lot of pies, but at the same time doesn't leave fingerprints."
In stature, Jane is much like Clarkson — a total power player onscreen who can easily hold her own with House Of Cards stars Robin Wright and Kevin Spacey. You know the Emmy-winning and Oscar-nominated actor from her roles in Six Feet Under, Vicky Cristina Barcelona, Lars And The Real Girl, and The Station Agent, among many other movies and TV projects.
It should be interesting to see how Jane — especially with her ICO connection — figures into the Underwood White House, as Frank and Claire continue their bid to get and keep power.