'House of Cards's Ruthless Campaign Manager May Seem Familiar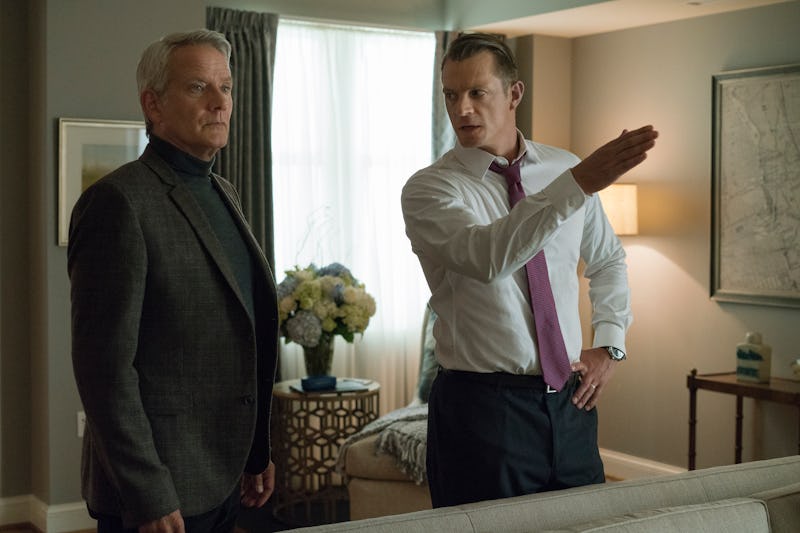 David Giesbrecht / Netflix
When House of Cards returned for Season 5 on May 30, an all-Underwood ticket introduced new faces to the American people. Among them is Campbell Scott's Mark Usher, as advisor to the Underwoods' competition, Will Conway. With so many parallels between the show's fictional Washington and the current U.S. political climate, every new addition to the series could be a possible reference. Is Mark from House Of Cards a real person? (Spoiler alert for House Of Cards Season 5!)
Before the season premiered, Netflix and the showrunners were keeping Campbell Scott's role a secret. According to RadioTimes, Mark Usher's official role would be "Doug Stamper's new adversary and a top-level advisor to the President." This description teased Mark's shift in loyalty, since he first arrives on the scene as an employee of Will's.
Returning after the election, House Of Cards will certainly be compared to Donald Trump's campaign and presidency. Since it's never been hesitant to make connections between real and fictional headlines, the show's first Season 5 teaser was released the day of Trump's inauguration, and then has followed up with a chilling trailer for Season 5 that evokes a darker future for America as the Underwoods fight to remain in power. So where does Scott's character fall into that?
In an interview with the UK's The Fuss, showrunner Frank Pugliese said, "I think Mark Usher is based on a number of people that have emerged over the years: this sort of pundit-like, uber-campaigner manager, political star maker. There's a lot of stuff that happens behind the scenes with characters like this. We wanted one to emerge and become a player."
Borrowing from real developments in American politics for plot purposes is standard for a political show like House of Cards. However, with the constant breaking news reports of alleged scandals coming from the White House, do fans still want an increasingly realistic view of current America as they attempt to engage in televised escapism?
In Newsweek's analysis of the House Of Cards Season 5 trailer, Ryan Bort wrote, "The first four seasons imagined what would happen if the most calculating, ruthless, amoral politicians were set loose within America's political system. There was adultery. There was back-stabbing. There was blackmail. There was murder. And yet, Trump's presidency has been more surreal than anything even Frank Underwood could imagine."
While the showrunners have not specifically stated that Mark Usher is based on a particular real-life D.C. political consultant, Season 5 is, in certain ways, a response to the current administration. In an interview with Entertainment Weekly, showrunner Melissa James Gibson said, "The battlefield for season 5 is the American psyche. That may be one parallel with our real world."
For now, fans are aware that Mark's presence is prominent in this season House of Cards, but his real-life inspiration is still up for interpretation.