Joe Jonas Just Got A New Tattoo & Some Fans Are Convinced It's Of Sophie Turner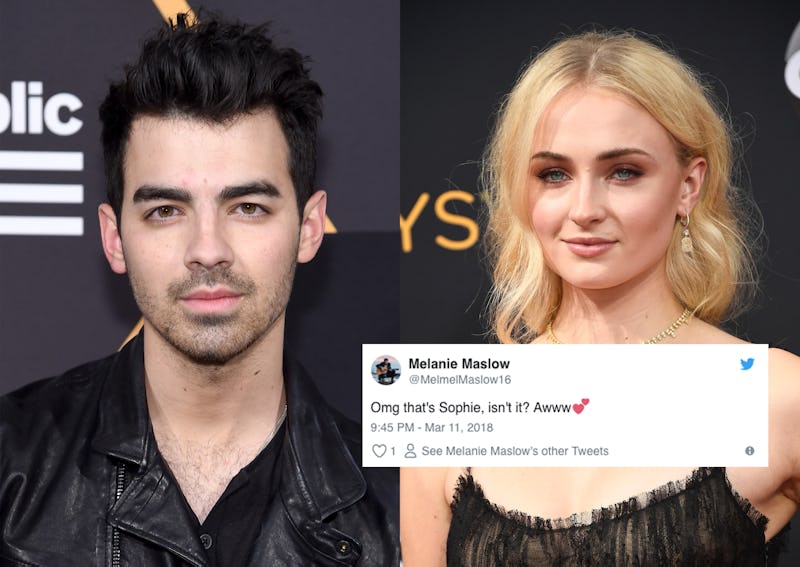 Jamie McCarthy/Getty Images Entertainment/Getty Images; Frazer Harrison/Getty Images Entertainment/Getty Images
One of the Jonas brothers is sporting some brand new ink, which he showed off on Twitter and Instagram, and it's raising some questions amongst his fans. As Just Jared reported, Joe Jonas got a new tattoo and some fans are questioning whether it's of the singer's fiancée, Sophie Turner, or even... Sansa Stark? That would certainly be a fun ode to his future wife, if that's the case.
On March 11, Jonas revealed that he had gotten a tattoo, courtesy of artist Curt Montgomery. His new ink features a woman within a black and red box (Montgomery's signature color palette). Pretty nondescript, right? The singer didn't offer up any other info on his ink — like what it signifies or who the woman is — so, it was still up in the air as to what his new tattoo meant.
However, a small contingent of Jonas fans are convinced that they know what the ink was all about, and it has to do with a little Game of Thrones connection. Since Turner stars in the HBO series as Sansa Sark, these fans were quick to say that Jonas' tattoo pictured the actor's character. There was also some "evidence" to seemingly back up this connection.
One fan said on Instagram that the tattoo resembles how Sansa looked in a recent episode on Game of Thrones. Yet, it appears that the only similarities are that they're both women and have slicked back hair. Seeing as though Jonas has also not said exactly who the woman in the tattoo is, and that there's no concrete Stark-related evidence, it's likely that this will just remain an interesting theory.
Other fans went with a simpler theory: Turner is the one Jonas' tattoo depicts. It's not out of the realm of possibility that the DNCE frontman would want to honor his soon-to-be wife with a tattoo. In the past, he's gotten tats that honor those closest to him. Directly above his latest tattoo is a rope sequence that he got done in 2012 in celebration of his family. He posted a photo of his ink on Instagram with the caption, "Two ropes (two parents) makes four ends (four brothers)."
So, maybe fans are onto something when they're saying the woman is actually Turner? It would be a nice way to honor someone close to him, as he's done before.
The Game of Thrones actor would definitely count as someone close to the singer, as the two are currently engaged to be wed. As some may already know, Jonas and Turner have been going strong for a while now. As Billboard reported, it appears that the two have been together since late 2016, when they were first spotted together at a Halloween party. But, the two didn't make things "Instagram official" until January 2017, when Turner posted a photo of Jonas on her account. Billboard also noted that the two took another major relationship step in 2017: They adopted a puppy together. And their little dog, named Porky Basquiet, is seriously one of the cutest dogs ever.
Of course, the most major news concerning their relationship came in October 2017 when it was revealed that the two were engaged. On Oct. 15, Turner posted a photo to her Instagram account that showed her hand (with an accompanying diamond ring) holding Jonas'. She captioned the photo with a simple, "I said yes." And the whole thing shocked the interwebs (in the best way, though).
So, did the DNCE singer decide to celebrate his nuptials early with a Turner tattoo? Or did he go a step further and not only honor his fiancée but her role on one of the most popular TV series ever, too? Until Jonas clarifies things himself, fans will be left wondering what his new tattoo means.