This 'Sharp Objects' Suspect May Have Had A Troubling Relationship With The Victims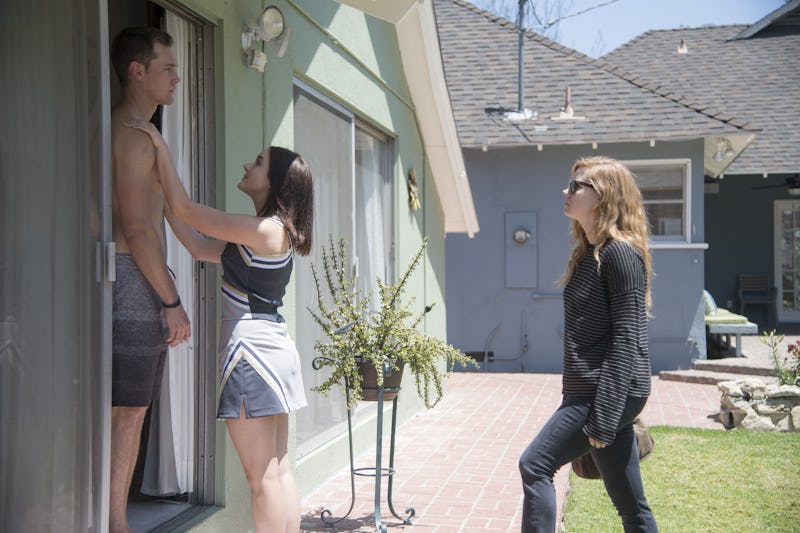 Anne Marie Fox/HBO
Spoilers ahead for Sharp Objects Episode 6, "Cherry." Just when audiences thought they had Sharp Objects figured out, someone throws a wrench in the gears. Or, more accurately, someone discovers Ann Nash's bike in a dirty lagoon out by the hog farm. The item in question was reportedly dumped by John Keene (Taylor John Smith), and although Camille (Amy Adams) doesn't think he's the real murderer, it certainly looks bad for Natalie's older brother. So is John Keene the murderer on Sharp Objects, or is this evidence another red herring?
"Cherry" begins with said bike being fished out of the sludge, which Bob Nash (Will Chase) verifies was his deceased daughter's. Later on, a worker from the hog farm confirms that he saw John dump it into the lagoon. But why did he toss it to begin with? Did he suspect the police were getting close and panicked? Or has he been framed? It also seems bizarre that this evidence would only be uncovered now, about a year after Ann first went missing. Not to mention that this evidence doesn't connect John to Natalie's death at all. So while it's unlikely that he's the real murderer (there are two episodes left, after all), he certainly looks guilty.
That being said, audiences see the murder suspect ogling Amma (Eliza Scanlen) while she suns by the pool. After unsuccessfully propositioning him, she slips into the water. "There are places you can go for help — you know that, right?" she says. "Maybe the voices in your head can talk to somebody. You don't want more little girls showing up without their teeth." Some townfolk have speculated that maybe John was too close to his sister, Natalie, and that's why he killed her. If that's the case, that would explain why he keeps staring at Amma.
John's girlfriend, Ashley Wheeler (Madison Davenport), also looks fairly suspicious. When Camille goes to interview her again (the cheerleader was unhappy with her exclusion from the reporter's last piece), she notices that a chunk has been bitten from the girl's right earlobe. And when Ashley and John show up to a house party, everyone seems shocked that they're there. Wind Gap is convinced that he killed both girls, and their suspicions have only been fed by Camille's articles. Not to mention the fact that Amma keeps provoking him. "Bye, murderer!" she calls after John as he leaves the room.
Even more telling is Camille's conversation with Ashley at the party. When the cheerleader asks how her article is coming along, she responds, "Yeah well, I'm onto different stories. Like the one about [how] someone took a chunk out of your ear. Was it Natalie?" John's girlfriend responds, "Who told you about that?.... It's just not something I like to remember." Audiences will recall that both Natalie and Ann had violent streaks, so they would likely both fight back while being attacked.
Not to mention the scene in Episode 4 when audiences saw Ashley clean a blood stain off of John's carpet. Perhaps it was simply a preventative measure, since he was already a murder suspect. Or maybe it was something more sinister. This also begs the question: Is Ashley afraid that the blood would have indicated him or her? Or maybe both? Whatever the case, Ashley ends their conversation by telling Camille, "You want to know about Natalie, you should ask your mom."
And then there's the hallucination that Camille sees right before she and Amma pass out on her bed. It's her dead sister, Marian, and she looks afraid. "It's not safe for you here," she says.
If you or someone you know is considering self-harm or experiencing suicidal thoughts, call the National Suicide Prevention Hotline at 1-800-273-8255 or text HOME to the Crisis Text Line at 741741.
If you or someone you know has been sexually assaulted, call the National Sexual Assault Telephone Hotline at 800-656-HOPE (4673) or visit online.rainn.org.