Jon Voight's Loyalty Lies With Donald Trump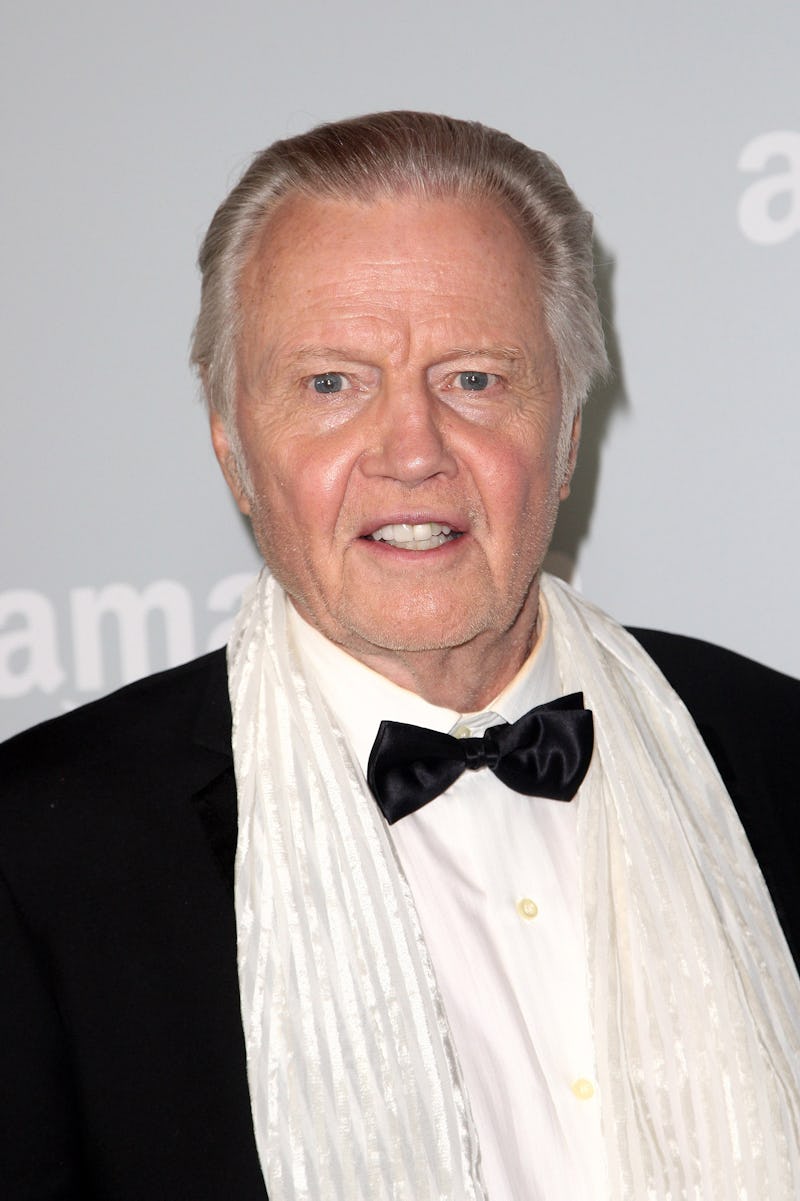 TOMMASO BODDI/AFP/Getty Images
On Friday, the list of individuals performing at President-Elect Donald Trump's pre-inauguration concert being held in Washington D.C. on Jan. 19. was revealed. Country singers Toby Keith and Lee Greenwood, singer Jennifer Holliday, and band 3 Doors Down are all slated to perform. (Update: Holliday's rep told The Wrap that she has not yet officially agreed to perform.) Another famous face is also attending and that is actor Jon Voight. So, is Jon Voight a Donald Trump supporter? He certainly hasn't been shy about showing where his loyalty lies when it comes to politics and the 2016 presidential election.
First and foremost, Voight narrated the biographical video of Trump used at the 2016 Republican National Convention. That definitely showed others who Voight would be voting for. In March 2016, the Oscar-winning actor released a statement to Breitbart News endorsing Trump for president and had all kinds of positive things to say about the now future leader of the nation.
He said,
I, Jon Voight, can say, without hesitation, that Donald is funny, playful, and colorful, but most of all, he is honest. When he decided to run for president, I know he did it with a true conviction to bring this country back to prosperity. He is the only one who can do it. No frills, no fuss, only candid truths.
The statement is a lengthy one, but based on the above, it's clear that Voight wholeheartedly supports Trump. He even concluded the statement as follows:
I pray all Americans who have seen and felt the meltdown of America with the Obama years, to please fight for Donald Trump. He will not let us down. I pray for all good people to see clearly what faces us now. The right vote will save our nation.
Voight also contributed to the conversation after the 2005 video of Trump talking to Billy Bush about the idea of grabbing women "by the p*ssy," came to light in October 2016. After Robert De Niro said he'd "like to punch [Trump] in the face" in response, Voight took to Twitter and heavily defended Trump. He wrote,
I am so ashamed of my fellow actor Bobby DeNiro's rant against Donald Trump. What foul words he used against a presidential nominee who has worked harder then any other man I know in the past year and a half to get a good message to the American people. I don't know of too many men who haven't expressed some sort of similar sexual terms toward women, especially in their younger years.
He continued,
Donald Trump's words were not as damaging as Robert DeNiro's ugly rant. Trump's words did not hurt anyone. Can you imagine if any Republican said words like Robert DeNiro used — against Hilary Clinton or Barack Obama? All hell would break loose. I am calling for all Trump supporters to express their outrage and anger against DeNiro and all of the Republican turncoats against Trump. Let Donald Trump know we are completely behind him, and may God give him the strength to continue his calling.
After Trump won the election, the Ray Donovan star spoke to The Hollywood Reporter in November 2016 and expressed his excitement over the win. "I was deeply pleased by the election," he said. "To those people who are heartsick, I felt the same way when Mitt Romney lost. Just calm down, let not your heart be troubled, this man is going to be a wonderful president."
Not only did he also tell THR that Trump "hires more women than almost anybody else in his business and puts them in leadership positions, not just because they're women but because they're the most qualified for the job," but that everyone should relax, because the next four years are going to be great now that Trump is in power. "Take it easy," he said. "I feel for you because I've been there, too. But we're gonna work through this because we're all Americans, and it's gonna be a good time, these next four years."
There's no denying that Voight has Trump's back, so it's not surprising that he's attending the inauguration.