These 'Bachelorette' Contestants' Jokes Show They're Still Not Big Fans Of Male Model Jordan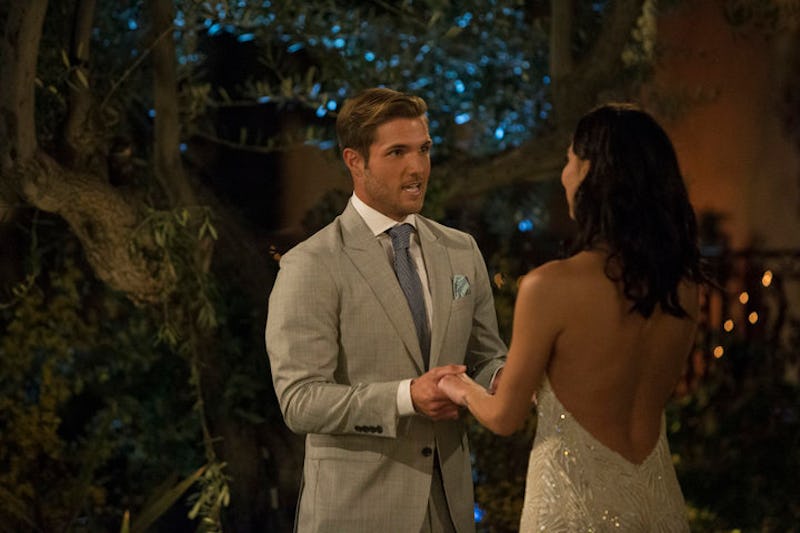 ABC
It's been several weeks since The Bachelorette ceased filming in May, so is all the drama water under the bridge now? Does time really heal all wounds? I'm asking because I want to know if Jordan is friends with The Bachelorette contestants after the show. Based on his behavior on the series, I wouldn't blame his fellow competitors if they didn't want to associate with him post show.
Jordan has mocked everything from his fellow contestants' style to David's face after he took a terrible fall. That's just not OK. Plus, now that everyone is seeing his talking head insults for the first time, there's a decent chance those could wreck any friendships he did make while filming. Dude is not that nice. Witty and confident and filled with one-liners? Yes. Fun to watch? Of course. But he definitely didn't come there to make friends. And, sure, it's not a friendship show. But most contestants do leave with some lifelong BFFs after spending all that time locked in the mansion together. Where does Jordan stand?
It seems that what you see with Jordan is what you get. His social media shows he's just as cocky as he is on TV. On his Instagram "highlight" reel, he has a "life tips" section where he says, "Feeling good leads to looking good, and we always want to look our best. So, feel good." Sure, Jordan, it's just that easy. He also has a highlight all about how he takes care of his hair. He's a model on and off the show, and his attitude stays pretty consistent from TV to online.
Unsurprisingly, he doesn't really seem to have that many post-show friends. Although he does have a picture with fellow contestant Nick, it's the only one on his timeline — or on anyone else's — that isn't just a group shot from the show.
While he seems to follow most of his fellow contestants, and they follow him back, there's a decent amount of ribbing going on, and Jordan doesn't seem to be in on the jokes.
Colton seems to have taken particular offense to Jordan, which we see unfolding a little bit on the show as well. When Jordan compared himself to a golden retriever, Colton tweeted that it was an insult to all dogs:
He also mocked Jordan's "salt spray" hair care routine.
Connor is another contestant who has frequently ridiculed Jordan on Twitter. He made two jokes about Jordan's anatomy in those gold shorts. (Ah, the things men think are funny.)
And he also tweeted that Jordan (like Jon Snow) knows nothing.
Fellow contestant Jason also mocked Jordan's favorite modeling look, the "pensive gentleman."
Over on Instagram, where, again, most of the contestants follow Jordan and he follows them back, Colton posted a jab at the male model. His caption reads: "Hey Jordan.... take notes. This is how a real man poses with suspenders."
The photo was "liked" by David, Connor, Mike, Clay, Jason, Garrett, and Blake, among others. "Shots fired," wrote Clay. David posted four flame emojis as a comment.
Speaking of David, he's really not friends with Jordan after the show and after what is sure to be a dramatic two-on-one date. They don't follow each other on social media, and David recently posted a photo mocking Jordan's modeling. "#pensive @jordan__kimball," he wrote in the caption. Clay, Colton, and Wills liked the photo.
A little lighthearted ribbing amongst contestants is commonplace, but all of these jokes seem one sided and Jordan doesn't seem to be laughing. Perhaps as time goes on, the contestants will forgive and forget — but only if Jordan doesn't dig himself a deeper hole on the show first.