Kendrick Lamar's 'DAMN' Follow-Up Could Be Coming Way Sooner Than Expected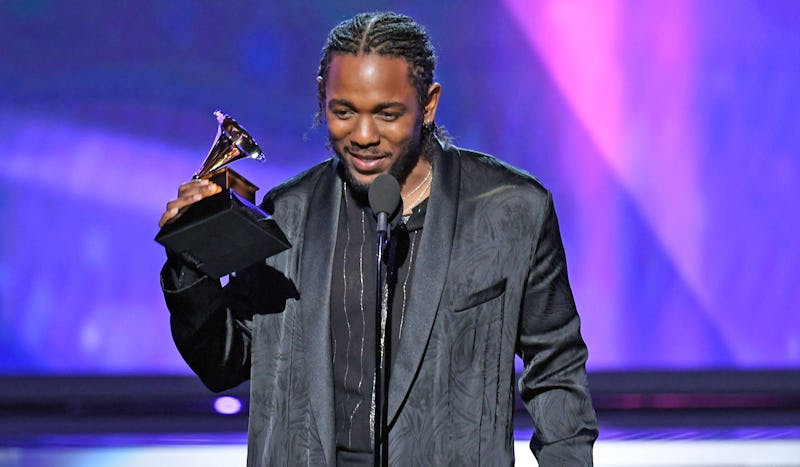 Kevin Winter/Getty Images Entertainment/Getty Images
Kendrick Lamar, the world's hottest rapper right now, has helped change perceptions of hip hop. He has truly put the genre on the map. He even won the Pulitzer Prize for music with his 2017 masterpiece Damn, making him the first ever first non-classical or jazz artist to receive the award. I mean, seriously, wow. Now, fans (especially me ) want to know if Kendrick Lamar is releasing a new album because, I don't know about you, but I am so ready for him to shake the world again.
Well, rumour has it, there's reason to be excited. You see, speculation's gone into overdrive as one of Lamar's label mates has hinted at new music from the inimitable Kung Fu Kenny. As reported by NME, the fellow Top Dawg Entertainment rapper Isaiah Rashad recently claimed that he'd heard a "damn near" complete album from Lamar. He also teased several other incoming Top Dawg Entertainment releases, from the likes of Schoolboy Q, and maybe even a new one from SZA. He let it all loose on an Instagram live stream, and it's been enough to fuel some of Lamar's overexcited followers.
Right now, Twitter's blowing up with frenzied fans hoping that there'll be a new Kendrick Lamar album before the end of the year. Hey, it's possible.
But it might all be a bit too hasty. In a year of slapdash releases, fans might be forgetting that Lamar's a real perfectionist. Even if a Lamar album is near completed, that doesn't guarantee it'll be the final product. He tends to revise his material over and over, which was definitely true of Damn. "Lamar, his label A&R man, and some of the producers would regularly trade intensive texts about revising songs, especially if they played one for friends or tastemakers who weren't feeling it," Rolling Stone reported on what they called the "constantly evolving album".
And now that Lamar's won the Pulitzer, he's under more pressure than ever to create another masterpiece. In my opinion, a year just isn't long enough to follow up something like Damn. Although at this point it seems like Lamar could do anything, he is only human after all.
I reached out to Lamar's rep to find out if there is any word on an upcoming album. When this piece was published, his spokesperson was yet to get back to me, but as soon as they do get in touch, you'll be the first to know what they tell me.
Fortunately for stans like myself, even if a new album isn't going to drop in 2018, Lamar has already spoiled us this year with his curated soundtrack for the Marvel film Black Panther. On it, Lamar features alongside his label mate SZA, as well as spotlighting several ultra talented South African rappers.
But at this point, I'd wager that he'd be more likely to put out unreleased tracks and rarities before bringing out another album. And even that would be generous. 2016's untitled unmastered — a collection of eight of Lamar's (you guessed it) untitled and unmastered tracks — exceeded the quality of most musician's thoroughly mastered and produced efforts. So, have some patience. There's enough information and poeticism and genius in Lamar's back catalogue to pore over for years to come. You can wait for at least one more, ya bish.