Another Kardashian Sister Might Be Starting A Makeup Line Soon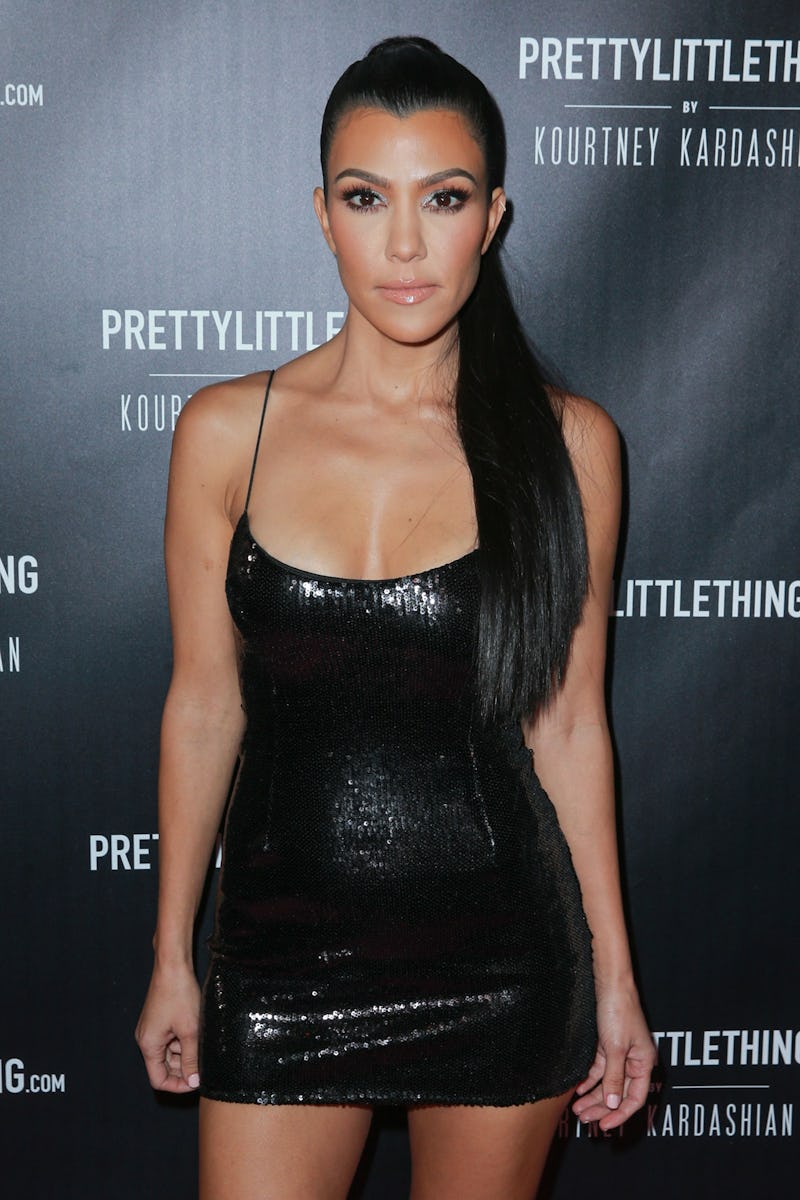 Rich Fury/Getty Images Entertainment/Getty Images
There may be another Kardashian kosmetics kompany on the horizon. Multiple signs point to eldest sister Kourtney Kardashian starting a cosmetics brand. Since her younger sisters Kim Kardashian West and Kylie Jenner have launched super successful beauty brands in the digital space, it would make sense for Kourt to kash in, too!
Here's what we know. According to TMZ, Kardashian, 38, filed legal paperwork for ownership of the name "Kourt" under her 2Die4Kourt umbrella. That's obviously an abbreviated nickname and is also the name of the deep, vampy, and matte purple Kylie Lip Kit that was named after her during the earliest days of Kylie Cosmetics.
TMZ reports that the docs indicate that Kardashian plans to run a beauty brand, but further details, such as what types of products she wants to create and sell, are TBD for now.
But that's not the only hint that Kourt is joining Kim and Kylie in the beauty realm. Earlier this month, Kris Jenner's firstborn posted an Instagram story, featuring her name in a bunch of different fonts labeled "Kourt Logo Options" for the potetial packaging. A Kylie Cosmetics-branded notebook, sticky notes, and a pen were included in the shot. Slightly OT, but anyone else sorta coveting these Kylie office supplies?
The initial and most obvious suggestion was that Kourt would be teaming up for a collab with Kylie, much like Khloe Kardashian did with her Koko Kollections.
There's the tease, which was by no means any sort of official word. It was just a tease that generated a ton of curiosity. But now that we know that Kardashian has filed paperwork, perhaps she is "pulling a Kim" here and will launch her first product, whatever that may be, via the already-established and majorly successful Kylie Cosmetics platform before branching out and moving forward with her very own brand and e-commerce site.
Remember, KKW Beauty launched with a quartet of nude-toned, creme liquid lipsticks through Kylie Cosmetics. Those are now sold via KKW Beauty, which includes cream contour kits, powder contour kits, fragrances, and the UltraLight Beam glosses and powders.
The business model clearly worked wonders when KKW was getting her brand off the ground. Granted, Kim is the most famous member of the family and would have easily and quickly found her customers. But so many Kardashian fans enjoy seeing the sisters collaborate, so it was a no-brainer.
While Kourt is a straight up stunner who often keeps her look classic, with stick-straight, center-parted black locks, glowy and bronzy skin, and oft-nude lip, she is the quietest of the sisters and is the least in the spotlight as she raises her three children. Therefore, her own beauty brand could enjoy quite a boost and incredibly increased visibility via an initial link up with the Kylie Cosmetics platform.
Also, it's worth noting that a Kourtney Kardashian-backed makeup brand could appeal to a very specific customer that skews a bit older than the typical Kylie Cosmetics fanatic. Women in the later '30s with children would likely be magnetically drawn to items created and sold by Kourtney, especially if she is viewed as their peer. She is doing her own thing and has her signature, much desired look, which would also give it a wide appeal. Still, it would be wise to partner with Kylie Cosmetics first, since it boasts a massive, built-in, and loyal customer base.
Right now, we are merely operating off teases, clues, and the docs obtained by TMZ. Perhaps the paperwork is merely a legal and financial formality related to her possible Kylie Cosmetics kollabo. All will be revealed in due time, but we're seriously hoping that her very own Kourtney Kardashian makeup brand is happening.