Krystal Is All Smiles After 'The Bachelor' & It Might Be A Clue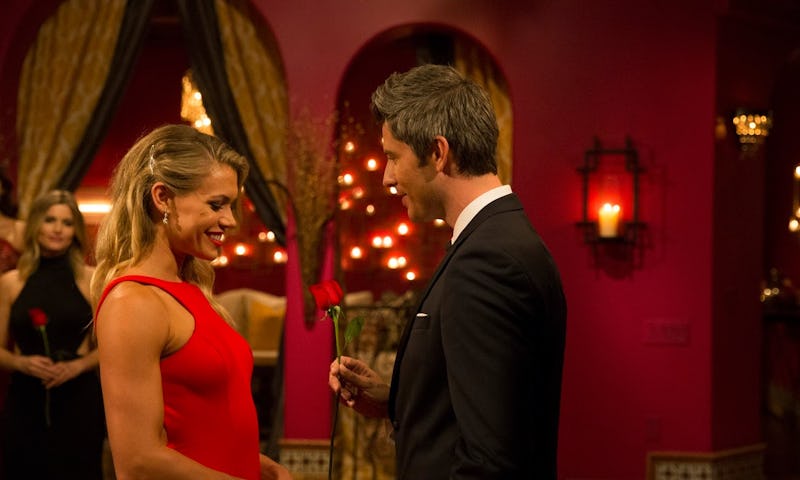 Paul Hebert/ABC
It just wouldn't be a Bachelor season without someone being labeled as "the villain," right? This season, as the ladies compete for the heart of Bachelor Arie Luyendyk Jr., it seems to be Krystal that has earned herself the infamous label. Of course, just because the rest of the contestants don't like her strategy, that doesn't mean that it isn't paying off for her. After snagging a spot in the infamous Bachelor two-on-one date with Kendall for this upcoming week, it looks like this is a make-or-break moment for her time in the mansion. So, is Krystal single after The Bachelor?
Well, Bachelor Nation may have already caught on to the implication that it is not necessarily a great thing to be the "villain" invited on the season's two-on-one date. It seems like the powers that be at The Bachelor love to set up the most controversial contestant and her archnemesis of sorts to go on that particular date. This way, they are pitted head-to-head, and one of them may end up being sent home at the end of the date. The stakes are high and the drama is always overflowing. So it's very possible that this week, we might see Krystal take a bus home.
Obviously, this is just speculation but it would be shocking to watch Arie continue to deal with Krystal and her unpredictable outbursts. Sure, editing is a factor and it is possible that audiences aren't getting the full story. But it also looks like Krystal is having fun leaning into her role. Fans won't know for sure until after the episode whether or not Krystal is still in the game after this week, but her social media may provide some clues about whether she is currently single or not.
According to her ABC profile, she is a fitness coach for her profession and she has a YouTube channel under the handle "Coach Krystal". Her Instagram is gorgeous and inspirational AF, but it is not telling fans anything about her personal life or her current relationship status. She is all about keeping herself healthy and fit, and her social media certainly makes it seem like Krystal is killing it.
It doesn't look like Krystal has a Twitter and her Facebook page doesn't lead to anything juicy either. If a call had to be made purely from what is visible on her Instagram and her YouTube channel, I would say that it seems like Krystal is focusing on her career at the moment and doesn't seem to be attached to anyone. Of course, there is always the question of who is taking all of these non-professional photos of her. Could it be a beau? Since there are no blatantly obvious signs about her relationships status either way, it could be Arie who she is being so secretive about. I mean, it is well known that the Bachelor couple has to stay out of the public eye and not reveal anything about their relationship until after the finale finally airs. Maybe Krystal is concentrating on her personal training business and her fitness in general to throw off suspicion that she and Arie ended up together in the end of the season.
To be honest, I wouldn't put big money on Krystal ending up with Arie when the season is all said and done. But stranger things have happened on The Bachelor, and he does seem to be intrigued by her, despite her antics that are angering the other women. Bachelor Nation might just be getting their answer about Krystal's fate this week when that dreaded two-on-one date commences.