Kylie Cosmetics' Royal Peach Palette Is Permanent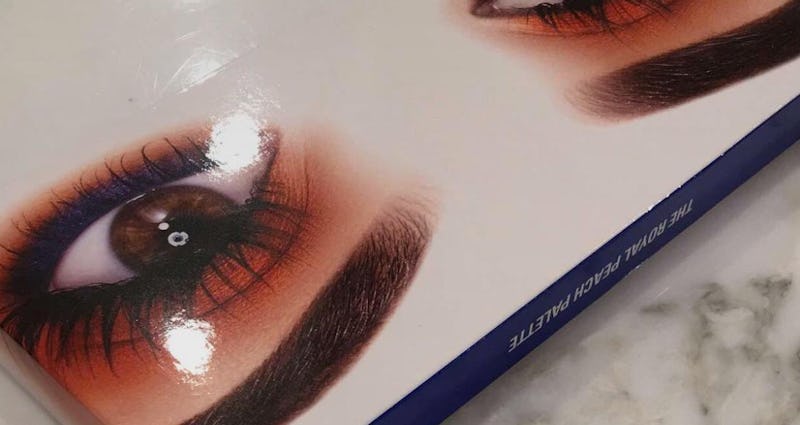 Limited edition or permanent addition? Kylie Cosmetics is dropping the Royal Peach Palette on Thursday, Jan. 12. It's the brand's fourth palette overall. There have been three so far, in the form of the nine-pan Bronze and Burgundy palettes, which are are permanent Kyshadow sets. The brand also she created a limited edition, jewel-toned, and wintry palette for her 2016 Holiday Collection. So Royal Peach is the fourth palette total.
Royal Peach is marked by several changes —actually, they're upgrades. Royal Peach boasts three additional shadows, totaling 12. It also includes a brush and a mirror, which the prior palettes did not have. Is the Royal Peach Palette limited edition or permanent addition?
According to the brand's official Twitter and Instagram accounts, the Royal Peach is brand's third permanent palette, so it will indeed be sticking around. As of press time, it's not clear if all future Kyshadow Palettes will be super-sized to include 12 shadows, a brush, and a mirror like Royal Peach. These elements could be exclusive to Royal Peach and could be for a one-off. She likes to keep us guessing so we'll have to wait and see.
Below is the tweet confirming that Royal Peach is being added to the permanent repertoire of products.
The palette was inspired by one of Jenner's NYFW looks.
More details are slated to drop on Monday, Jan. 2.
All. Good. Things. And the best news is that it's not going anywhere! Expect a swift sellout on launch date, as that's the case with most Kylie Cosmetics debuts. They cause a shopping frenzy. But the brand has improved immensely with the speed and frequency of its restocks. So something tells me Kyliephiles will have ample opps to shop the Royal Peach Palette.
Images: Kylie Cosmetics/Instagram (2)