All The Clues You Missed About Kylie Jenner's Reported Pregnancy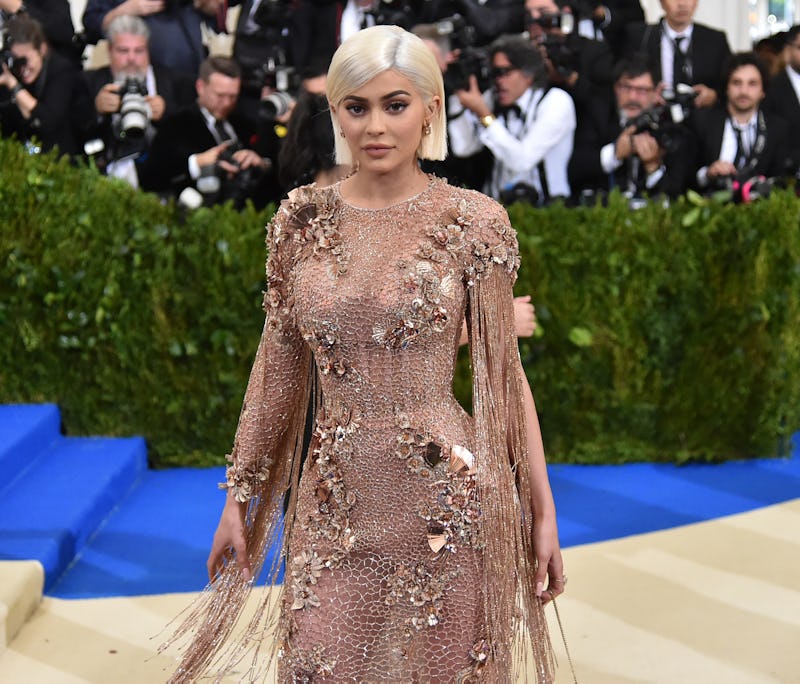 Mike Coppola/Getty Images Entertainment/Getty Images
Get ready for your jaw to fall to the floor, because according to TMZ, Kylie Jenner is reportedly pregnant. If you're totally shocked by the alleged reveal, you're most certainly not alone, but actually, there have been plenty of clues that Kylie was pregnant all over social media over the past few months, if you only looked closely enough. UPDATE #1: When contacted by Bustle, Kylie Jenner's reps could not be reached for comment.
UPDATE #2: In a post on Twitter, Kylie Jenner confirmed she gave birth to a healthy baby girl on Feb. 1. In the tweet, Kylie wrote:
"I'm sorry for keeping you in the dark through all the assumptions. I understand you're used to me bringing you along an all my journeys. my pregnancy was one I chose not to do in front of the world. I knew for myself i needed to prepare for this role of a lifetime in the most positive, stress free and healthy way i knew how. there was no gotcha moment, no big paid reveal i had planned. I knew my baby would feel every stress and every emotion so I chose to do it this way for my little life and our happiness."
EARLIER: Clues or no clues, however, the TMZ report is pretty surprising, to say the least. For one thing, there's the fact that Jenner is just 20 years old, and for another, there's the fact that she hasn't spoken publicly about wanting a child anytime soon. Still, since around April, the reality star and cosmetics mogul has been dating Travis Scott, a 25-year-old rapper, and although the duo's relationship is relatively new, they're clearly serious; in June, People reported that Jenner and Scott got matching butterfly tattoos on their ankles.
But still, even Jenner's biggest fans probably didn't see the alleged pregnancy coming. Perhaps if they'd paid more attention to the details listed below, however, then the report wouldn't be as much of a shock. Let's take a look at all the clues that Jenner was really pregnant, if the report turns out to be true.
She's Always Wanted Kids
Several times throughout the years, Jenner has made it clear that she wants to one day have a family. On several episodes of Keeping Up With the Kardashians, Jenner has discussed her love of her siblings and her desire to eventually start a family of her own. And on Snapchat in 2016, Jenner said, according to Life & Style, "I'm getting a lot of questions about kids. How many kids do I want? Do I want kids? And I do want kids, but not now."
And She's Wanted Them Young
In a 2016 episode of Keeping Up With the Kardashians, Jenner told then-boyfriend Tyga that she wants to have kids around the age of 25, and that she felt that 30, for instance, "is too late." So if the report is true, then it makes some sense that Jenner would want to start a family at this point in her life.
She Just Posted A Cryptic Snapchat
In a Snapchat posted by Jenner on Friday, the reality star is seen posing in a way that some have said is suggestive of her being pregnant, although there's no way to know, of course, if that's really the case.
She's Been Reportedly Staying Out Of The Spotlight
According to Page Six, Jenner hasn't attended many public events recently, which would make sense if she was trying to keep a pregnancy under wraps and not ignite rumors.
Her Recent Instagrams Are Either Older Shots Or Cropped
Interestingly, most of Jenner's recent selfies or shots of herself on that form of social media are either cropped to just show her face and neck, or are clearly older shots from past photo shoots and events.
The Keeping Up With The Kardashians 10-Year Anniversary Special Is On Sept. 24
If anyone would plan the announcement of her daughter's alleged pregnancy two days before a highly-anticipated TV special about her family's lives, it'd be Kris Jenner.
If Jenner truly is pregnant, you can bet that it'll shake up the Kardashian-Jenner world big time, and that all of us will be hearing about it soon (perhaps even on that upcoming TV special). After all, the famous family has never shied away from making the personal public, and so chances are, Jenner's followers will know many more details about the alleged pregnancy in the coming weeks and months.