Kylie Jenner Just Went Blonde & She Looks Just Like Kim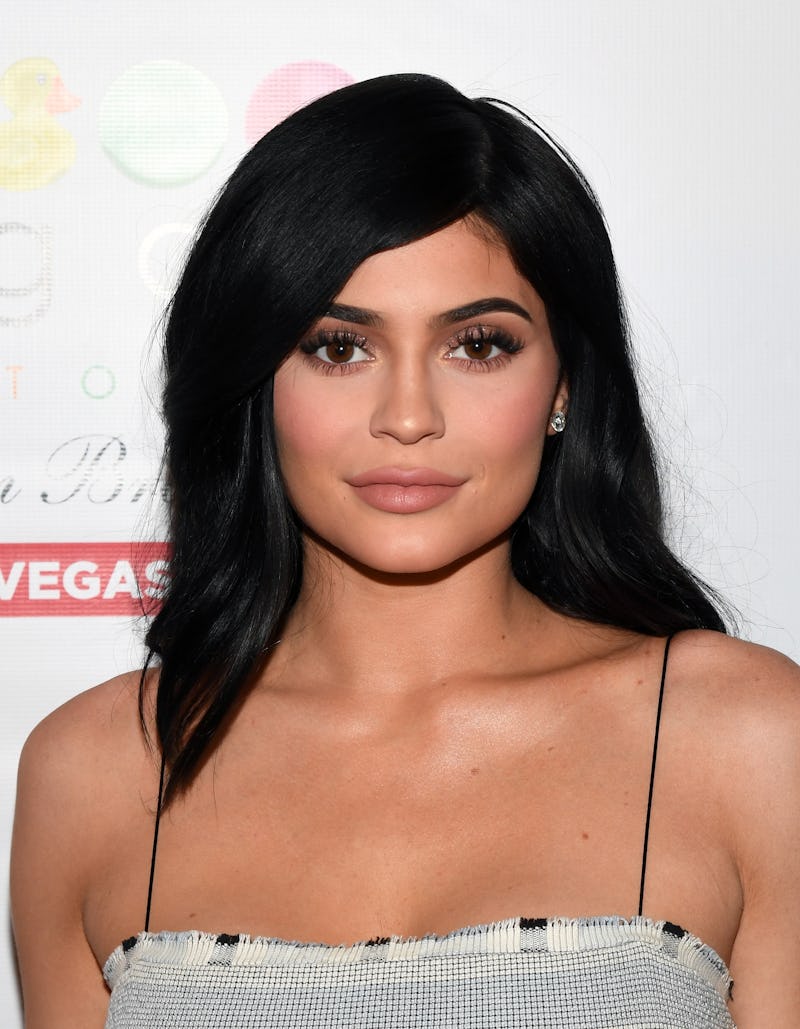 Ethan Miller/Getty Images Entertainment/Getty Images
With warmer weather right around the corner, some of us are beginning to get antsy when it comes to switching up our look. As winter pieces are being swapped out for summer dresses and short shorts in our wardrobes, and makeup drawers are starting to get re-stocked with lavender and orange lipsticks, some of us are itching to book a salon appointment and update our hair to match the rest of these changes. That seems to be the case in the Kardashian-Jenner clan, where Kylie Jenner just went blonde, being the next sister to take the platinum plunge.
The icy look is nothing new in their family. Kim Kardashian was seen all over LA rocking a silver-platinum look, whereas Kendall debuted a bright blonde look in Paris on the Balmain runway, and Khloe has been rocking platinum for years now.
Following in the steps of Kim, Kylie's blonde was more on the silver-plated side, taking on a grey tinge rather than just being platinum white, as is the norm. Chris Appleton, Kardashian's long-time stylist, has called the ashy-toned look "the new platinum," explaining that it's sometimes fun to try to reinvent such an iconic look. It appears that Jenner agreed.
The 20-year-old beauty mogul revealed her new locks when she posted a photo of herself to Instagram, wrapped up in a hotel robe and sporting blonde tresses. "I think i was meant to be blonde," she captioned her photo.
While she looks amazing in the new color (and gives off major Marilyn Monroe vibes with that particular shade,) the color is probably not permanent and, instead, a wig. The first tip-off comes in who she tagged in the picture. While the caption is free of any recognition, if you click on the photo itself you can see that she tagged her hairstylist and wig designer, Tokyo Stylez. He also re-grammed the photo on his own Instagram, with the hashtag "#touchedbytokyo" and tagged the account @therealexotichair, which sells premium wigs that the Kardashian sisters have worn many times over.
The wig brand also re-grammed the photo of Jenner on their own account and confirmed people's suspicions: This was just another amazing-looking wig. "In EXOTIC HAIR #LaceUnit," the brand wrote in their caption. They explained that the custom color and styling was done by Tokyo Stylez, but the actual hair was courtesy of them.
So there we have it, this is just a temporary look that let the entrepreneur shake up her style for the time being. Even if we didn't have this long Instagram trail to follow and sleuth though, there was another tip-off in the photo that hinted the blonde might not be the real deal: the hair length.
Just a few days ago Jenner posted a photo of herself rocking a black, shoulder-grazing bob, whereas in her platinum photo her hair cascades over her chest. While it would be possible that she also got extensions to match her bob, the longer hair length already had some people questioning whether this was a permanent look.
But even though it's just a temporary wig, people have been loving the unexpected transformation. "You kind of look like @ritaora," one person wrote on her photo, seeing similarities between the ashy platinum hair colors both celebs are now rocking.
Others saw it as the push they needed to change their own hairstyle, especially after seeing how good Jenner looked after such a drastic transformation.
Some just really loved the look, and supported the experiment full-steam.
Others have already gone platinum from their own dark hair, and felt a kinship to her hair makeover.
Even though we now know this is just a temporary style, Jenner still looks amazing in whatever color she chooses to sport.