You'll Be Hearing Lady Gaga Live At The Grammys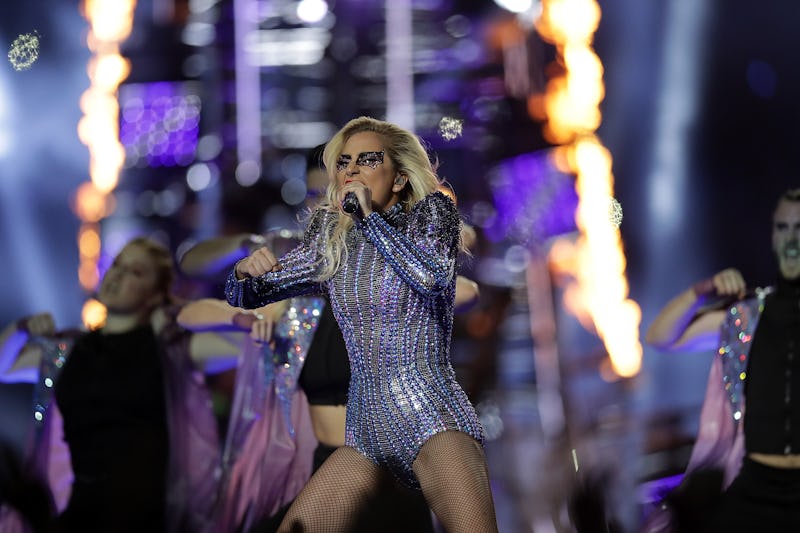 Ronald Martinez/Getty Images Sport/Getty Images
If you love any popular music, you'll want to watch the 2017 Grammy Awards, as tons of amazing performances are planned. Among them is Lady Gaga, and the Feb. 12 broadcast will mark her second weekend in a row of performing for an audience of millions. Considering that her Super Bowl halftime performance wowed audiences with her ability to sing while performing impressive stunts, fans shouldn't be too worried about Lady Gaga lip-syncing at the Grammys — especially since the practice isn't common at the awards show in the first place.
In 2012, the Grammys' audio engineer Michael Abbott told TV Technology that ever since there were some very public lip syncing controversies — primarily Milli Vanilli in 1990 — it's been Grammy policy to have "every microphone on stage be live." However, that doesn't mean that some artists aren't singing against some kind of backing track, as Abbot also explained, "some performances are so demanding in terms of sound design that there has to be some of what we call track augmentation, which might involve Pro Tools or some other kind of playback."
Lady Gaga is known for being a ferocious live performer, so it's possible that she'd want some assistance during the Grammys. However, she's also a powerful live singer, and has belted out some performances while doing impressive choreography. She even sang live at the Super Bowl — an event notorious for pre-recording its performances — sometimes while literally hanging in midair.
Lady Gaga has also previously gone on record to maintain her devotion to live performances. In 2014, she told Extra TV, "I don't think it's cool to lip sync," and while she doesn't judge artists who do, "I think if you pay money for a ticket to see a show that the artist should f*cking have some pipes and sing their records for you."
So when Lady Gaga takes the stage on Sunday night, you'll be hearing her actual voice — alongside Metallica. The details of her duet with the band haven't been released yet, and though it's possible that they'll be doing a stripped-down performance of some kind, to me, this pairing suggests we're in for something big. Both Gaga and Metallica are known for their literally explosive performances, so I think the Grammys will go all-out on this one.
No matter how the two artists arrange their performance, I think Mother Monster has too much devotion to her style, swagger, and outrageous performing style to settle for lip syncing when it would break with both Grammy and Gaga tradition.