Lady Gaga Just Debuted A Huge Moth Tattoo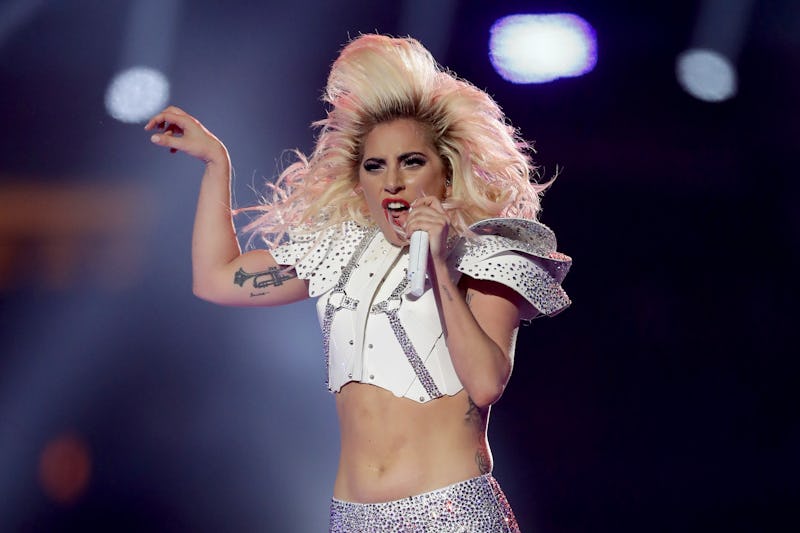 Ronald Martinez/Getty Images Sport/Getty Images
Lady Gaga is known for her statement ensembles like meat dresses, her sky high heels, and her hair bows. But did she just get a statement tattoo? In a black and white Instagram post before her 2017 Grammys performance with Metallica, Gaga debuted a huge moth tattoo on her back. The piece spans her entire back and the moth has a skull for a face and a major wingspan.
Mother Monster added a bunch of Grammy-specific hashtags, such as #tattoo, #MothIntoFlame, #MetalliGA, and #grammys, to the photo. Little Monsters were immediately speculating in the comments whether or not Gaga's expansive back tattoo is real or faux.
I closely inspected Gaga's moth tattoo and I am thinking that it is indeed fake and that it is drawn on. Here's my theory.
Look at her skin! A brand new tattoo would likely cause the skin to look a bit more "raised" if it were fresh. Plus, getting new ink so close to a major TV performance is probably a bad idea. The skin would likely be tender and the tattoo would be scabbed and healing, and sweat or bumping into someone on stage could create a huge, irritated mess. You have to be super careful during the healing phase.
Also, Gaga performed at the Super Bowl and I did not see this "ink" on her back last week.
The tattoo appears to be drawn on and the hashtags make me think this artwork is specific to this particular performance.
If the moth tattoo was real and Gaga had it for a while, fans would probably have noticed or we'd have seen it during her Super Bowl performance. It would have been visible, due to her cropped top and boy shorts. I don't see a moth across her back in this shot — just her previously existing ink.
Unless I hear otherwise, I am wagering that Gaga's moth tattoo is fake and possibly was created for her performance with Metallica.
Image: Lady Gaga/Instagram (1)