Attention, 'To All The Boys' Fans: Lara Condor Is Dating A Real-Life Peter Kavinsky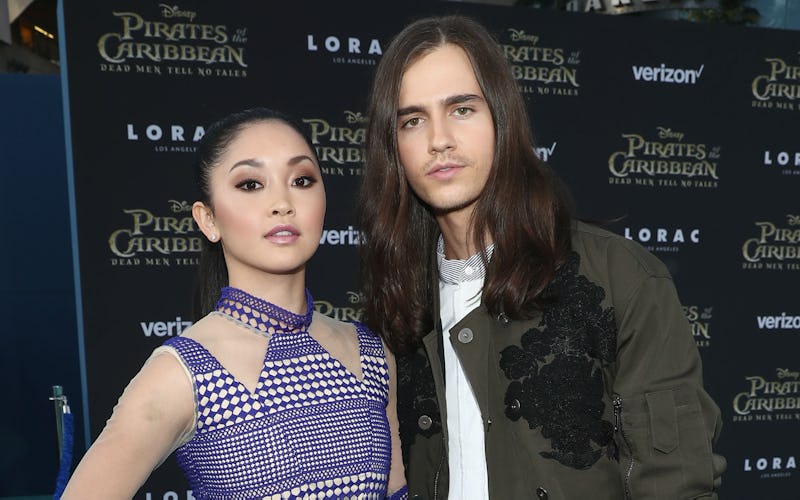 Rich Polk/Getty Images Entertainment/Getty Images
Netflix's new rom-com, To All The Boys I've Loved Before, is a huge hit right now. People are loving it, and as a result, the film's stars have become the internet's latest obsession. The actors that play Lara Jean and Peter Kavinsky have undeniable chemistry both on-screen and off, which has left some fans wondering: Is Lana Condor single? Or is she dating Noah Centineo aka the beloved Peter Kavinsky? No, she's not single. She's also not dating her costar. She is, however, in a relationship with a guy who's very Peter Kavinsky-esque in the most endearing way.
Condor opened up about her main squeeze, fellow actor Anthony De La Torre, during an Aug. 12 interview with Us Weekly. The pair have been together for about three years, and it sounds like De La Torre has a real knack for romantic gestures.
"He writes me love letters, actually!," Condor told the publication. "He's done that since we started dating and I keep them all. We try to keep the spark alive!"
Yep, that's right. To repeat: Condor's boyfriend has been writing her love letters for the last three years, and now she's the star of a movie that revolves around love letters. Swoon. Can you handle the coincidental cuteness of it all? Well, brace yourself, because there's more cuteness to come.
During a recent interview with Cosmopolitan, Condor could barely contain her happiness when she told the magazine,
"I still feel like it's our first date, but also like we are old and we've been together forever and ever. Yeah it's been three years and it's been wonderful."
It probably doesn't hurt that De La Torre is an actor too, so he totally understands that on-screen romances are just a part of the job. "He's really supportive and really chill about it," Condor told Cosmopolitan.
She, on the other hand, is decidedly less chill about that kind of thing. "He's had a couple different working experiences where he's had to make out with someone and of course I'm like, 'I'll kill her,'" the actor joked.
Back in 2015, De La Torre got his start as Anthony Del Rey on the Nickelodeon show 100 Things To Do Before High School. He made his big-screen debut two years later in a major film franchise. In 2017, De La Torre played a young Jack Sparrow in Pirates of the Caribbean: Dead Men Tell No Tales, which totally makes sense — the resemblance between him and Jack Sparrow is pretty uncanny.
De La Torre is a musician as well, and fronts the alternative rock band The Fell. They're definitely on the rise, and even got to open for Bon Jovi's San Diego show in 2017. Yes, the Jon Bon Jovi. No big deal or whatever.
Wait, hang on. Do you think he writes Condor love letters and then turns those love letters into love songs? Swoon (again). That would be so dreamy. De La Torre is already pretty dreamy as-is, though, and Condor definitely seems smitten.