Everything To Know About Las Encinas From Netflix's 'Elite'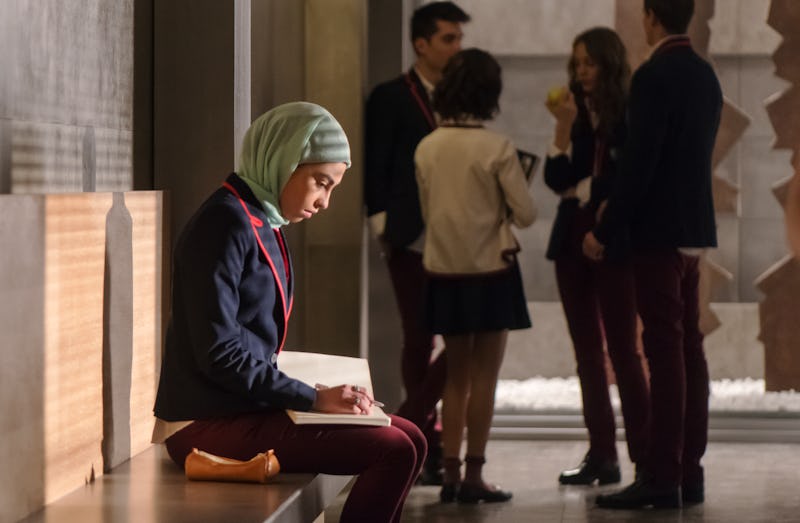 Manuel Fernandez-Valdes/Netflix
Step aside, Constance Billard. There's a new prep school full of scheming teens in town. Or rather, in Spain. Netflix's newest drama, Elite, premieres on Oct. 5 and is set at a prestigious Spanish boarding school called Las Encinas, where there's an extra curriculum of scandal and deceit in between futbol practice and chem lab. So is Las Encinas a real school? Sorry to disappoint you, Elitistas, but Las Encinas is — like the rest of Elite — a work of pure fiction.
In the series announcement from Deadline, Las Encinas is described as "the best and most exclusive school in Spain where the elite send their children to study." However, according to El Mundo, the top school in Spain is actually a private school called Peleteiro in the province of La Coruña. The school website for Peleteiro shows nary a pearl-studded Peter Pan collar or red-piped blazer in sight. Instead, their uniforms are actually modest gray t-shirts or sweatshirts. If schools like Peleteiro inspired Elite in any way, it's clear that Netflix took some liberties that would make Blair Waldorf proud.
Since Las Encinas isn't all that unique a moniker, there are actually a few schools in Spain that share the name, but none of them seem anything like the school from Elite — thank goodness. One of them, Colegio La Encina, is a preschool and elementary school in Salamanca, displaying pictures of happy tots covered in finger paint on its home page. There's another called IES Las Encinas in Seville, which is a secondary school for teenagers, but there is no mention of uniforms or unsolved murders anywhere on their website, so that's not a match, either.
In the trailer for Elite, its clear that Las Encinas offers a different kind of experience, depending on who you ask and when. One of the students brags "[In Spanish] It's heaven, man," while in the next frame, one of the three main protagonists, Samuel (played by Miguel Herrán) is openly mocked during class. A murder on campus sets off the entire plot, so it's a little darker than Gossip Girl might have ever been. Everyone seems to be excited for the series. Even Francisco Ramos, the producer of Elite, told Variety that making this show was a blast. "I am excited at producing Elite at this stage of my career," he said. "This is a lot of fun. With the golden age of series, I can now achieve in TV what I wanted to do with movies in the last few years," he said.
Plus, the set of Las Encinas itself is just so darn beautiful. The wide shots of the school are almost Wes Anderson-like in their color coordination and perfect 90 degree angles. But all this obsession with the beauty of the school itself — topped off with eerie background music — makes the whole thing seem more like a horror than a regular teen soap. It looks like Las Encinas is hiding a very spiny secret, indeed.