This Harrowing New Netflix Movie Shows The Dark Side Of Student Athletics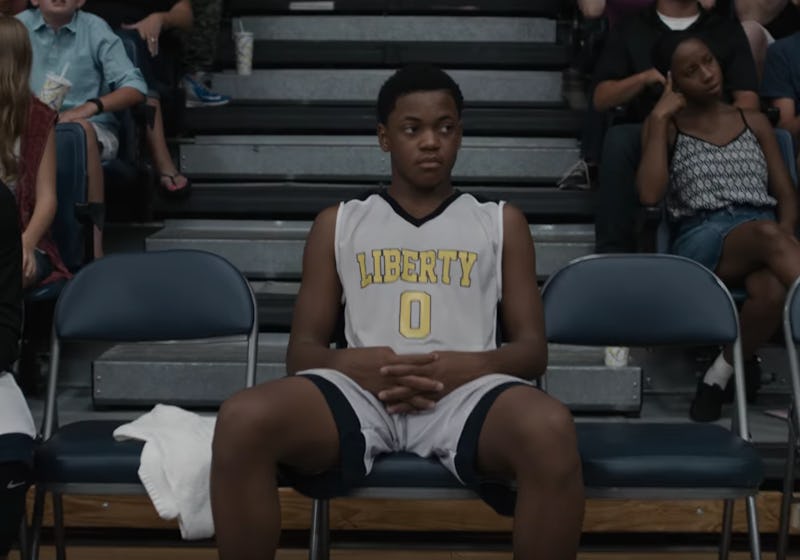 Netflix
Whoever thought professional basketball doesn't invade school athletics clearly has never heard of the NCAA. The National Collegiate Athletic Association is an organization for college athletes, but as Netflix's new movie Amateur shows, it can reach far beyond college to high school and sometimes even middle school. Amateur follows the journey of Terron Forte, an eighth grade basketball player, who is recruited by the exclusive prep school, Liberty, as a direct path towards the NCAA. Liberty from Netflix's Amateur isn't a real school, but its shady ties to the NCAA illustrate a very real problem.
In Amateur, Liberty Prep is not only home to a prestigious basketball program, it's also an elite private school. The actual academy in the film doesn't actually exist, but the combination of NCAA recruitment sports and private preparatory schools is actually quite common. Schools like Oak Hill Academy and Notre Dame Preparatory School are famous for producing NBA stars. And it's likely that writer-director Ryan Koo created Liberty as a sort of amalgamation of the many private institutions currently being used as ground zero for NCAA recruitment.
Though he did not go into details, Koo has said he was inspired by the kind of exclusive schools and basketball programs he grew up around in Durham, North Carolina. "There are a lot of good basketball schools there and a lot of NBA stars got their start playing for some of the smaller schools in that area," he said in an interview with Life & Times. "That was the background in why I was interested in it, and that was... my starting point for doing the research."
Koo was committed to making a completely fictional feature, but deciding against making a film based on real events didn't mean research wasn't still a vital part of the filmmaking process. "For something like Amateur, which is based on real things happening in our society, the research was really, really extensive," he told MusicBed Blog. "Once I'd done all of that research, I felt like I knew the world. I wrote the draft very quickly then."
To ensure his film was as close to reality as possible, Koo also recruited professional basketball player Tony Parker to act as a producer. "We wanted to make sure in portraying this world we got it right," Koo said in an interview with Sports Illustrated. "I wanted to make sure what I was saying was true to the world, and I was portraying things authentically and not in a sports-movie cliché way."
Schools like Liberty Prep in Amateur are currently a huge topic of controversy in the basketball world. Popular players like Parker have been speaking out about how unfair it can be for young athletes who, according to national rules, are not allowed to be paid for playing school sports. "I always thought the system of the NCAA was not fair with all those millions and millions of dollars, and the athletes get nothing," Parker told Sports Illustrated. "I don't know why they wouldn't get paid." The athlete added that he got behind the movie in the hopes that something might change.
Amateur's call to action could not be more timely. The NCAA is currently under federal investigation, and in February it was reported by Yahoo that documents discovered as part of the investigation detailed "an underground recruiting operation." Corruption investigations into the NCAA have specifically focused on questionable recruiting practices, such as the ones exposed in Amateur. And the fact that the film premieres on Netflix April 6, just on the heels of the NCAA tournament known as March Madness, is likely more than just a coincidence.