'Tin Star' Turns A Real Town Into A Crime Nightmare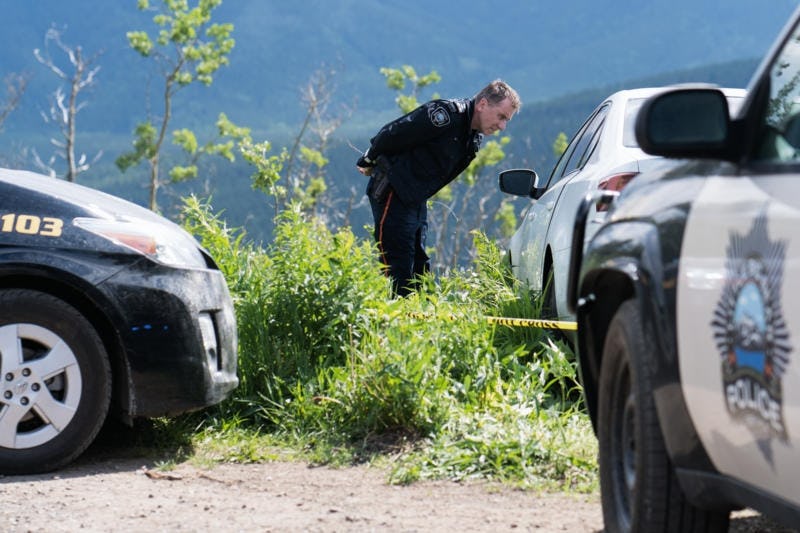 David Bukach/Kudos Film & TV
Is there a more adorable name for a small town than Little Big Bear? The Tin Star locale in the Canadian Rockies may have an innocent name, but the town itself is far from innocent. Fans of Amazon's new series may wonder if Little Big Bear is a real town outside of Tin Star, as it'd be wise to stay far away from somewhere so seemingly unsafe.
While the town from Tin Star isn't a real place, this fake Canadian town shares a great deal in common with a real Canadian town (minus the violent crime drama). Little Big Bear was reportedly filmed in the town of High River, Alberta. High River is a real small town just as Little Big Bear is, with a population of 13,584 as of 2016. High River is located in the Calgary region of Alberta, Canada, which has long been a popular shooting location for films and television. The television series Fargo and the film Interstellar both filmed in Alberta — but while they used the region to stand in for the American midwest, Tin Star is a wholly Canadian story.
Why High River? As Jodi Dawson, High River manager of economic development, told Global News, "High River often provides film companies with a very attractive location for filming." Dawson believes that High River has "the perfect setting surrounded by spectacular foothills and mountain scenery." Tin Star location manager Jason Nolan further stated to Global News that he is "very excited to show High River off to the world." While High River looks like a pleasant mountain town, Tin Star had to make it appear darker to fit its twisted narrative.
When Jim Worth, formerly a police officer in London, moves to Little Big Bear it's supposed to be a relief. Being a cop in a major city seems to be a far more difficult job than being a police chief in a small Canadian town surrounded by mountains. However, a recent increase in crime and the influence of a large oil company turns what should be a relaxing, small town into a pressure cooker.
This small town noir seemingly takes cues from shows like Twin Peaks and Broadchurch, and it takes visual inspiration from the snowy scenes of Fargo. Much like these shows, Tin Star showcased brutal acts of violence against an otherwise peaceful setting. However, Tin Star does make a few changes to the tried-and-true "crime in a small town" structure. Unlike Twin Peaks and Broadchurch, which feature an outside detective uncovering the already-present darkness residing beneath the small town, things don't start going downhill in Little Big Bear until Jim Worth shows up. Then, things start to go very badly.
While Twin Peaks and Broadchurch were both murder mysteries through and through, Tin Star is a marriage between a revenge thriller and a conspiracy thriller. The oil company that shows up in Little Big Bear around the same time as Jim Worth is up to no good, and some traumatic events send Jim on a dark journey from which he may not return.
Fortunately, High River is not overrun with revenge, conspiracies, or murder in the same way that Little Big Bear is. As it stands, aside from a few locations and the general setting, High River has little in common with the actual Little Big Bear. And, despite helping portray a dark, violent town, ultimately the charm of High River shines through.