Lucy Hale Chopped Off Her Hair Again & Pretty Soon She'll Have No Hair At All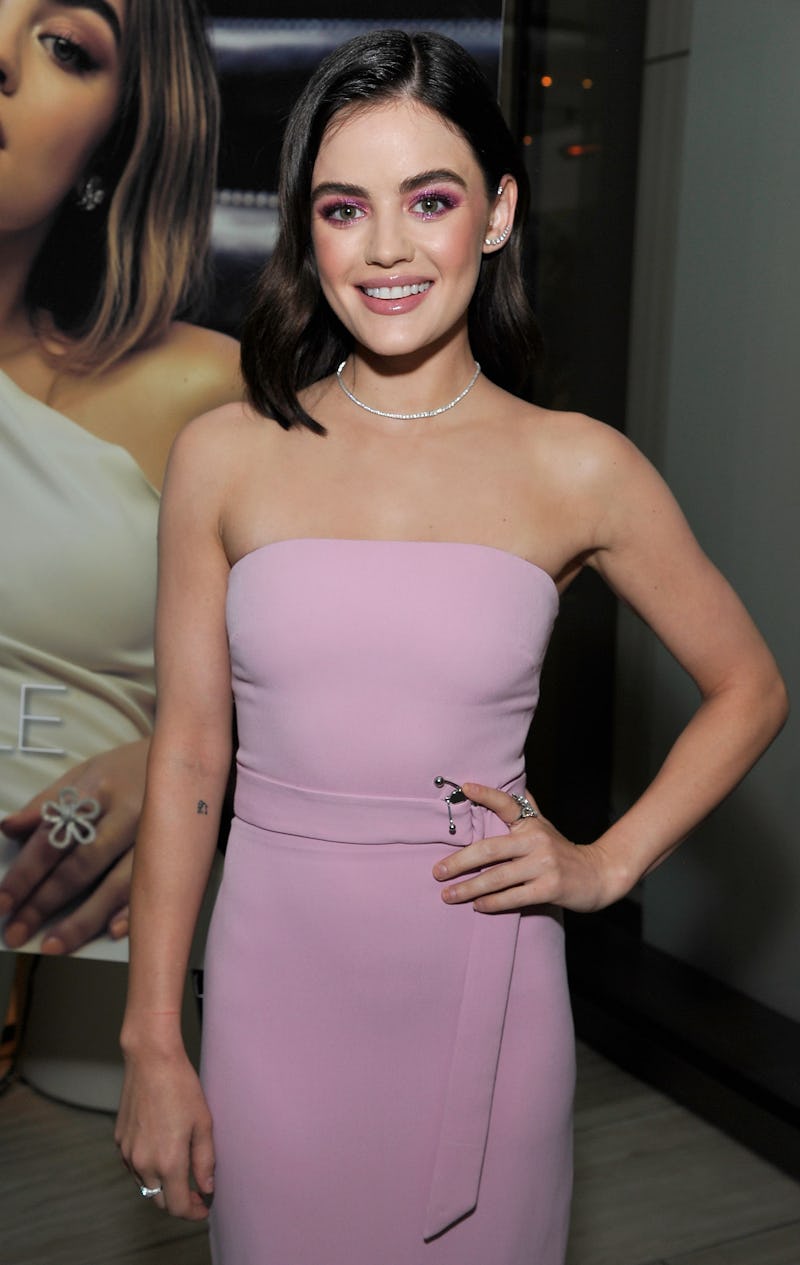 John Sciulli/Getty Images Entertainment/Getty Images
There is something thrilling about changing your style. It can be addictive and lead to a chain reaction! Once you get a tattoo, you are often struck with the desire for another. If you cut a few inches off your hair, you're left wanting to go shorter. Lucy Hale chopped off hair hair into a chin-length bob — again! So the latter "change your look" scenario certainly applies to the actor.
But this isn't exactly a new 'do for Hale. While the brunette beauty remains best-known for the long, shiny, chocolate brown locks that she rocked for a good chunk of her Pretty Little Liars tenure, she has done a chin-grazing bob before.
Hale's hair has been getting progressively shorter in recent years — with shoulder-skimming lobs being her "go to." She has played with color, going blonde and rose gold. She has also slayed a variety of textures — from straight to choppy to beachy 'n' bedhead-like.
Hale Instagrammed a shot of her short, dark strands, courtesy of celeb stylist Kristin Ess — she has an affordable hair care line available at Target if you have plans to hit the Big Red Bullseye and need some new hair treats.
Hale's new bob hits at the chin and appears very real. This is not the work of a wig.
In this selfie, Hale wears minimal makeup and rocks super bold, natural brows. Her deep side part adds some lift and volume to this style. Her strands also have that choppy, chunky, "I just rolled out of bed" texture.
Don't you love she captioned it "CHOPT?" Zero is the amount of you-know-whats she is giving!
But this cut, while blunt, is super versatile. She can blow it out so it's stick straight and add a glossing serum for high shine sleekness. She can add a center part for French girl chic. Or she can blow it back for a red carpet event and get that ultra glam, wet-look vibe.
Here's Hale with a similar bob back in February 2017. The bob is such a classic cut and it looks great on Hale — now and then. She clearly digs it since she has returned to it.
Of course her fans have weighed in — expressing their love for her "short hair, don't care" vibe. The post also has nearly a million likes as of press time. Hale's coif just might inspire you to book an appointment with your stylist and go under the scissors for a chop of your own.
It's worth noting that Hale has slowly and steadily gone shorter before arriving at this chin-kissing bob. That makes it less jarring. If you are thinking of replicating her cut, you might want to shed length gradually.
Her most recent 'do was a shoulder skimming and summer-appropriate lob. She just ditched loads of length.
Will Hale eventually end up with a pixie cut, since her tress trajectory has been shorter and shorter and shorter? We shall see.
Here's a a flashback to Hale's familiar, long waves. Let's hope she sticks with the bob because it soooo suits her. A bob is never boring since it can be styled and textured so many different ways. Lucy Hale's new bob is such a source of hair inspo!